Auto driver Dilip Kadam from Tapasya Chawl, Sawarkar Nagar in Thane, was probably the proudest father as his son became a lieutenant in the Indian Army a few years back. Abhay Kadam is back home to Thane with the rank and uniform of a lieutenant after a rigorous training of a year and a half at the Indian Military Academy (IMA), Deharadun. Lt. Abhay, who did his schooling from Indira Gandhi School, Thane, is a BSc IT graduate from Thane's B N Bandodkar college, where he joined NCC. Wanting to serve the nation, Lt. Abhay attempted the NDA (National Defence Academy) exam twice but didn't make it. He then joined an academy in Pune which trains aspiring students to crack these tough defence entrance exams.
"I prepared hard for the Combined Defence Service (CDS) exams conducted by the UPSC. It is not easy to crack these exams," Abhay said.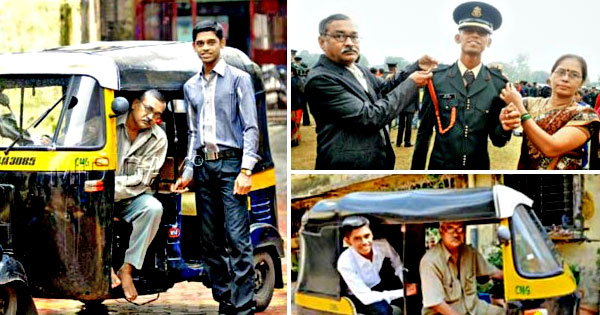 "After clearing the written exam, I was called for an interview for which 1.5 lakh students from all over India attempted. I cleared the five-day long Services Selection Board (SSB) interview process among 10,000 students and was ranked 193," he added. He then joined Dehradun and was given the rank of a lieutenant in the Indian Army in a Passing Out Parade (POP) at the IMA.
"We are proud that our son is now in the Indian Army and will serve for our nation. We were happy when he chose this field," said Dilip Kadam, the proud father.
"It feels proud to be a part of one of the strongest forces of the world, and to serve the nation. I wish more youths should get into the defence force.
Various campaigns, activities should be carried out by schools, colleges or the media to help youths know about our defence forces," said Abhay.