I barely update my status on Facebook, but I am going to update and a long one! I am going to write something about a person who was my childhood friend, batchmate, ssbmate, tution friend, coaching friend, he was my mentor and motivator, much more than that he was my brother, we were real brother from different mother. It is the story of a person who was truely dedicated to Indian army, he was Lieutenant Suchit Nautiyal
Life & destiny had stolen my best friend from me, not a friend from me, but a son from a mother, a brother from a sister, an idle from children and a true friend from our group.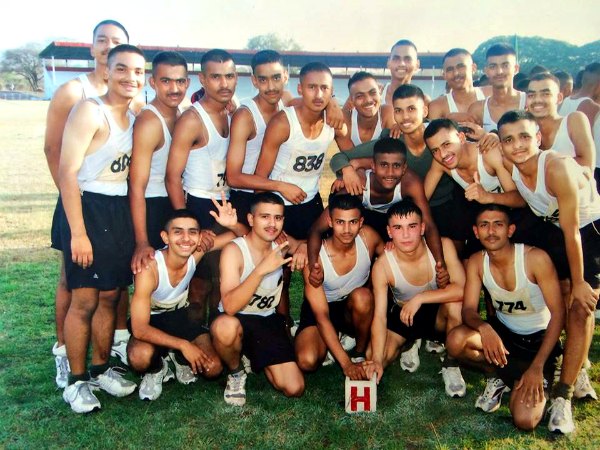 The story begins in 2010 when we both started dreaming of ARMY OFFICER together we filled the form, we gave exam, prepared for SSB but he succeed and I failed, he used to tell me each & everything happened in SSB from very first day to till conference & I was praying for him at home. He was unhappy when I failed but I was happy that he had done his work , he cleared his first ssb from 18 ssb ALLAHABAD. Later on, he also cleared TES ssb from same board. But he joined NDA.

On 11-01-2011 he departed from Dehradun and on 13-01-2011 he reported at khadakwasla, PUNE for his further studies. But before leaving d.dun he said me " bhai ! I also wana see you there asap " never give up, keep on trying till last! I let him believe, sure I will be with you soon. Later on when I cleared the Indian navy he was the happiest one among all but unfortunately, I was medically unfit. He gave me moral support by saying " bhai teri kismat mai kuch bada likha hai "
He was very intelligent boy , a great artist and a fabulous BOXER , he always wanted to serve his nation , he cleared almost all the exam which he had given ! No one knows he left IIT for NDA . He used to call me from there whenever he got the time he told me how he used to cry when he was in 1st sem, but when he became "DUKKI "(means in 2nd year ) he started enjoying there, he also told me how his seniors took his punishment by the system of PAIL, he also told me about the NDA SPECIAL TRAIN how he enjoyed the whole night. He was a very generous, intelligent, and down to earth boy. He was a gold medalist in boxing at NDA. He passed out from NDA in 2013 and on 13-01-2014 he joined the prestigious IMA nearby his house.
He spent his 1 year in IMA, he taught cadet there how to drill properly to clear DST .
He was a very positive and cheerful boy, never got upset by anyone . He was the one who was with me in my on & off, when I was conferenced out from 18ssb Allahabad, he was very upset, (I took some imp tips from him and his room mate Mukul Saini ) his words were " bhai mujhe hamesha is baat ka malal rahega ki tu mere sath academy mai nahi hoga " but don't give up . "If I have done it , you can do it and you will do it . " believe in yourself and be original . .if today iam still crazy for army just because of him. He was the one who knew everything about me , and I knew everythng about him , I enjoyed my life fullest with him . He taught me swimming, he always helped me whenever I was in problem . He was an extraordinary boxer , he won silver medal in IMA . , owing to small height he lost final bout with his oponent , I said bhai big things come in small packages. He replied bhai " LIFE IS A GIFT ACCEPT IT " he said later I will try for OLYMPIC from army everyone appreciated him for his kind nd coperative behaviour ,whether he is juniors /seniors to him . I still remembered that day when we both were in ima canteen one of my friends come and said " YAAR NAUTIYAL SIR TO BHOT BHENKAR HAI 'SWORD OF HONOUR ' KE CANDIDATE HAI " But he stoped him by saying ' ye sab kuch nai hota just give your best & always be honest to your work and yourself '
On 13-12-2014 an auspicious day of his birthday he passed out from IMA . I was very happy and that moment brings me to tears when the shower of flowers was put Over G.C. But I was little upset that he didn't get the "sword of honour " he was JUO in academy. He said me " bhai ye sab moh maya hai , bhanu pratap singh bhot acha and hard working genius cadet tha isliye use mila, dono ne same post pe jana hai and OUR MAIN AIM IS TO SERVE & SAVE OUR COUNTRY . We enjoyed alot after P.O.P for next 18 days . He got 8 GORKHA RIFLES.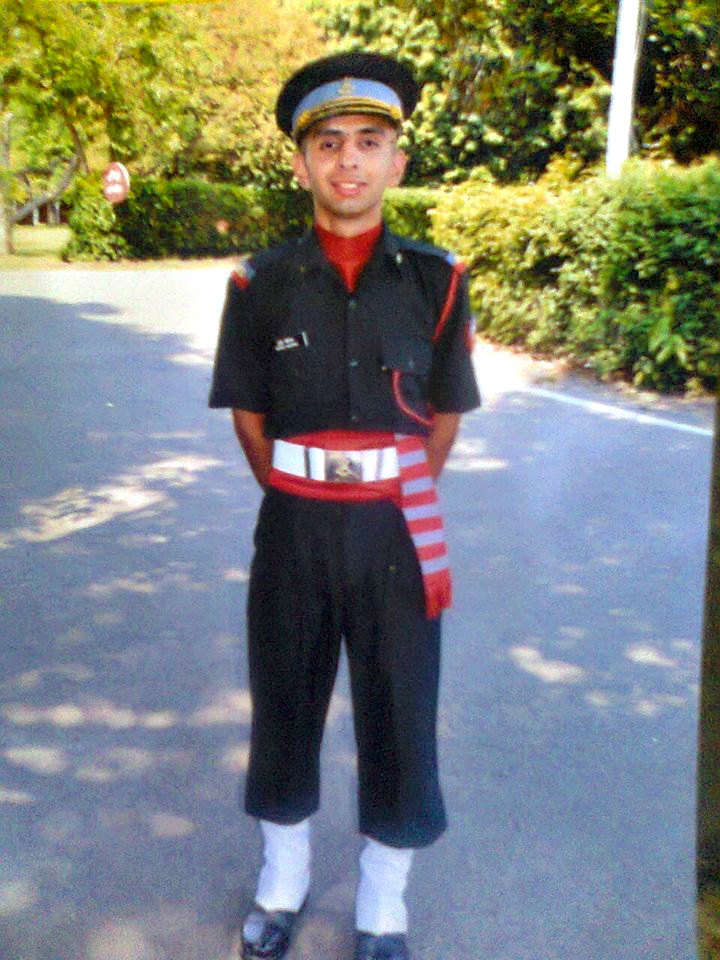 On 31st -dec -2014 he called his adjutant from IMA I WAS WITH HIM. his officer asked him to report on 3rd of jan at chandigarh and from there he had to go kargil . He had 1 year attachment with infantry . On 3rd of jan he arrived at chandigarh and started the 2nd phase of life to serve the nation as an army officer. During this 11 month he moved different different places with his unit like kargil , leh , ladakh , batalic and an intense area like kupwara . He loved and give respect to his troup . Once when he came home we went to garhi cantt for some official work, one soldier check our identity he saluted suchit he said " aap mere papa ki age ke hai jab dress mai honga tab kariyega abi mah. Civilian hu . It shows how down to earth he was. He was thinking to bringing up of one student whose parents cannot afford for studies, even he had given 2 to 3 thousand rupees per month for his education and look after . He wanted that education is our birth right and one must get it . !!
He gave his last 11 months to indian army at the intense area like kupwara , kargil , leh etc . He fought there with natural disaster with great passion, once I dint get his call for few days then he told me that he had strucken in snow and went around 5 to 6 ft down the surface at batalic for 3 hours, but one of his troops saved him but unfortunately that troop met with a mine and there was a great blast and has been admitted in base hospital, chandigarh . Suchit was very upset for few days . Before coming , dehradun he called me nd said bhai finally I have given my 11 months to indian army here . And. I enjoyed alot here. Bas 14 din bache hai ye kat jaye sahi se . On 3rd dec he messaged me bhai mai kal garh aara hu and I got posting in pune finally . . . On 5th dec. Around 12.30 pm, I and Abhishek Semwal went to his home just to meet him . But his brother told "bhai wo bua ke garh gaya hai " he bought new bike for his younger brother on diwali , so that he can go college easily . He was thinking to buy a car in pune but god has already written something for him . Suddenly I got a call from ROHIT , WHERE IS SUCHIT ? (everyone was thinking he was with me ) I said " wo garh agaya apni bua ke yaha hai " he told me " uske garh pe bhot bheed hai , he met with an accident and WOH CHALA GAYA " I SHOUTED WHAT !!!!
I went to his home and the scenario was improbable. I never screamed in my life but that day it was unstoppable. I was remembering all those precious moments which we had enjoyed together. I was remembering your those words why you called it again nd again "bhai shaheed ho jaounga par road accident mai nahi marna gharwale bhot rote hai. " I was stunned. I wish if I were be with you that time result might be different. I have visited best place of my life with him the only place where we have never been to that was CEMETRY. Although this time was also with you yet never thought it's for you bro !!:'(
But at the same time you showed me again how anyone can get respect even after death. From soldier to Maj General everyone was presented to gave him guard of honour. When your body was taking away for funeral, I silently stood in the corner and cry on that fateful day, I refused to say goodbye because I didn't want to see you go away. I wanted to u see last time he was lying down with the great smile.
I heard that chat between the Brigadier and your commanding officer that it is the loss of country, he was a great young officer who could go upto the post of GENERAL because he was too young !! But …………. )
Our friendship is the best thing that has ever happened to me. Talking to you made me smile and meeting you set me free. I can't believe that fate is taking you away and ripping us apart. I just want to say that I will miss you from the bottom of my heart.
Life and destiny had stolen my friend away from me but nothing can take away the precious memory !!
I don't want you to like it !!
but I want you to share it.
He was very environment-friendly he always wanted to plant trees! if u respect the Indian army and our soldiers please must plant a tree nearby your locality and wherever you want, as today(13 Dec) is his birthday it will be a great tribute to him.
Although he has lived short life yet the work done by him was great.
He was also a great motivational speaker he always motivated youth to join Indian army. So I also request you on his behalf, JOIN ARMY! And feel that awesome feeling of wearing dress and serve the nation.
Please drive with care someone loves you !!!
Thanks !!
Rip bro !!
Via: Alok Nautiyal