What is Silk Samagra Scheme?
It is a Central Sector Scheme.
Launched for a period of three years i.e 2017-2020.
The scheme is being implemented by the Central Silk Board (CSB)
It focuses on improving the quality and productivity of domestic silk thereby reducing the country's dependence on imported silk.
It comprises the following four components:
Research & Development, Training, Transfer of Technology and I.T. Initiatives
Seed Organizations
Coordination and Market Development, and
Quality Certification Systems (QCS)/Export Brand Promotion and Technology Up-gradation.
H-CNG
In a major step toward adopting alternative clean fuel for transportation, The Ministry of Road Transport and Highways has allowed use of H-CNG (18% mix of hydrogen) in CNG engines.
The Ministry has been notifying various alternate fuels under Clean Fuels for transportation.
The Bureau of Indian Standards (BIS) has also developed specifications of Hydrogen enriched Compressed Natural Gas (H-CNG) for automotive purposes, as a fuel.
What is HCNG?
The blending of hydrogen with CNG provides a blended gas termed as HCNG.
It can be used in place of gasoline, diesel fuel and propane (C3H8) / LPG and its combustion produces fewer undesirable gases.
RBI extends enhanced borrowing limit for banks under MSF
The RBI, had increased the borrowing limit for scheduled banks under the marginal standing facility (MSF) scheme from 2 per cent to 3 per cent of their Net Demand and Time Liabilities (NDTL).
It is a temporary measure.
The facility was later extended due to economic disruptions caused by the COVID-19 pandemic and subsequent lockdown.
Reserve Bank has decided to extend by six months
What is MSF?
It is a window for Scheduled Commercial Banks to borrow from the Reserve Bank of India in an emergency situation when interbank liquidity dries up completely.
Launched by RBI while reforming the monetary policy in 2011-12.
The MSF rate currently stands at 4.25 per cent.
EPF scheme certificate available on UMANG App
Employees' Provident Fund Organisation (EPFO) has started a facility on the Unified Mobile Application for New-age Governance (UMANG) App.
EPFO has now started facility enabling EPS members to apply for Scheme Certificate under Employees' Pension Scheme, 1995.
EPS scheme makes provisions for pensions for the employees in the organised sector after the retirement at the age of 58 years.
About UMANG:
Unified Mobile Application for New-age Governance is developed by Ministry of Electronics and Information Technology (MeitY) and National e-Governance Division (NeGD)
Aim: To drive Mobile Governance in India.
EFP scheme certificate available on UMANG App
UMANG provides a single platform for all Indian Citizens to access pan India e-Gov services ranging from Central to Local Government bodies and other citizen centric services.
Appointment: Chairmen of TRAI
The Appointments Committee of the Cabinet appointed senior IAS officer PD Vaghela as the new Chairman of the Telecom Regulatory Authority of India (TRAI).
He will be succeeding RS Sharma who was at the helm of the sector regulator for a period of five years.
Usually, the TRAI chairman is appointed for a term of three years.
PD Vaghela is counted among the key officers who played a significant role in the rollout of the Goods and Services Tax (GST), in 2017.
Telecom Regulatory Authority of India
Established by an Act of Parliament (Telecom Regulatory Authority of India Act, 1997)
Aim: To regulate telecom services, including fixation/revision of tariffs for telecom services.
30 September: International Translation Day
The World Translation Day is marked by the United Nations to pay tribute to the language professionals.
It helps in promoting cultural heritage and mutual respect in our changing world.
Theme: Finding the words for a world in crisis.
Current COVID19 Situation in India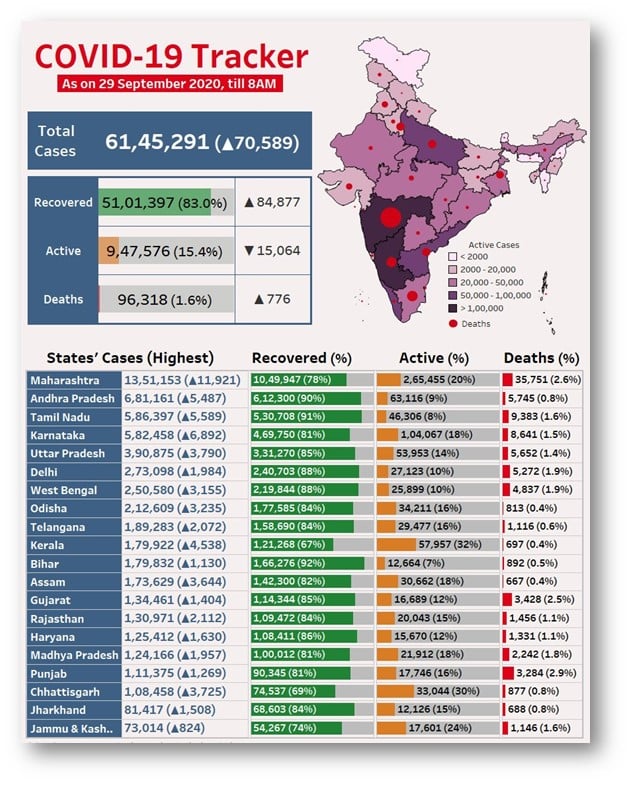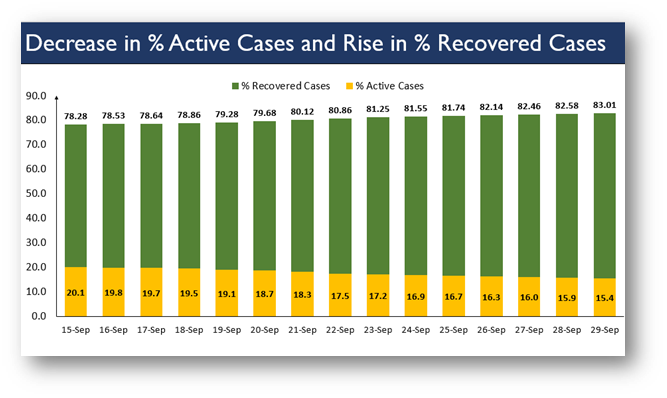 QUIZ TIME
Which ministry has allowed use of H-CNG (18% mix of hydrogen) in CNG engines?
The Ministry of Road Transport and Highways
The Ministry of Railways
The Ministry of Petroleum
None of the above
Answer – A
Why RBI extended enhanced borrowing limit for banks under MSF?
Due to loss faced by Banks
To bring liquidity in the Market
Due to COVID – 19 and losses due to lockdown
None of the Above
Answer – C
Who has been appointed as the Chairmen of TRAI?
PD Vaghela
RS Sharma
Sameer Khare
Rajesh Khullar
Answer – A
International Translation Day is observed on:
28 September
30 September
27 September
26 September
Answer – B
Question of the Day
What are the key provisions of the Social Security Code 2020?
Answer in next session…