Personal Interview in the SSB Interview is the most important assessment. This is because it gives you a chance to interact and present your personality in front of an officer. The interview can increase your chance of getting selected. The officer taking an interview is a high-rank officer and his opinion in your selection matters a lot.
Tips for Good Impression in SSB Personal Interview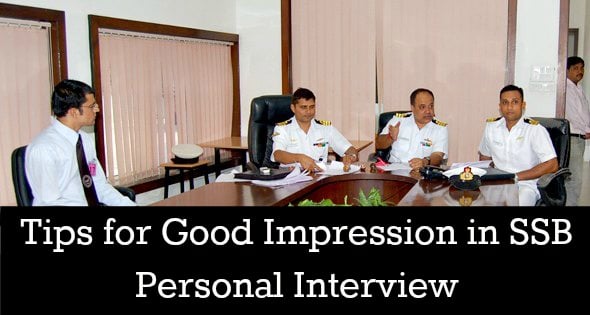 Be mature and talk sense, but don't be very serious or nervous, be joyful, try to be funnier even though you are a boring in real life, you should be happy that you are attending SSB interview which is still a dream for many.
Be confident, whatever you have done in your life, have a supporting answer for that. Make sure that you support yourself in whatever you have faced in your life, take accountability of failures, never blame someone else.
Talk like as if you have to impress a girl sitting in front of you, show liveliness, do not bore IO from your lies of self boasting.
Listen first, even though you have got the gist of the question before IO has finished, give a pause between question and your answer, show that you think before you speak, it's a great quality. On the whole it helps you to think better answers and counter answers.
Try to show OLQs indirectly, everything will get noted down, so try to show as much as qualities you can put forward.
How to get rid of  difficult/unwanted  questions in SSB PI?
Difficult questions doesn't mean GK questions, it is something you don't want to talk more about.
Though it is not correct ignore questions directly but you can ignore it indirectly or decrease the counter questions. Suppose you are not much in sports, you may feel insecure with more sports questions, then have a reason for why you are not much in sports ( as said earlier,  Be confident, whatever you have done in your life, have a supporting answer for that). Always cut a negative quality with a positive quality, tell about something else you are good at.
If you will face something very personal then you may directly tell the IO that you are not comfortable in talking such personal matters. Sometimes, IO may check how long you can hold a secret, no one feel secure in discussing the very personal things related to his/her family or relatives. And it is totally fine not to share such things if you are not comfortable,if it goes with your personality then act in the same way.