A combat drone is also known mainly as An unmanned combat aerial vehicle (UCAV). It is informally shortened as a drone or battlefield UAV, is an unmanned aerial vehicle (UAV) that is used for intelligence, surveillance, target acquisition, and reconnaissance as well as carries aircraft ordnance such as missiles, ATGMs, and/or bombs in hardpoints for drone strikes.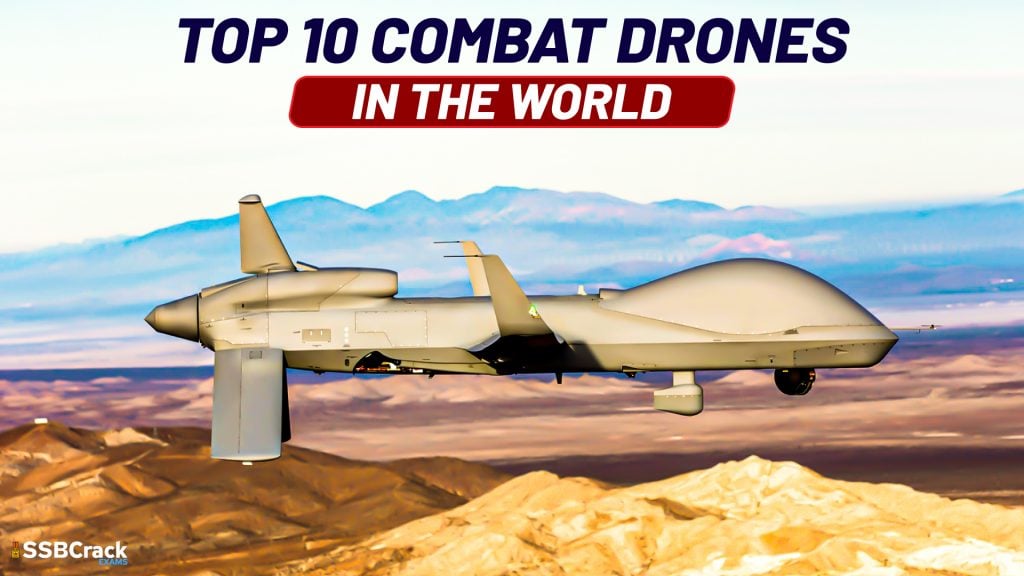 In simpler words, they are aircraft that navigate autonomously, via remote control, or both, and carry a variety of sensors, electronic receivers and transmitters, and offensive munitions.
They are used for precision-guided munitions dropping or firing from manned systems, or for directly dropping or firing these munitions. General Qasem Soleimani was killed by a drone strike. So, undoubtedly A new era of drone warfare has already arrived which involves not just military superpowers but the smaller countries also.
The major leading country in the manufacturing of Combat Drones with reformed and better technologies in Turkey. As they are determined to be the hegemon in Combat Drones. Drones are used by over 100 countries and non-state entities, and numerous players have access to armed drones.
Armed drones have had a decisive impact in many cases, including the survival of Libya's internationally recognized government in Tripoli, and in last year's Nagorno-Karabakh conflict, Turkish-supplied drones were a powerful factor in allowing Azerbaijan's forces to wrest control of the disputed enclave from Armenia.
So, let's know about the top 10 combat drones in the world in 2022.
MQ-9 Reaper
The MQ-9 Reaper unmanned aerial vehicle (UAV) is the world's first hunter-killer UAV with long-range, high-altitude surveillance capabilities. The MQ-9 is a larger, heavier, and more powerful general atomic aircraft than the MQ-8. MQ-1 is a scavenger. Although it is not the most technologically advanced drone available today, it is the most widely created, accepted, and used. With a slew of upgrades, a dozen pilots, and millions of flight hours under its belt, the reaper has become the poster child of modern drone warfare, bringing entire armed conflicts to a halt and sparking far too many disputes to count.
TAI Aksungur
Aksungur is the Turkish word for gyrfalcon (largest of the falcon species) is classified as a medium-altitude long-endurance (MALE) unmanned aerial vehicle (UAV). The TAI Aksungur is an unmanned aerial vehicle (UAV) which has been developed by y Turkish Aerospace Industries (TAI) for the Turkish Armed Forces. This drone is built by the existing technology from the TAI Anka series of drones in order to make it more reliable and better. It has better payload capacity for mission specific equipments. It is designed for long-term surveillance, signals intelligence, marine patrol operations, and usage as an unmanned combat aerial vehicle. TAI intended to integrate armament kits and begin manufacturing of the Aksungur in early 2020. On October 20, 2021, the first unit was given to the Turkish Naval Forces.
GJ-11 Sharp Sword
Hongdu GJ-11 Sharp Sword is a stealth unmanned combat aerial vehicle cooperatively designed by Shenyang Aircraft Design Institute (SYADI), Shenyang Aerospace University (SAU) and Hongdu Aviation Industry Group (HAIG). It is manufactured by Hongdu. It descends from AVIC 601-S program, being one of the proof of concept design winners.it was seen in the skies for the very first time in 2013.
Although, not much information is known abut this drone but according to the Chinese description, The Hongdu GJ-11 Sharp Sword has the capability of having a large internal weapon bay and the ability to deliver laser-guided munitions, which would likely result in performance comparable to other stealth drones of this type.
It is powered by a single turbofan engine and has a 14-metre wingspan with an internal weapons bay and a stealthy propelling nozzle. The precise mission assigned to the sharp sword is unknown at this time, but possible missions include aerial reconnaissance and surveillance.
Okhotnik B
The Russian S-70 Okhotnik is a long-range, stealth combat drone. The Sukhoi S-70 can fly solo sorties as well as collaborate with fifth-generation Russian aircraft such as the Su-57. It is an upcoming sixth-generation heavy stealth drone that will fly alongside the Su-57.
The Okhotnik-B has a flying wing design, a take-off weight of around twenty tonnes, a maximum speed of approximately one thousand kilometres per hour, and an operational range of approximately six thousand kilometres. The drone is thought to be powered by the older AL-31F engine or the more powerful AL-41F engine used by the Su-35S air superiority fighter.
EADS Barracuda
The EADS Barracuda is a jet-powered unmanned aerial vehicle (UAV) designed for aerial reconnaissance and combat. The aircraft is a collaboration between Germany and Spain, and it is designed to carry 300 kilograms of precision munitions in its internal bay, ready to be delivered at a moment's notice before an enemy detects the intruder.
While the project was terminated after its initial flight in 2006, the barracuda was the first European military drone of its sort. Its endurance is roughly 17 hours, and it can fly at a maximum speed of over a thousand kilometres per hour.
Avenger
Predator c Avenger is the Next-Generation Multi-Mission ISR which has been built by the General Atomics Aeronautical. Its distinct design and speed boost its survivability in high-threat scenarios and give users more comprehensive quick-response armed reconnaissance capabilities.
The Avenger is powered by a turbofan engine and has stealth features such as internal weapon storage and an s-shaped exhaust for reduced infrared and radar signatures. It can transport an incredible amount of munitions and lift nearly 3 tonnes of them. And use the f-35 lightning's electro-optical targeting system to direct fire at the enemy.
XQ-58 Valkyrie
The Kratos XQ-58 Valkyrie is a stealthy unmanned combat aerial vehicle (UCAV) designed and built by Kratos Defense & Security Solutions for the United States Air Force's Low-Cost Attritable Strike Demonstrator (LCASD) programme, which is part of the USAF Research Laboratory's Low-Cost Attritable Aircraft Technology (LCAAT) project portfolio.
This drone was initially known as XQ-222. The Valkyrie completed its first flight on 5 March 2019 at Yuma Proving Ground, Arizona. This drone is made under the Low-Cost Attritable Aircraft Technology (LCAAT) portfolio, which means mass production and fast production.
X-47B
The Northrop Grumman X-47B is a demonstration unmanned combat aerial vehicle designed for missions from aircraft carriers. It is designed for aircraft carrier-based operations. It was built by American defence technology company Northrop Grumman as a part of DARPA's J-UCAS program. This drone become a significant part of the United States Navy's Unmanned Combat Air System Demonstration (UCAS-D) program. The X-47B is a blended-wing tailless jet-powered aircraft capable of semi-autonomous flight and aerial refuelling.
Wing Loong II
The Chengdu Wing Loong II military, identified as GJ-2, is an unmanned aerial vehicle (UAV) capable of remotely controlled or autonomous flight developed by the Chengdu Aircraft Industry Group in China. Chengdu introduced the Wing Loong II concept in September 2015 at the Aviation Expo China in Beijing, intended for use as surveillance, aerial reconnaissance, and precision attack platform.
Wing Loong II is capable of long-distance strikes through satellite connections. It is capable of air-to-air weapons and can carry up to 200 kilos of laser-guided bombs. According to the manufacturer, it has a battery life of roughly 32 hours. Wing Loong 2 has a range of 4 000 kilometres and a top speed of 370 kilometres per hour.
Dassault nEUROn
With the collaboration of many countries like France, Greece, Italy, Spain, Sweden and Switzerland, The Dassault nEUROn is being developed. It is an experimental unmanned combat aerial vehicle (UCAV) that can function in medium-to-high threat combat zones.
Until June 2005, it took the shape of the original Dassault Grand Duc vehicle: a supersonic two-engined long-range unmanned bomber capable of carrying out nuclear assaults. Under international pressure, particularly from Sweden and Saab, it was turned into a demonstration of smaller single-engine technology. As a result, it is currently optimized for testing various technologies for future UAVs and UCAVs and will not go into serial production.
Conclusion
So in this article, we came to know about the top 10 combat drones of 2022. These drones are capable of irreversible destruction in war zones. The upcoming geo politics would be based on Artificial intelligence and sophisticated technologies like combat drones.
Apart from military superpowers, the smaller countries also have drones which help them in protecting their sovereignty and territorial security. Turkey has been a dominant country in the manufacturing of combat drones and has been supplying sophisticated combat drones to India and other countries. Overall, the new age of warfare welcomes the era of Combat drones. It will affect the international political order and geopolitics.
To join the Indian Army, Navy, and Air Force and Crack the AFSB, NSB & SSB Interview, You can join our SSB interview live classes batch and we recommend you to Enroll in SSB INTERVIEW ONLINE COURSE. Trusted by thousands of defence aspirants.
Also Read: