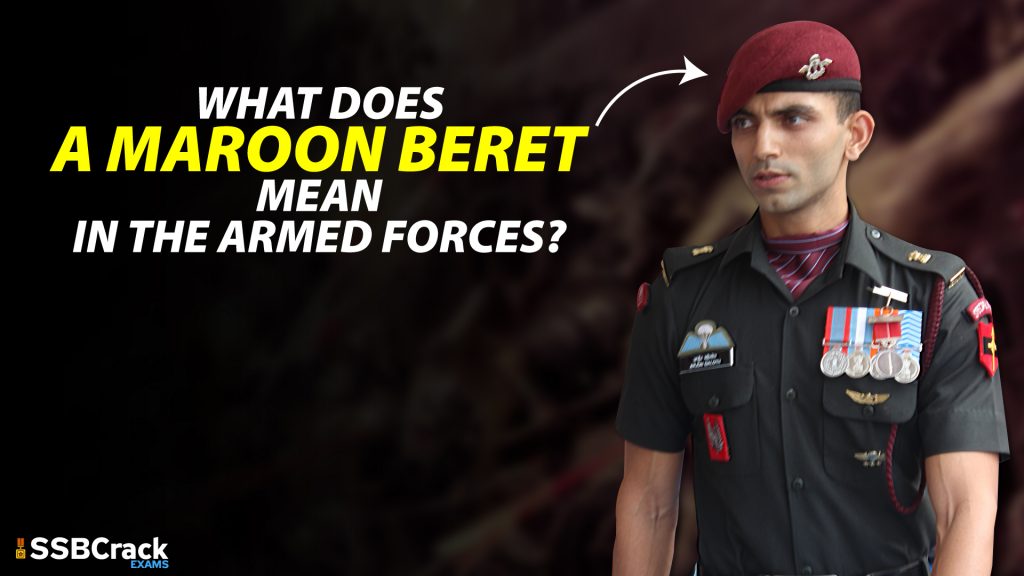 Jai Hind future warriors, today we are discussing one of the most prestigious in the forces, one which gives every defence aspirant goosebumps, The Maroon Beret. I bet you would have seen posts about it 'n' a number if times, but in case you are new to the defence community this post is to guide you about the significance of Maroon Beret. But before that have a look at the quote which pretty much sums up the things
"WHEN THE ANGELS HAVE FALLEN DOWN…AND THE DEVIL HAS HAD HIS DAY…YOU'LL FIND THE GATES OF HEAVEN..GUARDED BY A SINGLE MAROON BERET..!!"
Also Read: Different Colours Beret Used By Indian Armed Forces
What is a Beret
Berets are headgears worn on uniforms. Beret proved to be a practical headgear, for soldiers who needed a hat that could be worn in confined areas, slept in and could be stowed in a small space when they wore steel helmets.
Origin of Maroon Beret
A popular story is that the maroon colour was chosen by Major-General Frederick Browning, after his wife, Daphne du Maurier, suggested that he use the colour which made up part of his horse racing colours. However, in a letter, now in the British Airborne Assault Archive, she wrote that it was untrue. Whatever its origin, the maroon beret was adopted by the British paratroopers in July 1942. Initially, it was adorned with an Army Air Corps badge. This was replaced with the Parachute Regiment badge in 1943.
It was during the Western Desert Campaign (1940–1943) that the Germans in the Africa Korps began to refer to members of the British Parachute Brigade as Rote Teufel (Red Devils) after their maroon berets and their fighting skills.
"In Army Fraternity, Maroon is the symbol of all the airborne forces in the world. So if you are wearing a Maroon you don't have to speak for yourself, because it speaks volumes about what you are and what you are capable of doing."
What are Airborne Forces?
Airborne forces or Airborne warfare are ground combat units carried by aircraft and airdropped into battle zones, typically by parachuting or air assault. Foot soldiers serving an airborne force are known as airborne infantry or paratroopers.
Who all Wear the Maroon Beret in India's Armed Forces?
Army
The Indian Army's Parachute Regiment, including the Para (Special Forces), wears the maroon beret.
50th Parachute Brigade
President's Bodyguard, a ceremonial guard unit with their operational role as the pathfinder company of the parachute brigade, also wears the maroon beret.
Medical and Support officers with these regiments are also allowed to wear the maroon beret
Also, any soldier who has completed parachute training can wear the maroon beret even if he is not in SF, provided he takes permission from CO of his unit.
Also, Military Nursing Service wears the maroon beret but it has nothing to do with the airborne significance.
Only the Special Operations Force and Garud Commando force wear the maroon beret in the IAF
In the Indian Navy, Only the MARCOS(Marine Commando) wear the maroon beret. They only wear it on ceremonial events and not during operations.
Other than that the Special Frontier Force of paramilitary forces also wear the maroon beret
Conclusion
As is said: Maroon is something you can't get it, you have to earn it.
Maroon Beret is very prestigious and I hope your queries regarding it were resolved. Stay tuned for more posts related to defence exams and SSB Interview
To crack the SSB and AFSB interview, You can join our SSB interview live classes batch and we recommend you to Enroll SSB INTERVIEW ONLINE COURSE. Trusted by thousands of defence aspirants.
Book Your SSB Interview Class Now – Click Here