Air Force Technical College (AFTC) was established on 04 Jul 49 with Gp Capt J Beaumont, DFC as the first Commandant. The College, then named as Technical Training College was established at Bangalore with the assistance of Air Service Training Ltd, Hamble (UK). For a few years in the beginning, the Commandant and other Directing Staff were from the Royal Air Force (RAF).
The college was completely taken over by the Indian Air Force and the name of the institute was changed to Air Force Technical College on 06 Jul 1956 with Group Captain NJ Kriplani MBE assuming charge as first Indian Commandant of the college.
Want To Join Indian Air Force and Prepare For The AFCAT Exam?
The role of the college is to train graduate engineers inducted into the IAF to enable them to maintain various aircraft and weapon system as also various support systems in operational readiness. The training also aims to develop the trainees into Air Warriors by instilling in them the qualities of military leadership and Service ethos.
The college ever since its inception had the unique distinction of being the only one of its type to train personnel in Military Aviation technology and associated fields. The College not only imparts technical training but also imparts military ethos and inculcates military leadership to fresh graduate engineers. The college has contributed significantly towards aviation technical training not only within the three services but also other organizations in the public and private sectors.
The College till date has trained 13,890 officers of the IAF and the Sister Services, including Scientists from DRDO, international students and officers from HAL. This also includes 102 Army officers, 111 Naval officers and more than 419 Women officers. The College also trains International Officers from friendly foreign countries. To keep abreast with the latest technologies, the College endeavors to continuously train engineering officers at different seniority through the in-service courses. AFTC holds the distinction of being the first ISO-9001:2000 certified training institution in the IAF and the same has been upgraded to ISO 9001-2008.
Air Force Technical College was set up as Technical Training College with the assistance of Air Services Training, Hamble, UK. AFTC has trained over 7990 officers of IAF (including 163 women officers), 102 officers of Indian Army, 111 officers of Indian Navy and 276 officers of 19 friendly foreign countries. Engineers and scientists from premier institutions and public sector industries like HAL, DRDO and Indian Airlines have had their initiation in aerospace technology at this institute.
THE COLLEGE CREST- 'GYANEN SHOBHAMAHE'
The crest of the College depicts a mechanical gear and emanating electrical waves superimposed by torch bearing an eternal flame. The President of India approved the crest on 08 Aug 62. The crest sympolises the flame of knowledge, which gives rise to the fraternity of mechanical and electronics professionals engaged in pursuit of excellence in aeronautical engineering. The motto printed on the crest 'Gyanen Shobhamahe' means 'it is knowledge through which we find pride in ourselves'. With its multi-faceted growth, the College has lived up to its motto and continues to impart high standards of training to military Aeronautical Engineers. The College was awarded the "Presidential Colors" by her Excellency Smt Pratibha Patil on 12 Nov 08.
OVERVIEW TRAINING
After you have cleared the selection procedure, you are sent to one of the Air Force training establishments. Here you undergo scientifically planned rigorous physical and academic training that is aimed to gear you for life in the Indian Air Force.
All Air Force training establishments are equipped with the state-of-the-art infrastructure and best of the facilities including institutes, swimming pools, squash courts etc. Once you join these training establishments, the IAF takes care of all your requirements like messing, lodging etc. and also gives you a monthly stipend during the last one year of training.
To know how these establishments instill Air Force traditions and make men and women out of boys and girls, Check out the below 'Air Force Technical College training institutions.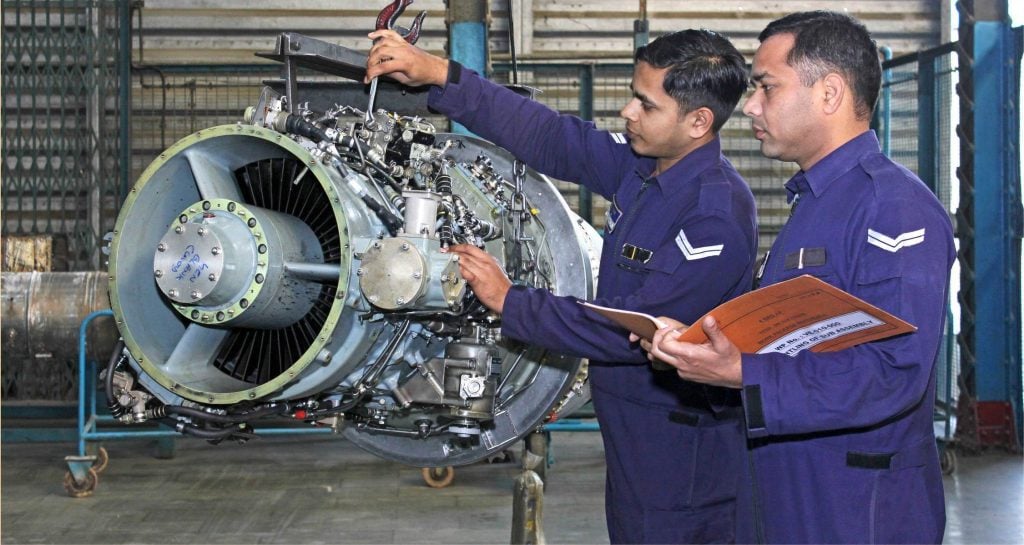 AIR FORCE TECHNICAL COLLEGE TRAINING
On completion of 22 weeks of initial training conducted at Air Force Academy. Thereafter, the remaining 52 weeks of training of engineering Officers is conducted at Air Force Technical College (AFTC), Bengaluru. The training at AFTC is divided into two terms of 24 weeks each separated by a term break.
The training includes work in electronic and propulsion labs, specialisation involving visits to R & D establishments, aviation, electronic industries and front line field units to facilitate assimilation. A balance is maintained between theoretical knowledge and hands-on experience on simulated as well as actual equipment to augment the technical skills.
MILESTONES:
Some of the important events in the history of AFTC are given below:-
Mar 1958 – 1st Foreign Officer (Indonesian) Joins AFTC
Aug 1962 – President of India approves Crest of AFTC 'Gyanen Shobhamahe'
Apr 1993 – Ist Batch of 25 Women Officers are inducted
Jul 1999 – Golden Jubilee Year celebrated
Aug 2003 – Establishment of SWDC
26 May 05 – Chief of Air Staff inaugurates Back- drop to Parade Ground
23 Jan 06 – Establishment of MMI at AFTC
01 Apr 06 – Commencement of Ist Distance Education Course
To crack the SSB Interview, You can join our SSB interview live classes batch and we recommend you to Enroll SSB INTERVIEW ONLINE COURSE. Trusted by thousands of defence aspirants.
Book Your SSB Interview Class Now – Click Here
Enroll In Our SSB Interview Course
Jai Hind