Cadets from friendly countries also pass out every year from Various Indian Military Training institutes. So far 43 cadets from Afghanistan have recently passed out from the Indian Military Academy. We have also seen Indian Parents Pipping Afghanistan Officer During IMA Passing Out Parade.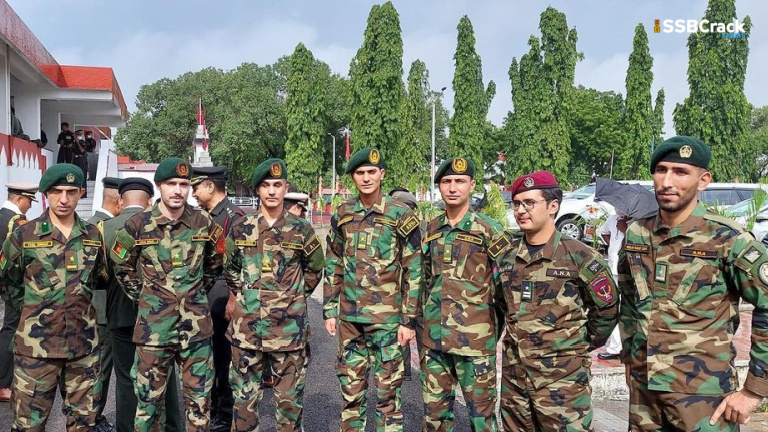 Forty-three Afghan cadets have passed out along with their Indian batchmates during the passing out parade (POP) at the Indian Military Academy (IMA) in Dehradun on June 11 will most likely be the last ones at the premier defence institute from Afghanistan.
Ever since the Taliban came to power in their country last year, the Afghan National Army has ceased to exist, erasing hopes of any such training possibilities for Afghan cadets in the future.
There were 83 Afghan Gentleman Cadets (GCs) at IMA when the Taliban overran Afghanistan last year. Out of that number, 40 graduated from the academy in December last year, while the remaining 43 will be passed out on June 11.
An IMA official confirmed the development to TOI and said, "After the regime change in the country, no new cadets came to IMA for training". He added, "The remaining cadets who completed their training at the academy will complete their course this week."
The IMA is yet to receive any communication from "concerned, relevant authorities". "As of now, we have received no official communication from Afghan or Indian authorities about these cadets," an IMA official told TOI.
Recently Seven Afghan National Army cadets passed out from the Officers' Training Academy in Chennai, on 20 Nov 2021 and have been reported to their embassy.
Earlier in February, amid reports of detention and execution of members of the Afghan National Defence Security Forces personnel by the Taliban, the Indian defence ministry had facilitated a prolonged stay for close to 80 Afghan cadets from various Indian military training institutions by providing them a 12-month English course under the Indian Technical and Economic Cooperation programme. That also came after the Afghan cadets refused to return to their country. Some sought asylum in India, the US and other western nations.
Also Read: