AFCAT And EKT 2017 Exam Online Coaching
Good news for IAF aspirants making efforts to crack IAF officers Technical entry, as you know to be a technical officer in IAF a candidate has to clear AFCAT (Air Force Common Admission Test) exam and the follow up exam EKT (Engineering Knowledge Test). To help you achieve your dream of becoming IAF officer by clearing AFCAT&EKT exam SSBCracK Exams presents you the first nation wide online preparation program as AFCAT and EKT Online Coaching.
SSBCracK Exams AFCAT and EKT online coaching program is the best instructor cum guide for AFCAT and EKT 2017 Entry Aspirants. SSBCracK Exams is bringing nation's first independent online coaching program integrated with: Self-sufficient STUDY MATERIAL, 200+ PRACTICE tests and MOCK tests with performance statistics and analysis tools , AFCAT Syllabus based VIDEO explanations of important topics giving candidates  the best learning experience.
AFCAT And EKT 2017 Exam Online Coaching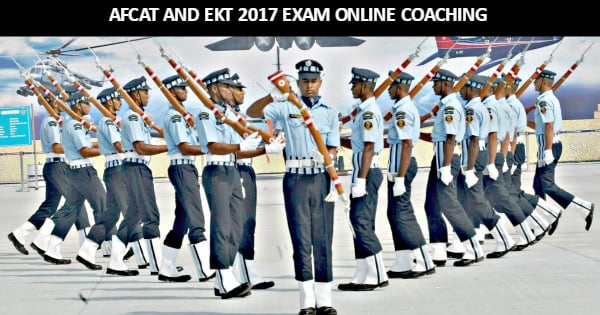 AFCAT And EKT 2017  is going to be conducted in Feb 2017
SSBcracK Exams offering to AFCAT&EKT aspirants:
AFCAT&EKT full Online Corurse
Complete AFCAT&EKT E Book
AFCAT Video Tutorials
AFCAT&EKT Practice Tests
AFCAT&EKT based National Level Mock Tests
High end Reports and Analysis on student performance
Expected important questions for upcoming AFCAT&EKT along with monthly GK and Current affair updates
Why To Enrol In AFCAT&EKT Online Coaching??
AFCAT&EKT online course gives you the most flexible and easily accessible learning experiences with dynamics parameters that follows the changing trend of AFCAT&EKT entry over the years and customise the course to keep you updated with present competition. And its all at very reasonable price to know the prices read below
Note: Available @ Android App
How to Enrol in AFCAT+EKT Online Coaching
To enroll in SSBcrack Exams, first a student have to register. There are two ways a student can register:
 Student can register through our website by providing – Username, Email id and Password. To Register Click Here
Student can register with his Facebook id and password. To Register Click Here
Once the student is registered he\she can select his\her respective subject in SSbcrack Exams website. SSBcrack Exams has provided following courses for AFCAT and EKT applicants.
Note:- To join online AFCAT coaching a student have to first sign in  to portal using registered login ID and password, once a student is logged in, look in left hand side of the page and look for " buy package " and click on it. The test selection page will open, then the student have to select the respective choice of exam and click on "buy now".