The Territorial Army which is also known as TA is an excellent opportunity for civilians who are gainfully employed in their respective fields and want to help the nation by joining the Indian army without losing their current job. When you join Territorial Army, you become an additional force for Indian army which is being utilized as and when required. So it is a matter of pride to become a part of the great Indian army and helping it.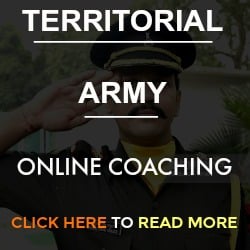 5 Killer Tips to Crack Territorial Army 2 2017 Exam
Know the syllabus first, candidates who are very good in general mathematics, English and GK, can easily work their way around TA exam. Always study the syllabus of TA written exam which will help you to understand what they might ask in TA exam paper. After you scan the whole TA exam syllabus, make sure you are filtering out topics where you do not need any preparation and you are 100% confident of clearing it, topics which you are not 100% confident are the one you want to prepare to clear the exam. Weed out the topics which you have zero knowledge on and keep them for last. So here the basic idea is to prepare as many as topics you can with 100% confident, even if you missed out 10% of the topics from Maths, English and GK it won't affect you that much. To have better understanding of these topics, refer to the TA exam questions blueprint.
Refer to previous question papers of TA exam; this method of preparation is followed by many successful candidates since many years. So always solve 9-10 previous question papers and find out where you are lacking, focus on topics which you are sure about and you will succeed without any doubt.
Consider various preparation sources like books, e-books, online preparation, online groupds, blogs etc. This will make your preparation rock solid and you will also discover things which you are not aware of while preparing with the single source. So extend your horizon to discover more things related to TA exam preparation, you never know what advantage you will get by preparing with all other sources.
Start well in advance and make a plan as to how you are going to prepare for TA exam, stick to your plan till the end. Most of the candidates who are good enough to clear the TA exam never realize the importance of time, at the last minute they misses out the revising topics which are very important for TA exam, this leads to sure shot failure. So always try to kick start your TA exam preparation as soon as you can.
In SSBCrackExams we have launched our TA exam online coaching course by analyzing the need of present TA exam aspirant. We not only stick to the strict topic wise plan but also provide the tracker to analyzie the learning curve of the candidates, we assume there is less improvement when there is not feedback, our onlince course has high end reporting system which helps you to understand you weak and stronger sections of exam topics, this will not only help you to improve on those topics, but also save lot of time to focus on other things, may be another exam you are preparing for. You can check out more details on TA exam coaching online
Hope these tips will give you some direction and will be helpful for you to understand from where and how you should start your TA exam preparation. You are never too late to start anything, so do not waste more time just thinking and start acting now. All the best !