We are sharing list of selected MCQs for readers to allow them to asses their general knowledge and current affair preparation.
CDS 2 2017 Exam Important Current Affair MCQs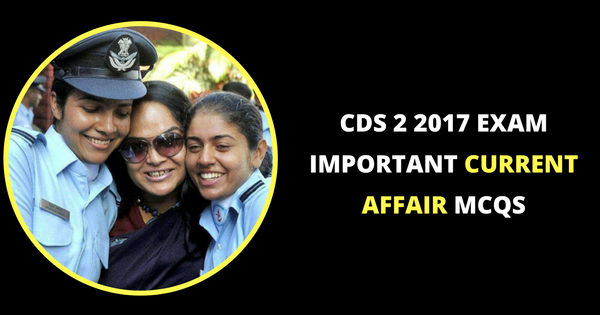 Who has been appointed as the New Chairman for Airport Authority of India?
a) K R Krishnan
b) S K Muhammad Sayed Khan
c) R K Srivatsava
d) Sudheer Raheja
The ATP World Tennis Championship was won by
a) Roger Federer
b) Novaj Djokvik
c) Andy Murray
d) Leander Paes
Who is the Minister of Communications & Information Technology and Law & Justice?
a) Arun Jaitely
b) Ravi Shankar Prasad
c) Murali Manohar Joshi
d) Kalyan Singh
Who has been awarded as the Business Person of the year 2014?
a) Larry Page
b) Alibaba
c) Tim Cook
d) Bill Gates
Who has been selected for the Sardar Valllabhai Patel Vishwa Pratibha Award?
a) Meghnad Desai
b) Arvind Pargariya
c) A K Pillay
d) Kumara Tilakarathna
President Pranab Mukherjee has signed an ordinance to amend the Citizenship Act
a) 1951
b) 1953
c) 1955
d) 1957
Maitree Express runs between
a) Delhi and Dhaka
b) Kolkata and Dhaka
c) Gauhati and Dhaka
d) NOTA
The spacecraft discovered more than 1000 exo-planets is
a) Goefen
b) Kepler
c) Ruben
d) Hitachi – 34 G
Sri Lankan Presidential Election 2015 is won by
a) Mahinda Rajapaksha
b) Ranil Vikramasinga
c) Kumara Ranathunga
d) Maithripala Sirisena
Who is the Union Railway Minister of India?
a) Gajapathy Raju
b) Mahesh Prabhu
c) Suresh Prabhu
d) K N Mittal
The Chennai Open Tennis Singles 2015 title was won by
a) Aljaz benede
b) Stanislas Wawrinka
c) Jonathan Murray
d) Yisika Kishimori
The Chennai Open Tennis Doubles 2015 title was won by
a) Lu Yen-hsun and Jonathan Marray
b) Yen-Hsun Lu and Aljaz benede
c) Jonathan Murray and Aljas Benede
d) Stanislas Wawrinka and Jonathan Murray
Who has been appointed as the ISRO's new Secretary and Chief?
a) A K Mittal
b) V S Brahma
c) A S Kiran Kumar
d) K N Gopala Krishnan
The 2015 Space Pioneer Award was won by
a) NASA
b) ISRO
c) ESA
d) RSA
Who has been conferred for Vikram Sarabhai Memorial Award?
a) G K Kumaran
b) Arul Kirubakaran
c) M Y S Prasad
d) M K Narasimhan
Who is the recipient for Vyas Samman award 2014?
a) Premchand
b) Kamal Kishore Goyanka
c) Karthikeyan Jayaprasad
d) Jayakanthan
Indian Army Day is celebrated on
a) January 14
b) January 15
c) January 13
d) January 12
Who has been appointed as the New Chief Election Commissioner?
a) V S Sampath
b) H R Khan
c) R Gandhi
d) Hari Shankar Brahma
Japan has pledged $2.5 Billion in Non-Military Assistance to
a) India
b) Pakistan
c) Middle East
d) Vietnam
The Japanese Foreign Minister who recently visited India was
a) Kim Xing
b) Chim Ke Abe
c) Fumio Kishida
d) NOTA
Who has been appointed as the brand ambassador of Haryana?
a) Hema Malini
b) Jayapradha
c) Baba Ramdev
d) Kishore Kapoor
What is the name of the Spacecraft  which was found recently in Mars after 11 years?
a) Beagle – 1
b) Beagle – 2
c) Mangalyaan
d) Curiosity
The Sydney Doubles title 2015 was won by
a) Sania Mirza and Abigail Spears
b) Raquel kops Jones and Abigail Spears
c) Sania Mirza and Bethanie Mattek-Sands
d) Serena Williams and Bethanie Mattek-Sands
World Polio Day is observed on
a) October 23
b) October 24
c) October 25
d) October 26
India is planning joint tourism promotion campaign with
a) Bhutan
b) Cambodia
c) Bangladesh
d) Nepal
What is the name of the Aircraft which was recently handed over to the Indian Air Force?
a) Bazz
b) Tejas
c) Astra
d) Mig-28G
The Bennett Coleman & Co ltd is also called
a) The Euro Group
b) Al Jazeera
c) The Reuters Group
d) The Times Group
Who won the VII National Billiards Title?
a) Anirban Lahiri
b) Pankaj Advani
c) Dhruv Sitwala
d) Kishore Kumar
Who has been conferred with the Martin Luther King Award?
a) Lakshmi Mittal
b) Lord Raj Loomba
c) Frank Islam
d) Bill Gates
The name of PM Modi's Education Project is
a) NIAN
b) GAIN
c) GIAN
d) CEDI
The number of Tiger Reserves in India governed by Project Tiger is
a) 42
b) 44
c) 45
d) 47
The committee related with IPL spot fixing is
a) Agarwal Committee
b) Ganguly Committee
c) Mudgal Committee
d) Akbar Committee
khurshid mahmud kasuri has authored the book called Neither a Hawk – Nor a Dove. He belongs to
a) Bangladesh
b) Saudi Arabia
c) Pakistan
d) Dubai
The Syed Modi Gran Prix Championship is related to which sports?
a) Hockey
b) Badminton
c) Tennis
d) Squash
Which of the following is the Highest Award among the National Bravery Awards?
a) Sanjay Chopra Award
b) Bharat Award
c) Geet Chopra Award
d) Babu Ghaidhani Award
Who is the Author of "When God is a Traveller"?
a) Aruna Roy
b) Salman Rushdie
c) Arundhathi Subramaniyam
d) Suhel Seth
What was the name of the Cartoon Character created by RK Laxman?
a) The Common Citizen
b) The Common Man
c) The Common Person
d) The Common Indian
What is the Second Highest Civilian Award in India?
a) Bharat Ratna
b) Padma Bhoosan
c) Padma Vibhusan
d) Padma Shri
India celebrated ____ Republic day on January 26'2015?
a) 62nd
b) 63rd
c) 66th
d) 67th
What was the theme for the 2015 Republic Day?
a) Ladki Sakthi
b) Nari Shakthi
c) Navjawan Shakthi
d) Yuva Shakthi
The first Indian Woman Officer to lead the Ceremonial Guard of Honour at Rashtrapathi Bhavan was
a) Guru Sindhuja
b) Amrutha Anand
c) Nisha Subramaniyam
d) Pooja Thakur
The CRPF's theme song was penned by
a) RK Laxman
b) Rabindra Nath Tagore
c) Javed Akthar
d) Shoaib Malik
Who has been appointed as the Foreign Secretary of India?
a) Karthikeyan Venkatraman
b) Baranidharan Sundaram
c) Subrahmanyam Jaishankar
d) Velayutham Sabari
According to the ICC's announcement, the 2019 World Cup will be hosted by
a) Australia and New Zealand
b) India and Sri Lanka
c) West Indies
d) England
What is the Range of Agni-V?
a) 3500 to 4000 Km
b) 4000 to 4500 Km
c) 4500 to 5000 Km
d) 5000 to 8000 Km
India to build missile launch testing facility for DRDO in
a) Karnataka
b) Andhra Pradesh
c) Odisha
d) West Bengal
The 18th National Conference on e-Governance was concluded in Gandhinagar, Gujarat. What is its Theme?
a) E-Governance – The Future
b) Digital Governance-New Frontier
c) Digital India
d) E-Governance – Way to go
Who has been appointed as the Chairman of Hindustan Aeronautics Limited?
a) Suvarna Raju
b) Hindol Sengupta
c) Kasi Karamraj
d) Dravid Kulkarni
Leander Paes and _________ won the Australian Open Mixed doubles title 2015?
a) Martina Navarathinova
b) Kristina Mladenovic
c) Martina Hings
d) Daniel Nestor
Pakistan has successfully test fired the Air-Launched Cruise Missile called
a) Babur
b) Ra'ad
c) Khani
d) Durug
IRCTC has authorized _________ for their Cash on Delivery initiative?
a) Distinct Technologies
b) Credible Tech and Co
c) Anduril Technologies
d) Effective Del Pvt Ltd
Indian Journalist-writer Hindol Sengupta's book has been shortlisted for Hayek Prize. This prize is awarded by
a) Germany
b) United Kingdom
c) United States
d) France
Who is the Controller General of Patents, Designs & Trade Marks?
a) Rahul Gupta
b) Siva Rama Krishnan
c) Chaitanya Prasad
d) Shanmuganathan
India's first Wi-Fi metro city is
a) Kolkata
b) New Delhi
c) Chennai
d) Mumbai
Bhalchandra Nemade has been chosen for Jnanpith Award. He is a
a) Bengali Writer
b) Hindi Writer
c) Marathi Writer
d) Kannada Writer
Which state govt Government to provide tablets to all girls student under Kasturba Gandhi Balika Vidyalaya scheme?
a) Bihar
b) Uttar Pradesh
c) Jharkhand
d) Haryana
The Annual Grammy awards is given for
a) Classical movies
b) Music
c) Art Movies
d) Documentary Films
Who has been appointed as the Chief Operating Officer of Vodofone?
a) Uday Kapoor
b) Naveen Chopra
c) Sujatha Singh
d) Kalyanraman
Facebook and ____________ have partnered together to bring Internet.org to India?
a) Tata Communications
b) Airtel
c) Reliance Communications
d) IBM
Sarbananda Sonowal is the current Minister of
a) Information and Communication Technology
b) Environment
c) Sports and Youth Affairs
d) None of the above
In India, which award is the Highest Award in sports?
a) Arjuna Award
b) Dhronacharya Award
c) Param Award
d) Rajeev Gandhi Ghel Ratna Award
India and Israel developed a surface to air missile called
a) BrahMos
b) Raad
c) Barak 8
d) Pratik
The Humanitarian Assistance and Disaster Relief Exercise was conducted by Indian Navy on
a) Andaman Island
b) Nicobar Island
c) Lakshadweep
d) None of the Above
The Spacex Falcon Rocket 9 was launched by
a) European Space Agency
b) Russian Space Agency
c) NASA
d) Japanese Space Agency
The First National Tribal Festival is named as
a) Haati
b) Vanaj
c) Kaadu
d) Kushank
The committee associated with corporate bankruptcy legal framework in India is
a) Jai Shankar Committee
b) M G Ramachandran Committee
c) T K Viswanathan Committee
d) Ajith Kumar Committee
India successfully test-fired the BrahMos supersonic cruise missile from
a) INS Vikrant
b) INS Kolkata
c) INS Arihant
d) INS Sathyan