What are the key provisions of the Social Security Code 2020?
Recently, Lok Sabha passed the Social Security Code, 2020
Social Security is a measure to ensure access to health care and provisions of income security to workers.
This replaces nine laws related to social security, including the Employees' Provident Fund Act, 1952, the Maternity Benefit Act, 1961, and the Unorganised Workers' Social Security Act, 2008.
The code universalizes social security coverage to those working in the unorganised sector, such as migrant workers, gig workers and platform workers.
Provisions of this will also be extended to agricultural workers also.
The code also reduces the time limit for receiving gratuity payment.
A "Social Security Fund" will be created on the financial side in order to implement these schemes.
Namami Gange
PM Modi inaugurated 6 mega projects in Uttarakhand under Namami Gange.
These six mega projects of Sewage Treatment Plants (STP) are constructed at Haridwar, Rishikesh, Muni ki Reti, Chorpani, and Badrinath.
The Ganga Avalokan Museum, the first of its kind on the River Ganga at Haridwar was also inaugurated.
"Rowing Down the Ganges" book was also released which explains in detail how the River Ganges stands as a glowing symbol of India's Culture, Faith and Heritage.
The logo of Jal Jeevan Mission and 'Margdarshika for Gram Panchayats and Paani Samitis under Jal Jeevan Mission' is also unveiled during the event.
Namami Gange Programme
It is an Integrated Conservation Mission.
A 'Flagship Programme' established by the Union Government in June 2014
Objective: To accomplish the twin objectives of effective abatement of pollution and conservation and rejuvenation of National River Ganga.
India-Denmark Green Strategic Partnership
India and the Kingdom of Denmark have launched the Green Strategic Partnership for delivering sustainable solutions to India.
India and Denmark will cooperate through relevant ministries, institutions and stakeholders.
What is the Green Strategic Partnership?
The partnership implies political cooperation, expand economic relations and green growth, create jobs and strengthen cooperation on addressing global challenges and opportunities.
It will be focusing on an ambitious implementation of the Paris Agreement and the UN Sustainable Development Goals.
Crimes in India report
Recently, National Crime Record Bureau (NCRB) released a report titled "Crime in India", 2019.
Crimes against women increased 7.3% from 2018 to 2019, and crimes against Scheduled Castes also went up 7.3%
Key Findings:
UP reported highest number of cases in both the categories, crimes against women and crimes against scheduled castes.
Assam reported the highest rate of crimes against women (per lakh population),
While Rajasthan had the highest rate of crimes against Scheduled Castes.
A total of 4,05,861 cases of crime against women were registered during 2019.
Not only women, the figures collated by NCRB also indicate an upward trend in cases linked to crimes against children.
From 2018, the crimes against children have gone up by of 4.5 per cent in 2019.
National Crime Record Bureau:
Functions under the Union Home Ministry.
It was set up in 1986
Aim: Collecting and analysing crime data from across the country.
01 October: International Day of the Elderly
The International Day of Older Persons (IDOP) is observed every year on October 1 to raise awareness about issues affecting elderly and to appreciate contributions that older people make to society.
Theme: "Leave No One Behind"
Current COVID19 Situation in India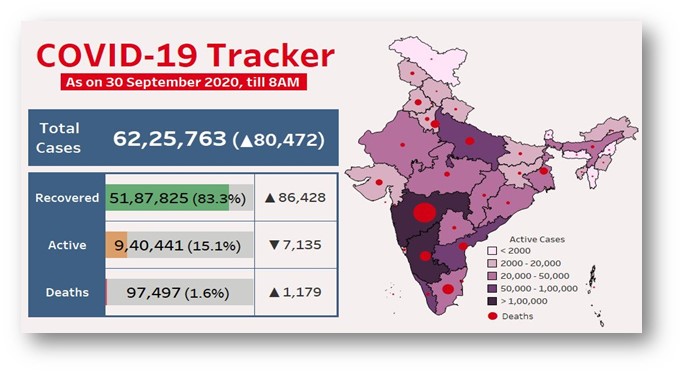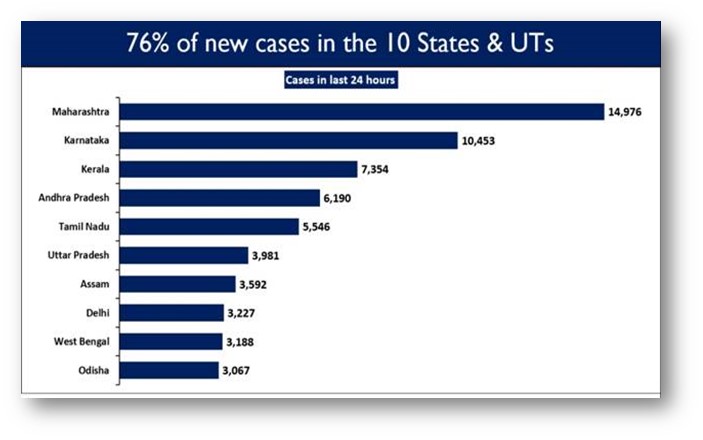 QUIZ TIME
Ganga Avalokan Museum is located at:
Badrinath
Haridwar
Rishikesh
None of these
Answer – B
In which year Namami Gange Programme was launched?
2010
2011
2014
2020
Answer – C
According to the recent report by NCRB which state reported the highest rate of crimes against women?
Uttar Pradesh
Assam
Rajasthan
Maharashtra
Answer – B
Question of the Day
What is Mission Indradhanush?
Answer in next session…