MISSION SAGAR – 10 MAY 2020
As part of the Government of India outreach amidst the ongoing COVID-19 pandemic, Indian Naval Ship Kesari has departed for Maldives, Mauritius, Seychelles, Madagascar and Comoros, to provide Food Items, COVID related Medicines including HCQ Tablets and Special Ayurvedic Medicines with Medical Assistance Teams embarked, on 10 May 20. This deployment as 'Mission Sagar', is in line with India's role as the first responder in the region and builds on the excellent relations existing between these countries to battle the COVID-19 pandemic and its resultant difficulties.
The deployment is in consonance with the Prime Ministers vision of Security and Growth for All in the Region 'SAGAR' and highlights the importance accorded by India to relations with her neighbouring countries and further strengthens the existing bond. The operation is being progressed in close coordination with the Ministries of Defence and External Affairs, and other agencies of the Government of India.
As part of Mission Sagar, Indian Naval Ship Kesari would enter the Port of Male in Republic of Maldives, to provide them 600 tons of food provisions. India and Maldives are close maritime neighbours with strong and extremely cordial defence and diplomatic relations.
NTPC, Achieves 100 percent PLF at three of its power stations
NTPC Ltd, a central PSU under Ministry of Power and India's largest power generator, has achieved 100 percent Plant Load Factor (PLF) on 9th May 2020, at three of its thermal power stations. NTPC Vindhyachal (4760 MW) in Madhya Pradesh, NTPC Talcher Kaniha (3000 MW) in Odisha & NTPC Sipat (2980 MW) in Chhattisgarh achieved 100 percent PLF, demonstrating exceptional operational efficiency and optimum capacity utilisation despite lockdown on account of COVID-19 pandemic.
At the same time, NTPC Koldam in Himachal Pradesh is emerging as one of the best hydropower stations in the country for FY20-21.Earlier, on 13th April 2020, country's largest power station, NTPC Vindhyachal had achieved 100% plus PLF.
Beyond power output, NTPC is making a rich contribution to the social welfare activities for underprivileged section and migrant workers by providing ration and medical aid amidst COVID-19 situation. NTPC is strictly adhering to the guidelines in its fight against COVID-19 by maintaining social distancing at all its establishments and power stations across the country.
With NTPC Group's total installed 62110 MW capacity, NTPC has 70 Power stations comprising of 24 Coal, 7 combined cycle gas/liquid fuel, 1 Hydro, 13 renewables along with 25 JV Power Stations.
DRDO lab develops automated UV systems to sanitise electronic gadgets, papers and currency notes
Research Centre Imarat (RCI), has developed an automated contactless UVC sanitisation cabinet, called Defence Research Ultraviolet Sanitiser (DRUVS).
It has been designed to sanitise mobile phones, iPads, laptops, currency notes, cheque leafs, challans, passbooks, paper, envelopes, etc.
The DRUVS cabinet is having contactless operation which is very important to contain the spread of virus.
The proximity sensor switches, clubbed with drawer opening and closing mechanism, makes its operation automatic and contactless.
The RCI has also developed an automated UVC currency sanitising device, called NOTESCLEAN. Bundles of currency notes can be sanitised using DRUVS, however disinfection of each currency notes using it will be a time consuming process. For that purpose, a sanitising technique has been developed, where one has to just place the loose currency notes at the input slot of the device. It picks the notes one by one and makes them pass through a series of UVC lamps for complete disinfection.
NIV at Pune has developed the indigenous IgG ELISA test "COVID KAVACH ELISA"
Indian Council of Medical Research (ICMR)-National Institute of Virology (NIV) at Pune has developed and validated the indigenous IgG ELISA test "COVID KAVACH ELISA" for antibody detection for COVID-19.
COVID19 pandemic has spread across 214 countries with a total of 38, 55, 788 confirmed cases and 2, 65, 862 deaths. Most countries in the world are struggling to contain the pandemic using possible interventions. There is an augmented demand of various types of diagnostic tests by countries all across the globe. Most of the diagnostic material for COVID19 is imported into India from other countries. Therefore, Indian scientists are tirelessly engaged in developing indigenous diagnostics for SARS-CoV-2, the causative agent of COVID19.
ICMR-National Institute of Virology (NIV), Pune is the apex laboratory of the country with state-of-art infrastructure and expertise for research in virology. NIV's competent scientific team successfully isolated the SARS-CoV-2 virus from laboratory confirmed patients in India. This in turn has paved the way for development of indigenous diagnostics for SARS-CoV-2.
While real time RT-PCR is the frontline test for clinical diagnosis of SARS-CoV-2, robust antibody tests are critical for surveillance to understand the proportion of population exposed to infection.
The scientists at ICMR-NIV, Pune have enthusiastically worked to develop and validate the completely indigenous IgG ELISA test for antibody detection for SARS-CoV-2. The test was validated at two sites in Mumbai and has been found to have high sensitivity and specificity. In addition, the test will have the advantage of testing 90 samples together in a single run of 2.5 hours. Moreover, ELISA based testing is easily possible even at district level as the ELISA kit has inactivated virus. There are also minimal bio-safety and bio-security requirements as compared to the real-time RT-PCR test. The test has an advantage of having much higher sensitivity and specificity as compared to the several rapid test kits which have recently flooded the Indian market.
Speaking on the occasion, Dr. Harsh Vardhan said, "The robust indigenous IgG ELISA test for antibody detection developed by ICMR-NIV, Pune will play a critical role in surveillance of proportion of population exposed to SARS-CoV-2 Coronavirus infection."
ICMR has partnered with Zydus Cadila for mass scale production of the ELISA test kits. After development at ICMR-NIV, Pune, technology has been transferred for mass scale production to Zydus Cadila, which is an innovation driven global healthcare company. Zydus has proactively taken up the challenge to expedite the approvals and commercial production of the ELISA test kits so that they can be made available for use at the earliest. The test is named as "COVID KAVACH ELISA". This is a perfect example of "Make in India" in record time.
Gradual Resumption of Select Passenger Services by Indian Railways
Indian Railways plans to gradually restart passenger train operations from 12th May, 2020, initially with 15 pairs of trains (30 return journeys). These trains will be run as special trains from New Delhi Station connecting Dibrugarh, Agartala, Howrah, Patna, Bilaspur, Ranchi, Bhubaneswar, Secunderabad, Bengaluru, Chennai, Thiruvananthapuram, Madgaon, Mumbai Central, Ahmedabad and Jammu Tawi.
Thereafter, Indian Railways shall start more special services on new routes, based on the available coaches after reserving 20,000 coaches for COVID-19 care centres and adequate number of coaches being reserved to enable operation of up to 300 trains everyday as "Shramik Special" for stranded migrants.
Booking for reservation in these trains will start at 4 pm on 11th May and will be available only on the IRCTC website. Ticket booking counters at the railway stations shall remain closed and no counter tickets (including platform tickets) shall be issued. Only passengers with valid confirmed tickets will be allowed to enter the railway stations. It will be mandatory for the passengers to wear face cover and undergo screening at departure and only asymptomatic passengers will be allowed to board the train. Further details including train schedule will be issued separately in due course.
Pokhran II: 11 May 1998
The Pokhran-II tests were a series of five nuclear bomb test explosions conducted by India at the Indian Army's Pokhran Test Range in May 1998.
The tests were initiated on 11 May 1998, under the assigned code name Operation Shakti, with the detonation of one fusion and two fission bombs.
Repatriated Indians Arrive Kochi Onboard INS Jalashwa FROM Maldives
Entered Kochi harbour at around 10:00 am on 10 May with a total of 698 Indian nationals stranded at Maldives
The repatriation completed today was the first part of the operation, as a continuation of which, another amphibious ship, INS Magar, based at Kochi left Male today with 202 Indian nationals.
COVID19 current update in India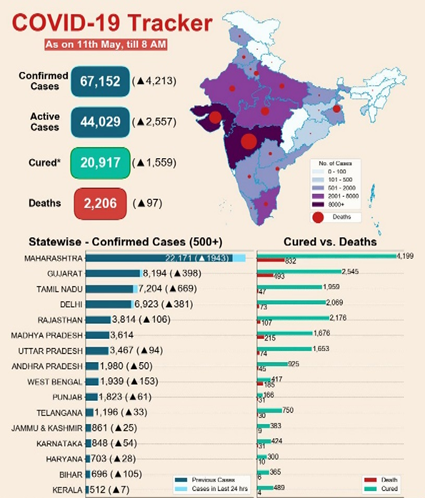 QUIZ TIME
Which of the following INS has been deployed for OPERATION SAGAR?
Jalashwa
Viraat
Kesari
Magar
Answer: C
How many Hydro-Power Stations does NTPC s
has?
1
2
7
None of the Above
Answer: A
What was the name of the operation carried during POKHRAN II testing?
Operation Apache
Operation Shakti
Operation Cobra
Operation Parmanu
Answer: B