What is SVAMITVA Scheme?
SVAMITVA (Survey of villages and mapping with improvised technology in village areas) scheme is a new initiative of the Ministry of Panchayati Raj.
Aim: To provide rural people with the right to document their residential properties so that they can use their property for economic purposes.
It is a scheme for mapping the land parcels in rural inhabited areas using drone technology and Continuously Operating Reference Station (CORS).
The mapping will be done across the country in a phase-wise manner over a period of four years – from 2020 to 2024.
Property cards for rural landowners
Recently Prime Minister Narendra Modi launched the physical distribution of property cards under the scheme.
This launch will enable nearly one lakh property holders to download their property cards through SMS on their mobile phones and pave the way for villagers to use property as a financial asset for taking loans and other financial benefits.
The property cards are to be distributed to villages in the states of Uttar Pradesh, Haryana, Maharashtra, Madhya Pradesh, Karnataka and Uttarakhand. Around 763 villages are to be benefited.
Nobel Prize for Economics, 2020
The Nobel Prize for Economics, 2020 was awarded to Paul R Milogrom and Robert B Wilson.
They were awarded for improvements to Auction Theory and also for inventing new auction formats.
Nobel Peace Prize 2020
The Nobel Peace Prize 2020 has been awarded to the United nation's World Food Programme (WFP).
The programme has been awarded the prize for its efforts to fight the hunger specially in the war zones and conflict affected areas.
Rafael Nadal wins French Open 2020
Rafael Nadal has beaten Novak Djokovic to win the title of the French Open in tennis.
This is his 13th French Open men's singles title and 20th Grand Slam title.
Women's single: Iga Swiatek of Poland.
She claimed a historic win, by becoming the youngest women to win the title in the history of the championship.
Goa becomes first 'Har Ghar Jal' state
The Jal Shakti Ministry announced , Goa has become the first Har Ghar Jal State in the country
It is providing tap water connection to every rural household.
The state has provided tap water connection to two lakh 30 thousand rural households.
The Jal Jeevan Mission of the Central Government aims to provide piped water to all the rural households by 2024.
Two districts- South Goa with 98,000 households in 191 gram panchayats and North Goa with one lakh 65 thousand rural households have been fully saturated with assured water supply through the tap connections.
Commemorative Coin of Rs. 100 in honour of Vijaya Raje Scindia
The Prime Minister Narendra Modi has released a commemorative coin of 100 rupees in honour of Vijaya Raje Scindia.
The coin is being released on the occasion of birth centenary of Vijaya Raje Scindia.
She was a politician of considerable influence and was elected repeatedly to both houses of the Indian parliament.
She was also an active member, for many decades, of the Jana Sangh and co-founder of Bharatiya Janata Party.
Tree Transplantation Policy
Passed by Delhi government.
state will make the payment to the transplantation agency only if 80 percent of the transplanted trees survive.
Delhi has become the first State in India to pass this policy.
10 saplings will be planted in addition to the whole tree being dug up with the root intact and scientifically transplanted at another location instead of being felled.
The Delhi government is also going to set up a panel of national-level transplantation agencies.
11 October: International Girl Child Day
International Day of the Girl Child is celebrated annually on 11 October to highlight and draw attention towards the challenges that girls' face.
Aim: To highlight the challenges of gender inequality that girls are facing in present world. The inequality includes areas such as access to education, nutrition, legal rights, medical care, and access to employment.
October 13: International Day for Disaster Reduction
Every year, the United Nations marks the International Day for Disaster Reduction on October 13.
The day is celebrated to spread how people and communities all over the world are reducing their exposure to disasters.
Theme: Disaster Risk Governance
Current COVID19 Situation in India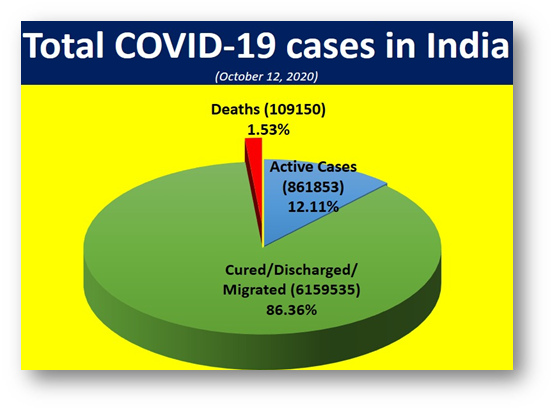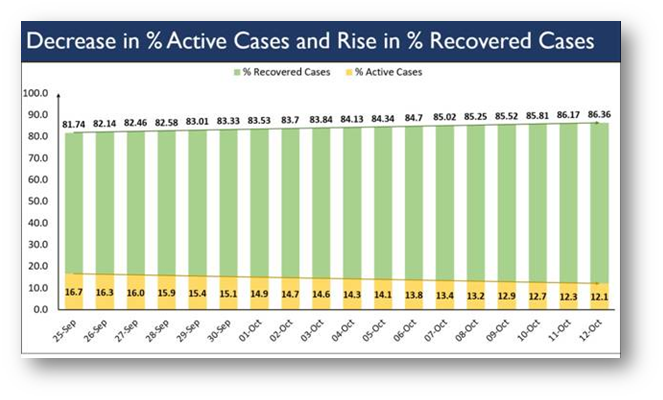 QUIZ TIME
Who has won the Nobel Peace Prize 2020?
The World Health Organization
World labour union
Donald Trump
World Food Programme
Answer – D
Who won the men's singles title in French Open 2020?
Rafael Nadal
Novak Djokovic
Roger Federer
None of the above
Answer – A
Which state has become the first Har Ghar Jal State in the country?
Tamilnadu
Odisha
Goa
Maharashtra
Answer – C
International Day for Disaster Reduction is observed on:
2 October
9 October
13 October
15 October
Answer – C
Question of the Day
What is Bharatmala Pariyojana?
Answer in next session…