What is India Energy Modeling Forum?
The IEMF seeks to provide a platform for policy makers to study important energy and environmental issues and ensure induction of modelling and analysis in informed decision-making process.
Niti Aayog recently announced governing structure of India energy modelling forum.
The forum and its governing structure are being established under US India strategic energy partnership.
The Forum aims to improve cooperation and coordination between modeling teams, the GoI, knowledge partners and think-tanks.
The Forum aims to:
Provide a platform to examine important energy and environmental related issues.
Inform decision-making process to the Indian government.
Improve cooperation between modelling teams, government, and knowledge partners, funders.
Facilitate exchange of ideas, ensure production of high-quality studies.
Identify knowledge gaps at different levels and across different areas.
Build capacity of Indian institutions.
The Energy Modelling Forum (EMF) in USA was established in 1976 at Stanford University to connect leading modelling experts and decision makers from government, industry, universities, and other research organizations.
The forum provides an unbiased platform to discuss the contemporary issues revolving around energy and environment.
World Economic Outlook
Recently, World Economic Outlook released by IMF International Monetary Fund.
India's economy is expected to contract 10.3% in the current fiscal year as the country and the world reel from the COVID-19 pandemic.
The projection for India is a downgrade of 5.8 percentage points from its June forecast.
India is expected to rebound in the fiscal year beginning in April 2021 with 8.8% growth — an upgrade of 2.8 percentage points relative to the June update.
For the world as a whole, the 2020 growth projection has been revised upwards by 0.8 percentage points relative to June.
After 2021, global growth is expected to ease off at 3.5% in the medium term.
International Monetary Fund
IMF Headquarters: Washington, D.C.
IMF Managing Director and Chairman: Kristalina Georgieva.
IMF Chief Economist: Gita Gopinath.
Gujarat Disturbed Area Act (Amendment) bill, 2020
The President has given his assent to a Bill passed by the Gujarat Assembly in 2019,
The bill made some amendments to the 'Gujarat Prohibition of Transfer of Immovable Property and Provisions of Tenants from Eviction from Premises in Disturbed Areas Act, 1991' – popularly known as the 'Disturbed Areas (DA) Act'..
Under the Disturbed Areas Act, a district Collector can notify a particular area of a city or town as a "disturbed area". This notification is generally done based on the history of communal riots in the area.
Amendments:
Objective of the act is to check on elements that cause demographic imbalance and to stop polarisation.
Bans sale of property by members of one religious' community to those from another community without the prior approval of the district collector
Regional Raw Drug Repository for AYUSH Systems
Union Minister for AYUSH inaugurated the Regional Raw Drug Repository (RRDR) for ASU&H Medicine (Southern Plateau Region) at National Institute of Siddha.
RRDRs are important components of the Centrally Sponsored Scheme of National AYUSH Mission, which plays an important role in medicinal plants cultivation.
The repository will play a major role in collection, demonstration and documentation of raw drugs from Southern Plateau region.
It will establish standard protocols for authentication of raw drugs.
15 October: World Students Day
The United Nations had declared in 2010 as World Students' Day on 15 October.
Which is the birth anniversary of the Missile Man of India Dr. Abdul Kalam.
Dr. A.P.J. Abdul Kalam's role in teaching and his dedication.
Abdul Kalam was the 11th President of India (2002-2007).
15 October: Global Handwashing Day
Global Handwashing Day is an international handwashing promotion campaign to motivate and mobilize people around the world to improve their handwashing habits.
The theme of Global Handwashing Day 2020 is "Hand Hygiene for All".
Current COVID19 Situation in India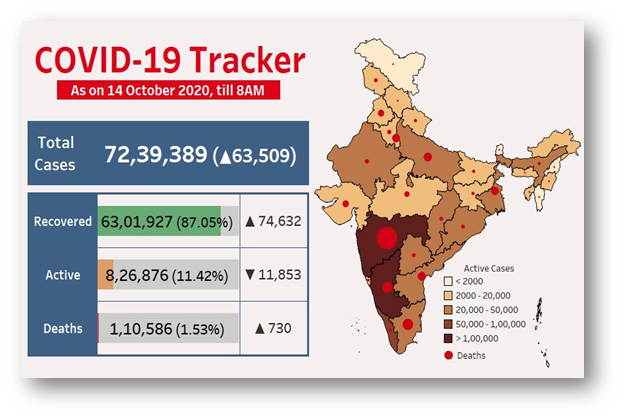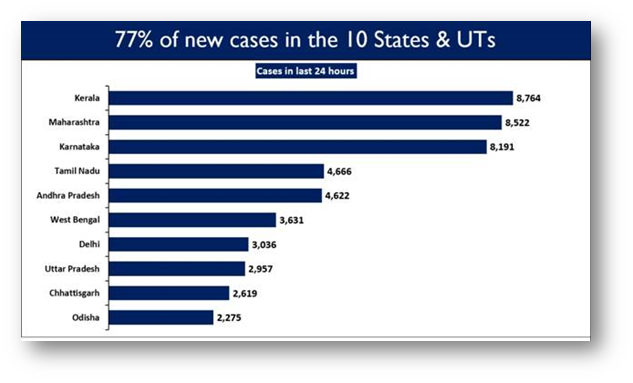 QUIZ TIME
World Economic Outlook is released by:
World Bank
ADB
International Monetary Fund
United Nations
Answer – C
Headquarter of IMF is at:
Washington, D.C.
Shanghai
New York
Paris
Answer – A
World Students Day is observed on:
3 October
12 October
13 October
15 October
Answer – D
World Students Day is observed on the birth anniversary of:
Mahatma Gandhi
Sarvapalli Radhakrishnan
Dr. Abdul Kalam
None of the above
Answer – C
Question of the Day
What is Operation Green? Answer in next session