Dr. Harsh Vardhan participates in the 73rd World Health Assembly through VC
Expressed condolences for the deaths all across the globe due to COVID19 pandemic.
Expressed gratitude for getting the opportunity to address the World Health Assembly
The World Health Assembly is the decision-making body of WHO.
It is attended by delegations from all WHO Member States and focuses on a specific health agenda prepared by the Executive Board.
The main functions of the World Health Assembly are to determine the policies of the Organization, appoint the Director-General, supervise financial policies, and review and approve the proposed programme budget.
The Health Assembly is held annually in Geneva, Switzerland.
ICMR revises viral testing strategy
The Indian Council of Medical Research (ICMR) on Monday released a revised COVID19 testing strategy, which includes testing of all individuals with symptomatic influenza like illness with an international travel history in last 14 days.
New Categories included are :
The frontline workers involved in containment and mitigation of COVlD19, all hospitalised patients who develop ILI symptoms and all returnee and migrants with such symptoms within 7 days of illness.
Asymptomatic direct and high risk contacts of a confirmed cases to be tested once between day 5 and day 10 of coming into contact.
J&K defines rules for Domicile Certificates
The 'J&K Grant of Domicile Certificate Rules 2020' will provide the basis for issuing domicile certificates to those who meet the conditions as stated in the Centre's gazette notification.
On march 31, the centre had issued the Jammu and Kashmir Reorganisation Order 2020, under which it defined domicile as any person "who has resided for a period of 15 years in the UT of J&K or has studied for a period of seven years and appeared 10th/12th examination in an educational institution located in UT of J&K"
IMF Chief's forecast for global economy
Full global recovery is unlikely in 2021
Likely to downgrade the global GDP by 3 percent in 2020 but did not give any detail regarding that.
The data from all across the globe and the countries are worse than what was expected making It unlikely to recover even by 2021
Super Cyclonic Storm 'AMPHAN': Updates
Heavy Rainfall warnings: Odisha, West Bengal, Meghalaya and Assam along with Sub Himalayan and Sikkim region.
High Speed winds: Odisha and West Bengal likely to face wind speeds of up to 195 kmph & Sea conditions: Will remain phenomenal for 24 hours
Warnings to fishermen & Storm Surge: Sea tides more than 4-6 metres higher than astronomical tidal waves.
COVID19 current update in India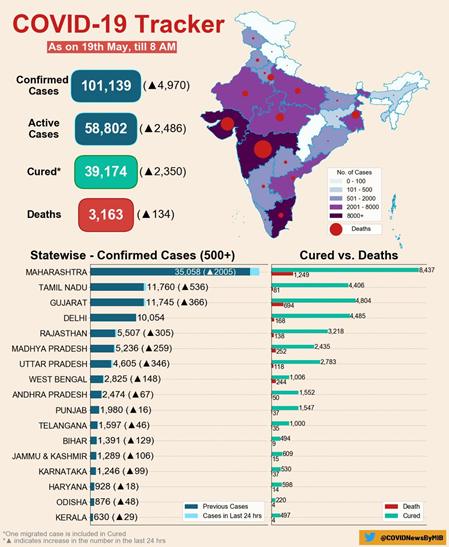 QUIZ TIME
Where the meeting of World Health Assembly annually is held?
California
Paris
Geneva
None
Answer: C
Who is the Managing Director of IMF?Kristalina GeorgievaGita GopinathTheresa May None
Answer: A