What is O-SMART Scheme?
The O-SMART (Ocean Services, Modelling, Applications, Resources, and Technology) Scheme was approved by the Cabinet Committee on August 29, 2018.
The scheme aims at stepping up the ocean research and setting up early warning weather systems.
It also addresses ocean development activities such as resources, technology, observations, services, science and also provides the necessary scientific and technological background.
The mission will help India to harness various living and non-living(water, mineral and energy) resources from the seabed and deep water.
The Scheme generates and regularly update information on Marine Living Resources and their relationship with the physical in Indian Exclusive Economic Zone (EEZ).
YuWaah Platform
Ministry of Youth Affairs & Sports and United Nations Children Fund (UNICEF) have signed a "Statement of Intent" to establish YuWaah, Generation Unlimited (GenU).
It is a global multi-stakeholder platform in India.
Objectives
Support young people by providing entrepreneurship classes (online and offline) with successful entrepreneurs and experts.
Upskilling young people on 21st century skills, life skills, digital skills and supporting them through self-learning
Creating linkages with aspirational economic opportunities to connect young people with jobs or self-employment.
Providing career guidance support to young people through career portal as well as through job-readiness and self-exploration sessions
MedSpark in Kerala
Government to set up Medical Devices Park in Kerala.
It will be one of the first medical device parks in the country.
Focusing on the high-risk medical device sector to provide full range of services for the medical devices industry.
Services will include like R&D support, testing, and evaluation.
Established By: Technical Research Centre for Biomedical Devices Programme of the Department of Science and Technology (DST), Government of India And Sree Chitra Tirunal Institute for Medical Sciences and Technology, an autonomous institute of the DST.
It will emphasis on High-risk medical device sector which deals with the category of high-risk devices which include medical implants and extracorporeal devices.
J&K Official Languages Bill, 2020
The Lok Sabha passed the J&K Official Languages Bill, 2020
The bill seeks to include Kashmiri, Dogri and Hindi as the official languages in the Union Territory of Jammu and Kashmir.
74 per cent people in the Union Territory spoke Kashmiri and Dogri languages.
As per 2011 census, only 0.16 per cent population in Jammu and Kashmir spoke Urdu, while 2.3 per cent spoke Hindi
History:
Before the reorganisation of J&K only English and Urdu were the official languages in the former State.
In 1889, Dogra ruler Pratap Singh adopted Urdu as the official language of the princely kingdom of J&K
Dogri language
Dogri is a Northern Indo-Aryan language.
Spoken by about five million people in India, chiefly in the Jammu region of Jammu and Kashmir.
It is one of the 22 official languages of India.
Dogri along with Bodo, Maithili and Santhali was added to the scheduled languages under the Eighth Schedule by 92nd Amendment Act of 2003.
'Kritagya' Hackathon
"Kritagya" Hackathon was launched by Indian Council of Agricultural Research under National Agricultural Higher Education Project.
The project will promote Farm Mechanisation.
Students, faculties and innovators from any technical institution across the country can apply and participate in the event in the form of a group.
The main objective of the programme is to support ICAR and participating agricultural universities.
The project was launched in 2019 at Rs 1100 crores.
It is funded by the World Bank.
The GoI and the World Bank share the funds in the ratio of 50:50.
Current COVID19 Situation in India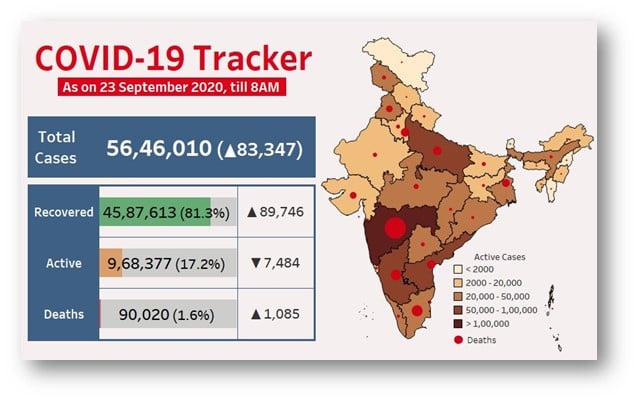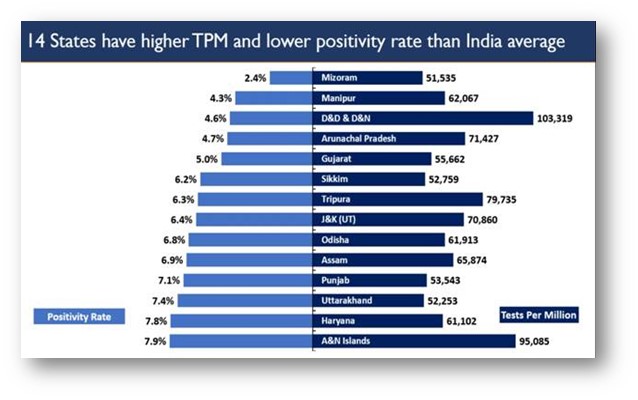 QUIZ TIME
YuWaah Platform launched by:
World Bank
UNICEF
Ministry of Youth Affairs & Sports
B and C Both
Answer – D
Which of the following state in India laid the foundation stone for MedSpark, one of the first medical device parks in the country?
Kerala
Tamil Nadu
Madhya Pradesh
Karnataka
Answer – A
Dogri was added to the scheduled languages under which schedule?
7th schedule
8th schedule
9th schedule
10th schedule
Answer – B
Question of the Day
What is Samarth Scheme?
Answer in next session…