What is Project Snow Leopard?
Project was launched in 2009 to safeguard and conserve India's unique natural heritage of high-altitude wildlife populations and their habitats by promoting conservation through participatory policies and actions.
It has been catalyzed by Nature Conservation Foundation (NCF) and involves government and non-governmental stakeholders from the states.
Snow Leopard is in the list of 21 critically endangered species for the recovery programme of the Ministry of Environment Forest & Climate Change.
India is also party to the Global Snow Leopard and Ecosystem Protection (GSLEP) Programme since 2013.
For conservation, India has identified three large landscapes, namely, Hemis-Spiti across Ladakh and Himachal Pradesh; Nanda Devi – Gangotri in Uttarakhand; and Khangchendzonga – Tawang across Sikkim and Arunachal Pradesh.
National Conference on Vigilance and Anti Corruption
Prime Minister Narendra Modi will inaugurate the National Conference on Vigilance and Anti-Corruption, on the theme of 'Vigilant India, Prosperous India'
The Central Bureau of Investigation (CBI) organizes this National Conference.
Conference would discuss series of issues including the challenges in investigation in foreign jurisdictions, Preventive Vigilance, Effective Auditing, Latest amendments to the Prevention of Corruption Act, Capacity Building and Training etc.
Vigilance Awareness Week
The Vigilance Awareness Week is to be held between October 27, 2020 and November 2, 2020.
The week is celebrated to affirm the commitment towards promotion of probity and integrity in public life through citizen participation.
Theme: Satarak Bharat, Samridh Bharat.
PM Swanidhi Scheme
Uttar Pradesh government has secured the first rank in central government's the PM Atmanirbhar Nidhi Scheme (SVANidhi Scheme)
It got the rank by approving the highest number of loans under the scheme in the country.
State has ranked first in all the categories – Applications, Sanctions and Disbursements of the loans under the scheme.
Seven cities of the state also find place in the list of top 10 cities of the country. Varanasi, Lucknow and Aligarh are the top three cities in the list even as other cities of the state include Allahabad, Gorakhpur, Ghaziabad and Kanpur.
About the Scheme:
The scheme was launched on June 1, 2020, by the Central Government to help the street vendors resume their livelihood activities that were impacted by COVID-19.
It aims at facilitating working capital loan up to Rs. 10,000 at a subsidised rate of interest.
Bangladesh government launched 'no mask, no service' policy
Bangladesh government has decided that no service will be provided to people who don't wear a mask.
The decision was taken during a cabinet meeting Chaired by Prime Minister Sheikh Hasina. It was decided that no one will be allowed to enter offices without the mask.
It decided that all offices must install notice boards saying 'no mask, no service' in order to control the spread of COVID 19 virus in the country.
27 October: World Day for Audiovisual Heritage
World Day for Audiovisual Heritage 2020 will be observed on 27 October.
This commemorative day was chosen by UNESCO in 2005 to raise awareness of the significance and preservation risks of recorded sound and audiovisual documents (films, sound and video recordings, radio and television programmes).
Theme "Your Window to the World."
Current COVID19 Situation in India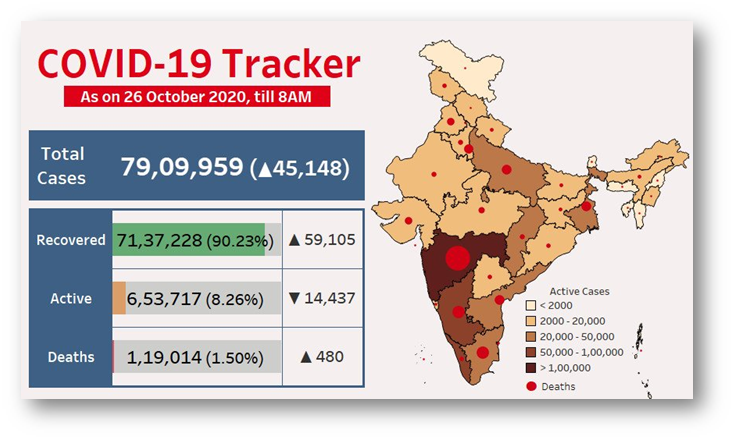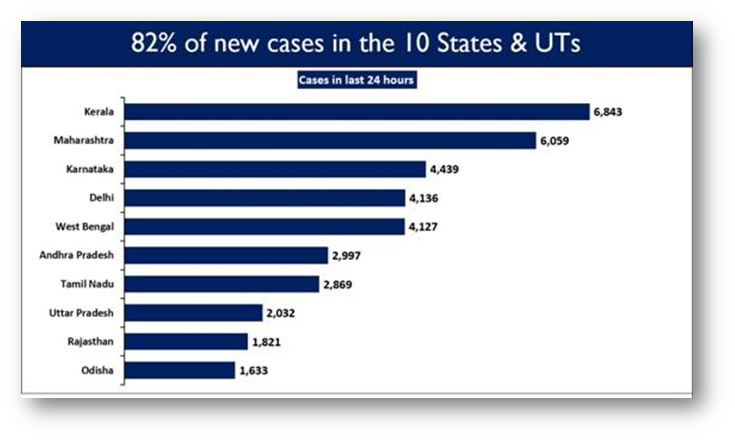 QUIZ TIME
What is the theme for Vigilance Awareness Week 2020?
Shashakt Bharat
Satarak Bharat, Samridh Bharat
Sundar Bharat, Samridh Bharat
None of the above
Answer – B
When does World Day for Audiovisual Heritage is observed?
26 October
27 October
28 October
29 October
Answer – B
Which state government has secured the first rank in central government's the PM Atmanirbhar Nidhi Scheme?
Madhya Pradesh
Andhra Pradesh
Uttar Pradesh
Kerala
Answer – C
Question of the Day
What is Ramsar Convention on Wetlands?
Answer in next session…