What is 'neighbourhood first' policy?
It is part of India's foreign policy that actively focuses on improving ties with India's immediate neighbours.
Major policy initiatives of the Modi government to bring back the focus on its immediate neighbourhood.
Key aspects
India's immediate response to security challenges faced by neighbours.
Humanitarian assistance and conducting disaster relief operations
Developmental assistance and improve project execution
India's Neighbours – Sri Lanka, Maldives, Nepal, Bangladesh, Bhutan, Afghanistan, Myanmar, Pakistan, China.
Modi and Jugnauth will inaugurate Supreme Court building of Mauritius
The building has been constructed with Indian grant assistance
It will be the first India assisted infrastructure project within the capital city of Port Louis after Covid.
The new Supreme Court building project is one of the five projects being implemented under the 'Special Economic Package'.
Modi and Jugnauth will inaugurate Supreme Court building of Mauritius
Package is of USD 353 million which was extended by the Government of India to Mauritius in 2016.
Earlier development under this package –
In October 2019, Prime Minister Modi and the PM of Mauritius had jointly inaugurated the Phase -I of the Metro Express Project.
New ENT Hospital project in Mauritius, (India assisted in construction of a 100-bed state of the art).
Smt. Nirmala Sitharaman attends the 5th Annual Meeting of AIIB
Union Minister of Finance & Corporate Affairs Smt. Nirmala Sitharaman attended the 5th Annual Meeting of the Board of Governors of Asian Infrastructure Investment Bank (AIIB) through video conference in New Delhi.
Theme – 'AIIB 2030-Supporting Asia's Development over the Next Decade'.
The Board of Governors meet to take key decisions that impact the Bank's future.
The discussions at the meeting broadly covered official business including election of the President of the AIIB.
AIIB's provided fast tracking financial assistance of about $10 Billion to its member countries including India to combat COVID-19 pandemic.
Asian Infrastructure Investment Bank
Formed – 16 January 2016
Headquarter – Beijing, China
AIIB is a multilateral development bank that aims to support the building of infrastructure in the Asia-Pacific region.
AIIB has 82 members as well as 20 prospective members from around the world.
IRCTC and SBI Card launch Co-branded Contactless Credit Card
IRCTC of Indian Railways and SBI Card launch Co-branded Contactless Credit Card on RuPay Platform.
This initiative is towards pursuance of the vision of Hon'ble Prime Minister of 'Aatma Nirbhar Bharat', 'Digital India' and 'Make In India'.
IRCTC and SBI Card launch Co-branded Contactless Credit Card
New RuPay credit card is equipped with Near Field Communication (NFC) technology whereby the users can expedite their transactions at the POS machines by just tapping the card on the machines without requiring to swipe the card.
The Cardholders will receive up to 10% value back on 1st AC, 2nd AC, 3rd AC, Executive Chair Car & AC Chair Car bookings made at IRCTC website.
The card also offers online transaction fee waiver (1% of transaction amount), 1% fuel surcharge waiver and 4 premium lounge free access at Railway stations in a year.
29 July : Global Tiger Day
It is an annual celebration to raise awareness for tiger conservation.
It was created in 2010 at the Saint Petersburg Tiger Summit.
On this day international attention is extended to the reservation of this wild animal which is almost on the verge of becoming extinct.
Tiger Census 2020
Union Environment Minister releases detailed report of Tiger Census on the eve of Global Tiger Day.
India's tiger population now stands at 2967.
India has 70 percent of world's tiger population.
India is tirelessly working with all 13 tiger range countries towards nurturing the tiger.
Ministry is working on a programme in which efforts would be made to provide water and fodder to animals in the forest itself to deal with the challenge of human-animal conflict which is causing deaths of animals.
For this LIDAR based survey technology will be used for the first time. Lidar is a method for measuring distances by illuminating the target with laser light and measuring the reflection with a sensor.
India has presence of nearly 30% of India's tigers outside tiger reserves, India had embarked upon assessing management interventions through the globally developed Conservation Assured | Tiger Standards (CA|TS) framework, which will now be extended to all fifty tiger reserves across the country.
The detailed report of the 4th All India Tiger Estimation is unique in the following ways.
Abundance index of co-predators and other species has been carried out .
Sex ratio of tigers in all camera trap sites has been carried out for the first time.
Anthropogenic effects on tiger population have been elaborated in a detailed manner.
Tiger abundance within pockets in tiger reserves has been demonstrated for the first time.
Current COVID19 Situation in India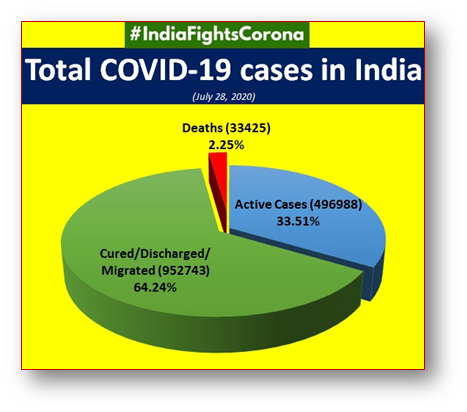 QUIZ TIME
Where is the Headquarter of AIIB?
New Delhi
Beijing
Kathmandu
Port Louis
Answer – B
IRCTC launch Co-branded Contactless Credit Card in partnership with:
RBI
ICICI
SBI
IDBI
Answer – C
When Global Tiger Day is celebrated?
28 July
29 July
27 July
26 July
Answer – B
India has how much percent of world's tiger population?
20
30
5
70
Answer – D
Question of the Day
What are the functions of RBI?
Answer in next session…