What is a Time Capsule?
Time Capsule is a container of any size or shape, which accommodates documents, photos, and artefacts typical of the current era and is buried underground, for future generations to unearth.
It is built using special engineering techniques like steel or aluminum encasing, vacuuming, use of acid-free paper, etc.
Mostly they have a scheduled time for reopening, and are supposed to be buried again after opening, with people of the future adding their own contributions to the time capsule.
There are 10,000-15,000 times capsules worldwide.
It is a method of communication with future people, also supposed to help future archaeologists, anthropologists, or historians in knowing about the past human civilization.
Time Capsules in India:
Outside the Red Fort: This was placed by Prime Minister Indira Gandhi in 1972.
At IIT Kanpur Campus: This time capsule was buried on 6th March 2010 containing details on IIT Kanpur.
At the Alexandra Girls' English Institution, Mumbai: It was set up in the 19th century and is scheduled to be opened in 2062.
At Jalandhar's Lovely Public University: It was buried in January 2019 and contains 100 items that represent modern-day technology in India.
Tourism Ministry inaugurates Thenzawl Golf Resort project in Mizoram
Project has been virtually inaugurated by the Union Minister of State for Culture & Tourism Shri Prahlad Singh Patel.
The project has been implemented under the Swadesh Darshan Scheme of Ministry of Tourism, GoI.
The project was sanctioned under the Integrated Development of New Eco-Tourism.
A total amount of Rs. 92.25 crore was sanctioned for it, out of which Rs. 64.48 crore was sanctioned for various components at Thenzawl.
Swachh Bharat Kranti
The book was officially launched by Union Minister of Jal Shakti, Gajendra Singh Shekhawat, and Union Minister of Textiles and Women & Child Development Smriti Irani.
It is a translated copy of the book "Swachh Bharat Revolution"
The book is about the journey of Swachh Bharat Mission.
It has 35 essays arranged under four pillars:
Public Financing
Political leadership
Partnership
Participation of People in the mission
It is a compilation of essays written by Arun Jaitley, Amitabh Kant, Ratan Tata, Sadhguru, Amitabh Bachchan, Akshay Kumar, Bill Gates amongst others.
Swachh Bharat Mission
Launched: 2nd October 2014
Implemented by: Ministry of Drinking Water and Sanitation
Aim: To achieve a clean and open defecation free (ODF) India.
UN Report: Impact of Covid-19 on Education
United Nation has released its policy brief on the pandemic's impact on education.
Almost 24 million children could drop out or not have access to school next year due to the economic impact of Covid-19.
It will increase the Disparities with vulnerable populations in low-income countries.
More than 1.6 billion learners affected across the world.
Girls and young women are likely to be disproportionately affected.
Three-way loss:
Learning: More than two-thirds of countries have introduced a national distance learning platform, but among low-income countries the share of distance learning is only 30%. Online learning is not accessible for poor.
Economic: Loss might reach $16,000 of lost earnings over a student's lifetime, translating over time into $10 trillion of lost earnings globally. Estimated 42-66 million children could fall into extreme poverty as a result of pandemic.
Increased financial gap: The COVID-19 crisis is likely to increase that financing gap by up to one-third.
6th August: Hiroshima Day
Annually 6th of August marks the anniversary of the atomic bombing in Hiroshima during World War II.
Incident took place in 1945.
United States dropped an atomic bomb named "Little Boy", on the town of Hiroshima in Japan.
Killed over 80,000 people.
Three days later, another atomic bomb called "Fat Man" was dropped over Nagasaki killing more than 40,000 people.
The survivors of the bomb are known as "Hibakushas"
This day is remembered to promote peace and spread awareness about the danger of nuclear energy and nuclear weapons.
Important Facts:
2nd World War was active in 1939- 1945.
Atomic bomb was loaded with more than 9000-pound uranium-235.
Dropped by United States warplane Enola Gay.
Current COVID19 Situation in India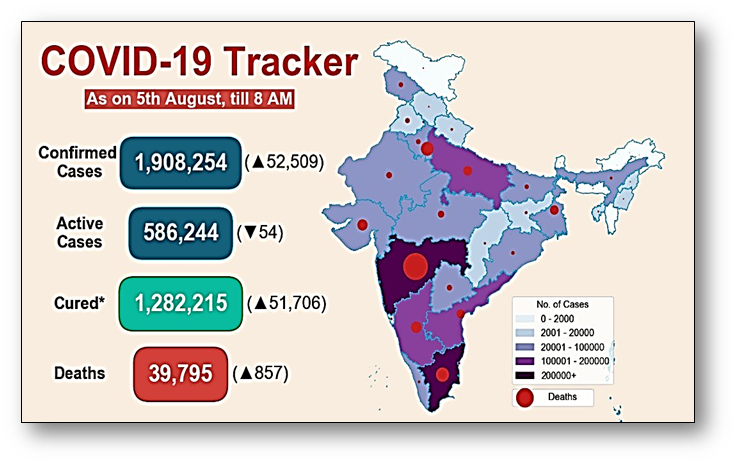 QUIZ TIME
Thenzawl Golf Resort is located at:
Manipur
Mizoram
Nagaland
Assam
Answer – B
Swachh Bharat Kranti compilation of essays written by:
Akshay Kumar
Bill Gates
Arun Jaitley
All of the Above
Answer – D
Swachh Bharat Mission launched on the birth anniversary of which of the following?
Kasturba Gandhi
Vallabh Bhai Patel
Mahatma Gandhi
Jawaharlal Nehru
Answer – C
Hiroshima Day is observed on which of the following dates?
6 August
7 August
8 August
9 August
Answer – A
United States dropped an atomic bomb on Hiroshima in which of the following year?
1995
1945
1955
1965
Answer – B
Question of the Day
What is Swadesh Darshan Scheme?
Answer in next session…