Jai Hind warriors today we are going to discuss some of the most important topics for the "Mathematics" paper for the NDA Exam conducted by UPSC. But first, let's look at some basic info regarding the exam. UPSC will publish NDA 1 2024 notification on 20 December 2023, registrations are open till 09 January 2024 and the exam date is on 21 April 2024 (SUNDAY).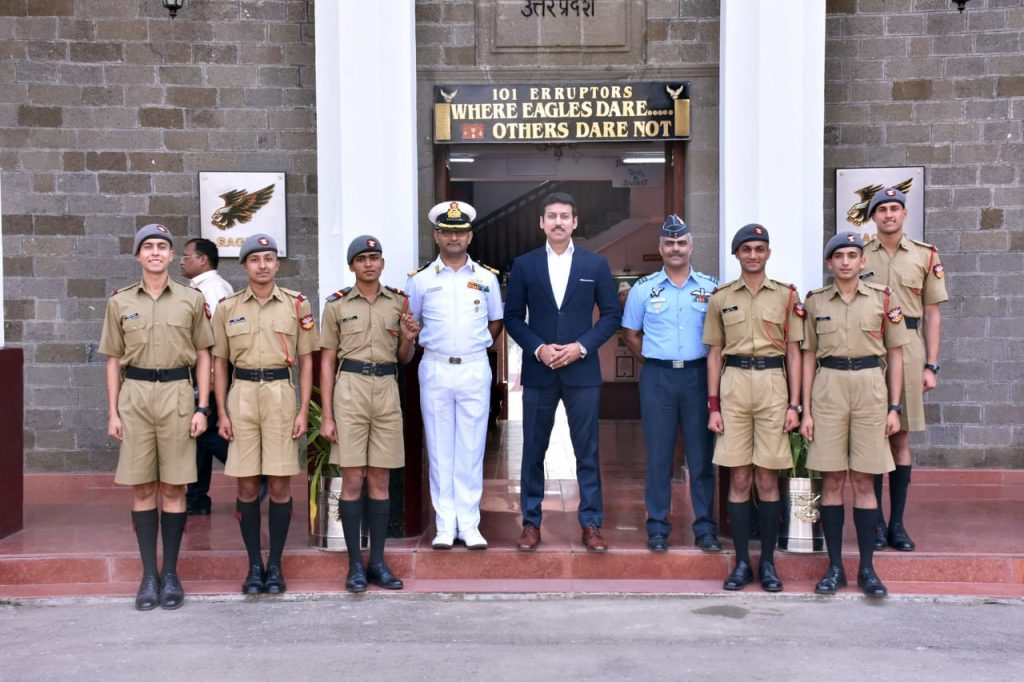 Scheme of Exam:
The written examination comprises two sections MAT (Mathematics) and GAT (General Ability Test).
Both exams are conducted in pen-and-paper mode through Multiple Choice Question where candidates have to mark their responses on OMR Sheet
Both the exams will be conducted separately as MAT will be conducted from 10:00 A.M. to 12:30 P.M. and GAT will be conducted from 02:00 P.M. to 04:30 P.M.
Also Read: 5 Killer Tips To Crack NDA Written Exam
Marking Scheme:
Mathematics (MAT)
There will be a total of 120 questions
Each correct question will fetch you +2.5 marks thus total marks of MAT will be 300 marks
There will be a negative marking of -0.83 for each wrong answer while no answer will fetch you zero marks
GAT (General Ability Test)
There will be a total of 150 questions comprising two parts:

Part A: English of 50 questions
Part B: General Knowledge of 100 questions

Each correct question will fetch you +4 marks thus total marks of GAT will be 600 marks
There will be a negative marking of -1.33 for each wrong answer while no answer will fetch you zero marks.
Syllabus: For syllabus and other details of the written exam you can refer to UPSC NDA Syllabus.
High Scoring Topics in NDA Exam Mathematics
Important Chapters for Mathematics
Trigonometry:
As seen in recent times this chapter holds a very big value as 15+ Questions are coming in exam each time. Most of the questions from trigonometry are either direct formula(in NCERT textbook class XI) based or require hit and trial of different values like 0 or 1 or Pi/2 , etc. Now some questions each time come way too tricky so my advice would be to leave them for last cause if there are 18 Qns. Of Trigonometry then only 2-3 would be tricky and would take a longer time to solve. NDA Exam doesn't require you score 100%(no one ever has) and even if you just clear the cut-off and reach a safe score of 400+ in aggregate, it would be enough.
How to prepare for Trigonometry:
Complete the chapters of NCERT related to trigonometry of class XI and then Inverse Trig. Functions of class XII as they are related to each other. Now start solving previous year papers and understand the type of questions. A sheet of all formulas will come in handy while solving and also you will be able to memorize them. Don't stress yourself if you are unable to solve those long questions because if you waste 5 minutes on them instead of solving direct formula-based questions of which even 5 can be done in the same time, then all loss will be yours. Play Smart. To conclude NCERT + Previous Year Papers would be more than enough. The reason I am stressing for clearing basics from NCERT is because trigono. is very much in questions from calculus, matrices, co-ordinate geometry, etc.
This includes Differentiation, Application of Derivatives, Indefinite, Definite Integration, and Differential Equations(DE). This seems vast but if you see the previous year papers you will notice that from Integration and DE almost all of the questions are direct formula based (NCERT Class XII book) or require option elimination. Even if you have just solved the NCERT you can solve all questions from Integration and DE. For differentiation and application of derivatives a lot of practice is required as some of the questions from this part come too lengthy but with right approach can be easily tackled.
Many candidates believe in these made-up facts that calculus is very hard and they should leave it. Believe me as I speak with experience that it really becomes very easy if you just follow NCERT+ All Previous Year Questions+ RS Aggarwal book
Matrices and Determinants
There is a set of properties from where questions are asked each and every time. Make a list of all those observations and properties. Solve previous year papers and notice if you see some pattern in a particular type of questions. Write down those observations. I know there are a lot of properties and its really hard to memorize directly all of them, but it becomes too easy if you continue solving questions and using those properties instead of solving the whole matrices/equations/detereminants . Otherwise rest questions from the paper also involve trigonometric properties, calculus basics, etc. Again the key is Properties Sheet+ A lot of questions.
The type of questions asked from this section is too repetitive and if you have solved the previous year paper's stats questions, you will see that there is just a change in language of question otherwise process remains the same. My tip would be to read the NCERT yes read it for chapters related to stats in class IX, X and XI as many of the times it's the definitions along with some information in those blue boxes of the book also being asked. Also there are a lot of formulas which makes this section tricky as most of the formulas may be confused with each other. So, key would be NCERT + PYPs+ Formula Pages (keep it while preparation)
One question of that infinite terms formula for GP is sure to come, the language of question may be different but this formula will somehow be in the exam. Just like this other questions are also very easy questions from this section, sometimes just applying values like 1 or 0 in the options to get the right answer. One tricky question from AP may be there, other than that all questions are of basic level and some also may involve trigono. But someone who has solved all previous year question(10 years) will easily solve all the questions.
Also Read: How Much Marks Do NDA Exam Toppers Score
NDA 1 2024 Exam Dates:
| | |
| --- | --- |
| NDA 1 2024 EVENTS | DATES |
| NDA 1 2024 Application Start Date | 20 December 2023 |
| NDA 1 2024 Application Last Date | 09 January 2024 |
| NDA 1 2024 Exam Date | 21 April 2024 (SUNDAY) |
| NDA 1 2024 Admit Card Download Date | 3 weeks before the exam |
| NDA 1 2024 Result Date (Expected) | May – June 2024 |
| NDA 1 2024 Official Notification | TO BE UPDATED |
Conclusion
As I stressed above NCERT books of class XI and XII(in case of stats IX and X also)+ PYPs(of last 10 years) would be enough. But to prepare for tougher level of questions will aid you and I suggest NCERT Exemplar book for problem solving practice along with RS Agarwal book.
Remember to solve a huge number of questions and timed mock tests as they will make you understand your weaknesses. Timed tests can be attempted on weekends to check level of preparation.
Link of Previous Year Papers:  NDA Question Papers 2014 – 2023 [All Sets] With Solution
Prepare for NDA Exam Online Coaching: NDA Online Course
Candidates are advised to stay connected to us for the latest news on various entries of the defence forces.
Our NDA Exam course which offer online lectures, study material, doubt sessions, mock test and a lot more content, have assisted a huge number of defence aspirants in their exam prep. To check them out click here: SSBCrack Courses
Want To Join Nation Defence Academy and Prepare For The NDA Exam?