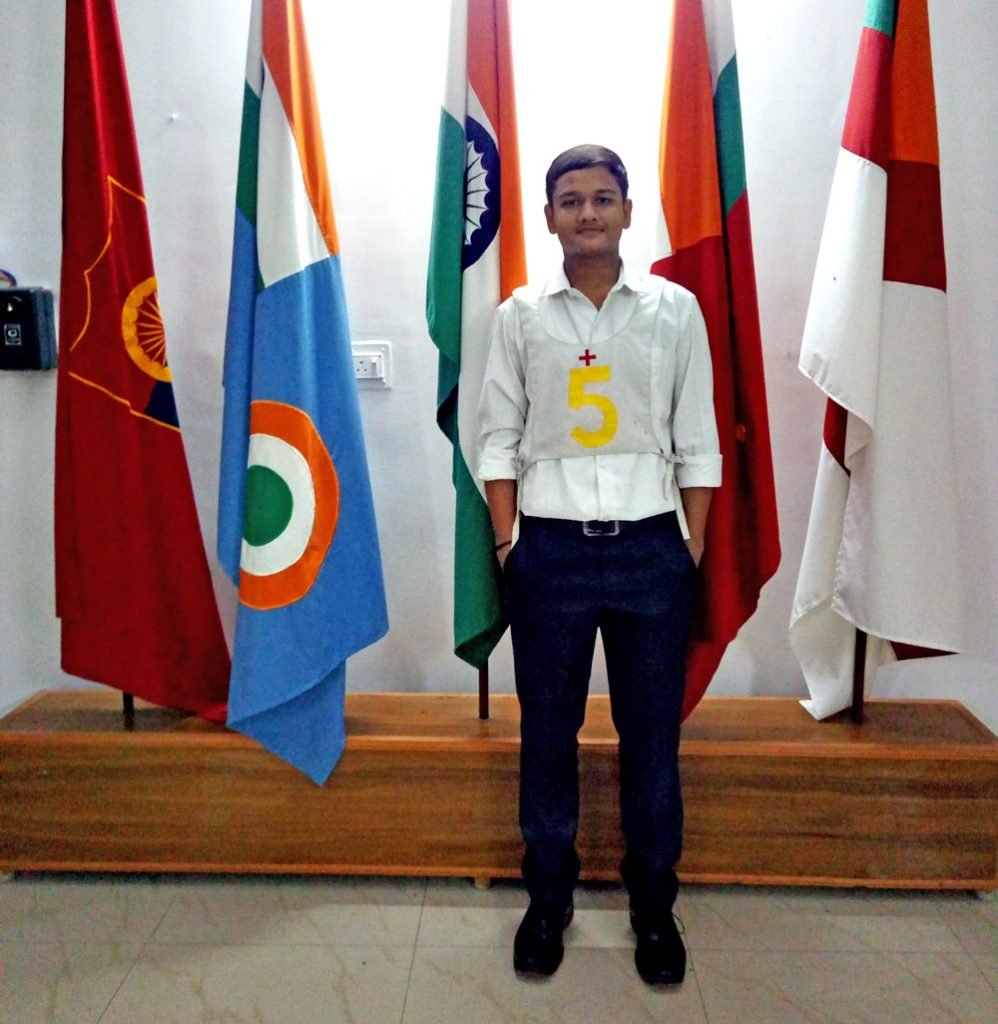 Hello readers, my name is Basu Tiwari. I am basically from Sagar(MP), and my father is an Ex-Sub, from the Indian army. Today I would love to share my SSB journey with you all. I had gone through a total number of 6 SSB, and my trip consisted of many ups and downs. In this great journey, I went through two recommendations, two conferences out and the rest screen outs. Though it's been a year since my last SSB, I will try to gather as many points as to provide you all with the proper insight.
It all started back on 1 November 2017 when on an ordinary afternoon, I got a call from my elder brother about the declaration of NDA 140 result. I checked the result and still remembers the two things that happened after that. First, The way I was dancing just after seeing my name on the list, and the second thing was the tears in my mother's eyes. Not much later, after the declaration of result, we all got the SSBs dates and places. I was alloted 4AFSB Varanasi on 22 January 2018 as my I center. Though with some happiness, nervousness also came as I was not aware much about the SSBs.
So, I started looking around someone who can teach me about the SSB and its procedure. Finally, I came up with Mr. Sudhir Mishra Sir, who helped with every stage and taught me various things related to SSB. I practiced a large number of psychology tests under his guidance. I started finding who is "BASHU TIWARI" actually and performed hundreds of time practice in front of the mirror with practicing mock interviews with sir and my elder brother.
FIRST SSB
Result: Recommended
Date: 22 January 2018
Place: 4 AFSB, Varanasi
Finally, the date came, and I reported at the railway station of Varanasi with 153 other candidates. Seeing a large crowd at the railway station took me nervous being a 12th class guy, but my motivation for the SSB again took me high. After small documentation, we went for the OIR test. I attempted almost all of them excellently. After that, we went for the PPDT test, where they showed us a very blurry photo with some hands/legs shown in between. I made a story by taking Mridul as my main hero. He was a medical student in Sagar. He once went to a picnic near the lake, saw a drowning man, and saved his life. Finally, after giving an excellent story narration with good voice modulation and confidence, we went with the group discussion for it. In the group discussion, I put forward some points and convinced the little group bit towards my story. Finally, the main story came out in such a way that some student won, celebrated a cricket match on the beach, and saved a drowning person. After the GD, I was pretty confident about the screening. With the results, I got screened in, and my chest number changed from 48 to 19.
After the documentation, we got our accommodation at 3:00 in the afternoon, which was great. The rooms were named after the planes. After all this, we had our psychology test in the evening on the same day. I had a little headache, but I focussed entirely on it. I wrote all the pictures in TAT ethically and logically. I attempted 59 WATs with the first thought coming in my mind. Doing SRTs with the right concentration and thinking left me with 48 done. I wrote the self-description, which I prepared earlier itself on time and was pretty confident with my psychology test.
On Day-2, I had my GTO tasks. We had to finish our GTO on that single day itself. We started with the two group discussions, and for GD-1, our topic was related to the improvement and achievements of ISRO, and for GD-2, the topic was the generation gap. I spoke about three to five times in both the GD and precisely delivered my thoughts. After we got GPE followed by a little tea break and then we went towards the GTO ground. Earlier I have seen the GTO grounds on YouTube videos only. It was fascinating to see them in real life. We performed PGT, HGT tasks with great enthusiasm, and the group was able to complete both of them. After that, we got individual obstacles where I was only able to perform 4 out of 10, though it was a little bit sad for me to show less in my IO due to lack of physical fitness. After that, we had our commando task, and I got a bomb diffusion situation where I was able to solve it using all the three ways given to me, which again filled me with happiness. At last, we had an FGT task, and then we were dispersed from the GTO ground. Due to less time, we have to skip the lecturette and snake race.
It was Day-3, and my interview was scheduled at 11:30, where I went 15 minutes before the time with my certificates. Not waiting much, I got my call at approx 12:15. I went into the room with full confidence, and Josh with permission and sat on the chair. The interview started with a simple question about the meaning of my name and went smoothly further with questions related to my schooling, family, friends, hobbies, strengths & weaknesses. Though as I had the habit of reading newspapers, I was also asked some questions related to current affairs and GK, and I answered every question calmly and put forward my thoughts clearly and convincingly. I was not able to answer some planes. I also remember one question for which I have to think for approximately 30 sec, which was about the naughtiest thing I have ever done in my life. Still, again I answered it with good enthusiasm. It took up 45 minutes for the interview, and I was sent back from the room with a good smile and a great handshake. I was happy with my performance, and as my whole procedure was finished, I enjoyed the rest of the day with my friends, watching television and playing badminton & billiards.
Day 4 was my rest day, and we were not allowed to go out as it was 26 January, so I enjoyed it with friends and exploring new people. We also had a fun run of 3km, followed by three pushups in the evening.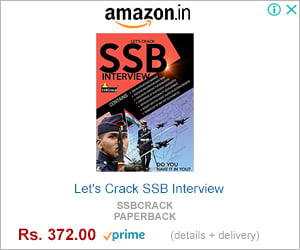 Finally, Day-5 came, and we got ready at 7:00 in the morning with bags. The conference started at 9:00, and the order of calling the chest numbers was random. I got my chance at approximately 12:30 in the afternoon. In my conference, I was asked two repeated questions from my primary interview, followed by some general questions that I answered without being in much hustle. We waited till 3:30 for the result, which started directly with chest number 9, and just when 19 was announced, my eyes were filled with tears and chest with pride. That was the happiest moment of my life because the life I was dreaming of, now I would be living it. Recommended candidates again were alloted with rooms for the CPSS test and directly called for the documentation. Though I was filling the form, my whole mind was filled with happiness to do something great and make my parents feel. I also cleared my CPSS test and was not able to make it through the academy due to specific medical reasons.
Second SSB
Result: Conference Out
Date: 27 August 2018
Place: 17 SSB, Banglore
I was in my drop year for JEE and meanwhile preparing for SSBs so that I can again appear for the medicals. Unfortunately, I got a conference out. It is not the thing that I was not able to figure out why I got conference out, but it was a clear case of a little bit over-confidence that might have come.
Third SSB
Result: Screen Out
Date: 21 September 2018
Place: NSB, Visakhapatnam
I got screened out and was again not able to make it this time.
Fourth SSB
Result: Conference Out
Date: 18 February 2019
Place: 22 SSB, Kapurthala
It has been a long time since I last attempted SSB at Visakhapatnam. I was screened in here. Though going through a good psychology test, I think my GTO was not up to the mark. I could not produce good ideas in PGT, HGT, with messing up my lecturer topic, my interview was also a little bit bad due to my bad health condition. And with the results, I got conferenced out from Kapurthala.
Fifth SSB
Result: Screen Out
Date: 8 July 2019
Place: 17 SSB, Banglore
This was the second time I was going to Bangalore and was ready to hit the bull's eyes. But due to some misunderstanding of mine with PPDT pictures plus less participation in the group discussion, I got screened out.
Sixth SSB
Result: Recommended (AIR-49)
Date: 13 August 2019
Place: 19 SSB, Allahabad
Since my last NDA in 12 class, I failed in my next 2 NDA written exams, but this time, I cleared it. It was like my last opportunity in which I can either do or die. It was Allahabad; I started working on myself from the start this time as I had an excellent time preparing and can not afford simple mistakes. I began writing stories daily, making lecturette with my brother and working on my physical fitness. Moreover, I started realizing my mistakes in the previous SSB and working on them. I used to give 1 hour to myself and explore myself even more Deeper.
Finally, the day came on, but I had to report directly at the center due to a delay in my train's time on 12 Aug afternoon. I got my bedding, and the documentation process was done until the evening. I slept a little earlier that day so that I can give my screening with full energy. The next morning we firstly performed our OIR test done fantastically with solving almost all the questions. In PPDT, we were shown a picture looking more or less like a drought seen in a village. Most of the group people made a story in a village where people work to build canals and reservoirs to collect the water for the farm, including me. After giving a great story description, I went through GD while giving my thoughts gently and sharing my ideas with them. The following result was announced, and I also got screened in with 46 others from a total of 54 students reported.
After the rest of the documentation, we went to our rooms. The next day was our psychology test, so I just revised my self-written notes and self-description. We arrived at the psychology Hall at 7:00 in the morning. Filled with great enthusiasm, I perform well in TATs stories. I was able to attend all the WATs. From the view of giving quality answers instead of quantity with great focus, I managed to write 45 SRTs. I wrote a modified self-description based on an inner exploration on time. I was happy with my psychology test. I enjoyed the rest of my day with friends and revised my lecturette and group discussion topics to avoid mistakes this time. On  day-3 was our GTO day 1, we started with group discussions. GD-1 was based on the topic, how can we improve the condition of farmers, and the GD-2 topic was whether competition is good or not for the students. I did well in the GDs by giving a good number of responses and being gentle and patient. I discussed my points with everyone, and it was a great GD. After that going with the GPE task, we went with the PGT, HGT, and snake race. Everything was going well, and in the snake race, I mainly concentrated on whether I am not breaking any rules. I had to climb the double-wall twice due to break of one rule, and with this, my interview again got delayed for the fourth day, I took rest on that day while revising my interview notes and lecturette topics.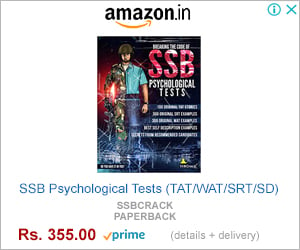 Day-4 came, and again, we got set for GTO day 2. It started with individual obstacles wherein I did 9 out of 10, which was good for me compared to previous SSBs. Later we proceeded with the lecturette where I spoke on the "Indian education system," and I spoke like my best lecturette ever, and I covered almost all the points. In commando task, I got the bomb diffusion like my first SSB again, and this time I managed to solve it through two approaches with the three given to me. At last, with FGT, we were dispersed, and with the GTO, it seemed to be excellent as I did not have any mistakes in my mind. In the afternoon, I got my interview at 2:30 p.m. The sun was approximately at the top, and I went with full confidence in the room, thinking that this time I cannot afford any mistakes, just focus and answer appropriately. The interview was small, and approximately 25 minutes, generally went mostly with my PIQ, family, and friends. There were questions about my competitive exam, but there was not any single current affair question. One GK question was that, why did not birds get shock sitting on the wire. I answered all the questions with full confidence and was set out again with a warm handshake. All this was all happening a bit like my first SSB, and the moment I left the room, I said to myself, "proud of you". That day I forgot all about SSB, enjoyed it with my friends, play foosball, and made it memorable.
Day-5 was the conference day. We got ready at 7:30 with our backpacks. The conference started at 9 a.m. it was with the ascending order, and being number 24; my turn came at 11:30 (approx). With some normal questions, I was asked some current affair questions which I faced well, and the compulsion question was asked about improvements to be done in the SSB. I told the two very quickly and had to think about approximately 30 seconds for the third one. I was asked to leave the room within 10 minutes of the conference. While waiting for the result, I was having very few thoughts regarding the outcome, but I was much happier with my performance as I was not having any regrets and performed as it was my last. Later, when the result was announced, a large number of 15 candidates were recommended, and I was among them. That time my number was announced, Though I was announcing my roll number, my whole journey from being waste to best got flashed back into my mind. I can't be happier as I was at that time as my entire hard work, dedication, and continuous effort finally paid me off.
Though I again got medical out, the things I have learned from SSB are much worth it. I made many friends who are like gems to me. Though my love for the armed forces is still inside me, I know that I will rise once again and hit the bar. Thank you