If you are a graduate degree holder or a graduate final year student and wants to join Indian Air Force as an commissioned officer then AFCAT (Air Force Common Admission Test) is your answer. AFCAT is an exam which can give you wings! For all of you who have the dream of working between the sprawling jets can turn this dream into reality. AFCAT was first conducted on 27 March 2012, Its a test conducted by IAF twice in a year. The written exam is followed by Air Force Selection Board Interview for shortlisted candidates.
AFCAT 2 2016 Notification has been released by IAF candidate can apply for the entry online at IAF official website. The results for AFCAT 2 2016 can be expected by end of October 2016. Below given are the Instructions How to Apply for AFCAT 2 2016 Exam, these instructions will help applying for AFCAT 2 2016.
Download AFCAT 2 2016 Notification
Click on the link given below to download the advertisement.
How to Apply for AFCAT 2 2016 Exam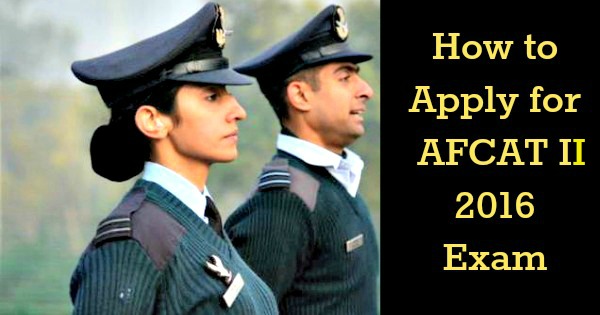 Eligible candidates may apply online through the IAF career website www.careerairforce.nic.in.
Log on to the website www.careerairforce.nic.in.
Click on "Candidate Login".
Click on "New Candidate" link to start the Online Application process.
Fill all the five parts of online applications carefully including part 5 where you need to upload photograph, signature and thumb impression.
Submit application and retain User Name and Password for future use.
How to prepare for AFCAT 2 2016
SSBcrack has come up with a first and sonly online program named SSBcrack Exams providing the best AFCAT coaching 2016 online to aspirants. Enrolled students of AFCAT course in SSBcrack Exams are provided:
AFCAT online full course and study material
Practice test and previous year questions along with most expected questions for the following AFCAT exam
Scheduled national level mock test where you compete with other AFCAT aspirants further you will be given high end analysis and reports on your performance which will help you in improving your falling areas
Monthly general knowledge questions, current affair and all the possible AFCAT related news like notifications, exams date, SSB notifications.
To Enroll Click on below links
Instructions for AFCAT 2 2016 Online Application:
In case the candidates are awarded grades/CGPA instead of marks, the conversion of grades/CGPA to percentage of marks would be based on the procedure certified by the University from where they have obtained the degree. In case the University does not have any scheme for converting CGPA into equivalent marks, the equivalence would be established by dividing the candidate's CGPA by the maximum possible CGPAand multiplying the result with 100. The onus of proving the conversion from grade/CGPAto percentage of marks would rest with the candidate.
Candidates are required to maintain their unique E-Mail ID active throughout the selection process.
Terms and conditions given in the advertisement are guidelines only and are subject to change without notice.
Candidates below 25 years of age must be unmarried (term unmarried excludes widower and divorcee even though without encumbrances). Marriage is not permitted during training. Married candidates above 25 years of age are eligible to apply but during training period they will neither be provided married accommodation nor can they live out with family.
Permanent body tattoos are only permitted on inner face of forearm i.e. from inside of elbow to the wrist and on the reverse side of palm/ back (dorsal) side of hand. Permanent body tattoos on any other part of the body are not acceptable. Tribes with tattoo marks on the face or body as per their existing custom and traditions will be permitted on a case to case basis.
Candidate should not have been arrested, convicted or prosecuted on criminal charges.
Candidates must carry Admit Card and a valid photo identity card such as passport, driving licence, voter identity card, college identity card or any other valid photo identity proof while reporting for Air Force Common Admission Test and for SSB Interview at Air Force Selection Board. The admit card which is attested at the AFCAT centre is to be carried for the SSB interview.
Women candidates who fulfill the eligibility criteria are encouraged to apply in response to this advertisement.
Candidates who have been withdrawn / suspended from Defence Training Establishments on grounds of discipline are not eligible to apply.
One year antidate seniority will be granted to the candidates joining Technical Branch Courses.
PAN Card is a mandatory requirement to join AFA.