Jai Hind! Future Warriors. Today we are going to discuss some tips and strategies regarding preparation for AFCAT Exam and AFSB Interview. This post is only for students who have completed their class XII exams (or are going to very soon).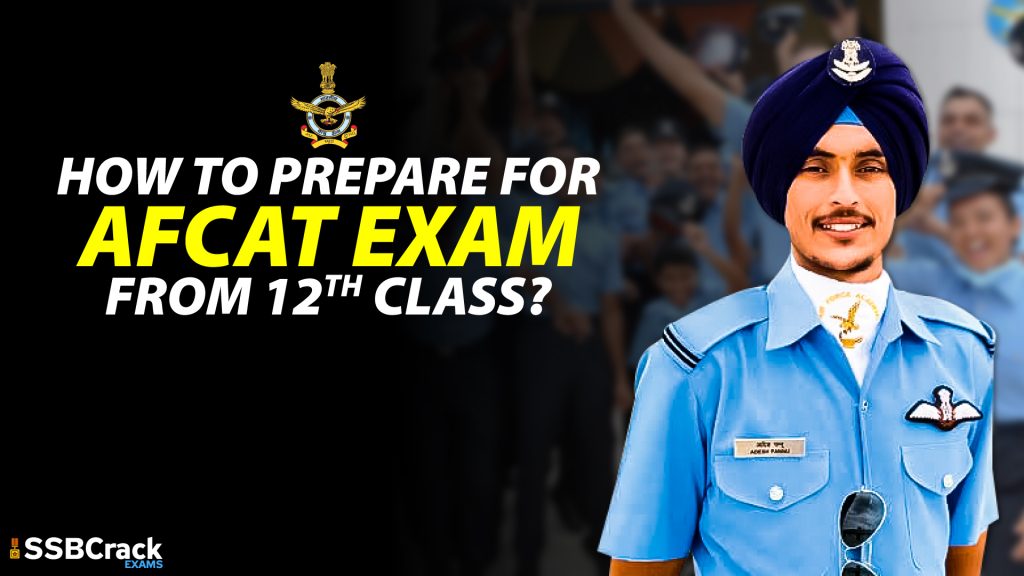 About AFCAT Entry:
AFCAT Entry admits candidates to Air Force Academy where AFA (Air Force Academy, Dundigal) where candidates train for a duration of 74 weeks in case of Flying and Tech branches and 52 weeks for non-tech branches, before being commissioned as Flying Officer in Indian Air-Force. The nature of commission is SSC for flying branch and both permanent and temporary for ground-duty branches.
AFCAT Selection Procedure (in-brief):
AFCAT exam will be conducted by AFCAT CDAC across the country at different test centres.
IAF will publish the results and candidates will be able to check their marks, cut off marks etc on the official portal i.e. AFCAT Portal
Selected candidates have to choose their AFSB interview venue and date on the same portal.
The screening test is the first stage of the interview, which consists of verbal, nonverbal tests and a PPDT test. The selected candidates will stay at the centres for further selection tests and those who could not qualify it, would be set free on the same day.
The next stage consists of a personal interview, Psychology and GTO tests, PABT (for flying only), on the last day conference will be conducted after which, the final result is announced. The selected candidates are sent for medical examination.
For detailed SSB procedure candidates should refer to: Complete SSB Procedure
For detailed medical procedure candidates should refer to pages 23-59 of following document: AFCAT Medical Notification
AFCAT Eligibility :
Age Criteria
Flying Brach: 20-24 years
Ground Duty Branch(both tech and non-tech): 20-26 years
Educational Qualifications:
Flying Educational Qualification:
A graduate candidate with a minimum of 60% marks and must have scored a minimum of 50%marks in Maths and Physics in 10+2 in 12th standard.
B.Tech/ B.E candidates who have scored a minimum of 60% marks and have scored 60% marks in maths and physics in 10+2 in 12th standard are also eligible for it.
Ground Duty Technical Educational Qualification:
The candidate must have B.Tech/ B.E degree in notified streams as mentioned in the official notification of the IAF with a minimum of 60% marks and have scored a minimum of 50% marks in Physics and Maths in 10+2 standard are eligible for technical entry.
Ground Duty Non-Technical Educational Qualification:
Administration and Logistics – Graduation degree with a minimum of 60% marks or equivalent.
Accounts – B.Com Degree with minimum 60% marks or equivalent.
Education – Post graduate degree (MBA / MCA or MA / M Sc degree in English / Physics / Mathematics / Chemistry / Statistics / International relations / International Studies / Defence Studies / Psychology / Computer Science / IT /Management / Mass Communication / Journalism / Public Relation) with minimum 50% marks, along with minimum 60% marks in graduation.
Meteorology – Passed 10+2 and Post Graduate Degree in any Science stream/ Mathematics/ Statistics/ Geography/ Computer Applications/ Environmental Science/ Applied Physics/ Oceanography/ Meteorology/ Agricultural Meteorology/ Ecology & Environment/ Geo-physics/ Environmental Biology with minimum of 50% marks in aggregate of all papers put together (Provided Maths and Physics were studied at Graduation Level with a minimum of 55% marks in each).
Also Read: AFCAT 2 2022 Notification Out Now – Exam Date, Application Form, Age Limits, Cut Off
Exam Pattern:
The exam will be MCQ based and conducted online.
There will be a total of 100 question with a time limit of 2 hours from General Awareness, Reasoning, Numerical Ability, Military Aptitude and English.
There will be +3 marks for each correct answer and -1 for an incorrect answer.
Candidates who opt for technical branches have to give EKT (Engineering Knowledge Test) wherein there will have to attempt a total of 50 questions in 45 minutes.
The questions will be based on Mechanical, Computer Science and Electrical & Electronics. The scheme of marking will be same as main paper.
Both the question papers are made available in English language only.
Standard of Questions: The standard of Numerical Ability Questions will be of Matriculation level. The standard of questions in other subjects will be of graduation level (Indian University).
Syllabus of AFCAT Exam:
(aa) English. Comprehension, Detect Error in Sentence, Sentence Completion/ Filling in of correct word, Synonym/ Antonym, Cloze Test or Fill in the Gaps in a paragraph, Idioms and Phrases, Analogy, Sentence Rearranging, Substitution in a Sentence/ One Word Substitution.
(ab) General Awareness. History, Geography, Sports, National & International Organisations, Art & Culture, Personalities, Environment & Ecology, Indian Polity, Economy, Basic Science Based Knowledge, Science & Technology, Current Affairs (National & International), Defence.
(ac) Numerical Ability. Decimal Fraction, Time and Work, Average/ Percentage, Profit & Loss, Ratio & Proportion, Simple and Compound Interest, Time & Distance and Races (Trains/ Boats & Streams), Area and Perimeter, Probability, Number System & Number Series, Mixture & Allegation Rules, Clocks.
(ad) Reasoning and Military Aptitude Test. Verbal and Non-Verbal Reasoning
Standard Of Questions. The standard of Numerical Ability Questions will be of Matriculation level. The standard of questions in other subjects will be of graduation level (Indian University).
Also Check: How To Crack AFCAT Exam Topic Wise Analysis, Study Plan And Best Strategy
AFCAT Cutoff
In the recently conducted AFCAT Exams, the average cut-off for the written exam was between 150 – 160 marks out of 300 and for EKT it was 18 to 50 marks out of 150.
Tips to Prepare (For Class XII pass)
Tips for AFCAT Exam:
Understand the exam pattern by going through the previous year question papers(PYQ). Go through which level of questions are asked from various sections and what is your level. Identify your strong and weak sections and strive to improve.
Speaking honestly, the level of exam is not that tough that you have to devote your whole days for this. Prepare for AFCAT and simultaneously keep a back-up like CDS, CGL, etc and also study for them because as your horizon of knowledge improves more are the chances of clearing the exam. Like the reasoning questions of CGL match those of AFCAT which will improve your chances of scoring as you would have solved now every possible type of question from that particular section. Just revising same questions of AFCAT won't be enough.
Now coming to sections:
Reasoning: Practice those dot questions, they are surely going to hold big value in the exam, my additional advice would be to go through the question twice because chance of a silly mistake is very high. Syllogism, Analogy and Venn Diagram are also amongst highly important parts. RS Agarwal would be more than enough for clearing all basics and for practice you can go through our AFCAT Reasoning Bank.
English: Practice for Cloze and Comprehension even though they seem easy there are high chances of silly mistakes. For Vocab you can read newspapers as it will also aid in your SSB prep, otherwise vocab is a big ocean. For Idioms and Phrases, Phrasal Errors and Spotting Errors SP Bakshi would be more than enough. In English prep you should focus more on reading because remembering all the rules and implying them in the exam is next to a dream, reading will improve your sentence formation the single most important part for Error finding, cloze, passage, etc.
Maths: As listed above in the syllabus section those are the same topics from where questions are asked each time. My advice would be to go for any SSC CGL Quant/Maths book you find suitable and practice all type of questions. Focus not just on solving the questions on formulas but understanding the language of questions. If you are done with the basics you can go through AFCAT Maths Question Bank. Focus on clearing concepts first and then on speed of solving. Don't plainly memorize tricks, use them first and if you have practiced enough you will know how to approach any question
General Knowledge: Most of questions are moderate level and are from static Gk topics History, Sports, Geography, Environment, Civics, Basic Science, Defence, Art, Culture, Current Affairs, and Politics which are covered in our AFCAT Exam Static GK Section.
Tips for SSB
Join NCC in your college and just don't be a member, participate in competitions, go to the camps, give your best, and improve upon your physical and mental strength.
Build your knowledge about the force(in this case Air Force), the branch, and the squadron you want to join.
Developing team spirit, can only be done through sports, and other team competitions.
Improve your physique and build stamina
Participate in as many competitions as you can, help in organizing the fests, and most important develop your leadership skills because this is the best place to do it. After graduation, you won't get so many chances.
Also work on your core subjects, because the forces require an all-rounder person.
Conclusion
These all may sound too much, but also see that you have three/four years, if you start making monthly goals, you will surely achieve your dream. For more strategies and information regarding defence exams and SSB interviews, stay tuned.
If you are preparing for the AFCAT written exam and SSB interview, you can check SSBCrackExams online courses and mock tests.