The Surface-to-Air Python and Derby, abbreviated to SPYDER, is an Israeli short and medium range mobile air defence system developed by Rafael Advanced Defence Systems.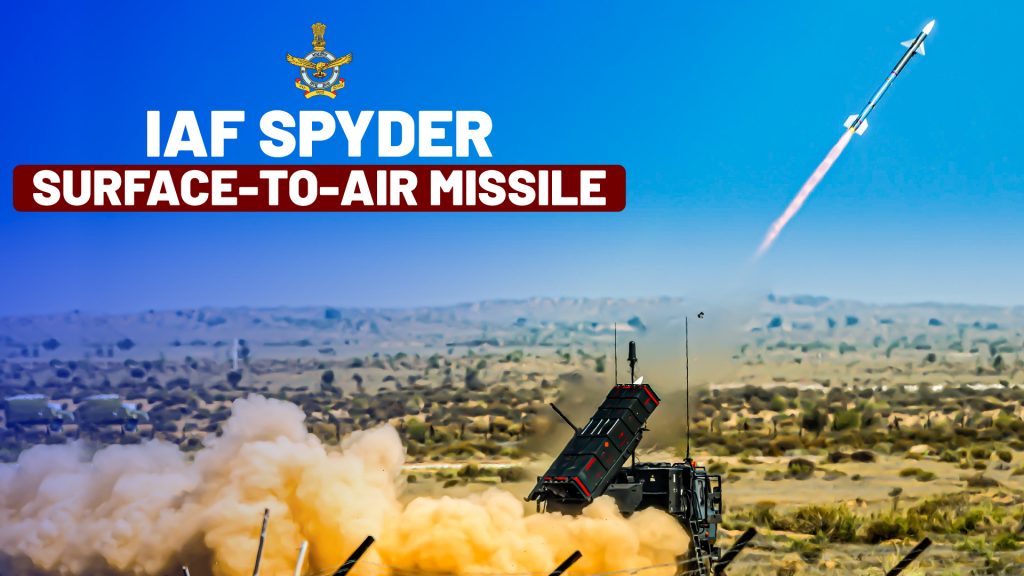 The SPYDER is a low-level, quick-reaction surface-to-air missile system capable of engaging aircraft, helicopters, unmanned air vehicles, drones, and precision-guided munitions.
It provides air defence for fixed assets and for point and area defence for mobile forces in combat areas.
The SPYDER launcher is designed to fire Python-5 and Derby surface-to-air missiles which share full commonality with the air-to-air missiles. There are two types of the SPYDER system: the SPYDER-SR, which stands for the short range, and the SPYDER-MR, which stands for the medium range.
Also Read: Difference Between Ballistic Missile Vs Cruise Missile?
Both systems are quick reaction, all weather, network-centric, multi-launchers, and self-propelled. A typical battery consists one central command and control unit, six missile firing units, and a resupply vehicle.
The Indian Air Force has successfully test-fired the SPYDER missile system. It was selected by the Indian Armed Forces in June 2006.
The missile can strike multiple targets at the same time which makes it a very valuable asset of the air defence network.
The SPYDER was used by India during Russo-Georgian War of 2008, after the Balakot Airstrike on February 27th, 2019 and during the Jammu and Kashmir Airstrikes of 2019.
Eighteen SPYDER-MR systems were planned to be acquired for $395 million. The contract was approved by the Indian Defence Acquisition Council in 2008. In 2009, the deal was signed.
The missiles were delivered to India in 2012. Further, 750 Python-5 surface-to-air missiles and 750 Derby surface-to-air missiles have been delivered.
The SPYDER defence system was inculcated into the Indian Air Force in 2017.
SPYDER-SR is a short-range missile and thus has a short range of interception. The maximum altitude of interception is 9 km and the maximum range of interception is 15 km. The SPYDER-SR system has 360° engagement capability and the missiles can be launched from the full-readiness state in less than five seconds from target confirmation. The system can indulge in simultaneous engagement of multiple targets through all weather conditions.
SPYDER-MR has a greater range of operation at 35 km and can fire up to an altitude of 16 km. SPYDER-MR carries eight missiles while SPYDER-SR has four. SPYDER-MR also has a new IAI/Elta MF-STAR surveillance radar.
Also Read: Why S-400 Missiles Systems Is A Game Changer For Indian Armed Forces?
The two modes of operation of the system are:
Lock On Before Launch
Lock On After Launch
The first method allows for confirmation of the missile being locked on a particular target, which gives a higher kill probability against short-range and high manoeuvring targets.
Generally, a SPYDER squadron consists of one mobile command-and-control unit and four mobile firing units. Both have their own built-in power supplies. The system is equipped with an automated computer, assisting the operators in the successful completion of hostile target interceptions in intense battlefield environments.
The command-and-control unit combines data from the local surveillance radar and from upper tier command and control centres up to 100km away.
The Python 5 missile is Rafael's new, high agility dogfight air-to-air missile. Python 5 is a development of the Python 4 with a dual-band focal plane array and an imaging infrared seeker which gives a very wide field of view.
Also Read: Top 10 Missiles Of Indian Armed Forces
The Derby missile is a medium-range, active radar-guided missile originally developed for the air-to-air role. The air defence missile has an all-weather and beyond visual range capability.
The SPYDER missile system, undoubtedly, is a key defence tool to have in ones' armed forces.
The low-level, quick reaction surface-to-air missiles allow for multiple targets to be attacked simultaneously, giving them the upper hand. The missile system is also all-weather conducive which proves to be extremely convenient.
Having such an advanced missile system in the Indian Air Force definitely proves advantageous to the nations defence network.
As seen above, the SPYDER missile system is technologically advanced and gives the militaries an upper hand in air combat.
Its ability to lock onto a target before launching allows for more accuracy and precision and secures a bullseye.
The missile system also allows for two types of missiles to be used, which provides an option to choose from, to pick the best suited missile for a particular situation or target.
All in all, the SPYDER missile system is an extremely advanced Israeli developed system. Including the SPYDER system in the Indian defence system was a wise, calculated decision which was made.
I hope this article was informative.
For more such articles, keep reading SSBCrackExams blog posts!
To crack the SSB Interview, You can join our SSB interview live classes batch and we recommend you to Enroll SSB INTERVIEW ONLINE COURSE. Trusted by thousands of defence aspirants.