As soon as Jeremy Lalrinnunga won the gold medal in the Birmingham 2022 Commonwealth Games, a lot of people started searching for him on the internet. we will provide you with information and some inspiring facts about Naib Subedar Jeremy Lalrinnunga that will motivate you to join the Indian Army.
Jeremy Lalrinnunga Said, "Lifting three tons over my shoulder wouldn't have been possible without the strength of my nation backing me. This is gold is just the beginning!"
Prime Minister Narendra Modi congratulated weightlifter Jeremy Lalrinnunga for capturing a gold medal in the men's 67 kg final at the ongoing Commonwealth Games 2022 in Birmingham on Sunday.
Indian weightlifter Jeremy Lalrinnunga created history by capturing a gold medal with a record-breaking combined lift of 300 kg in the men's 67 kg final at the ongoing Commonwealth Games 2022 in Birmingham on Sunday.
"Our Yuva Shakti is creating history! Congratulations to @raltejeremy, who has won a Gold in his very first CWG and has set a phenomenal CWG record as well. At a young age he's brought immense pride and glory. Best wishes to him for his future endeavours" tweeted PM Modi.
President Droupadi Murmu also extended his congratulations to the weightlifter. "Congratulations, Jeremy Lalrinnunga for winning gold in Weightlifting at #CommonwealthGames. Your self-belief despite injury during the event enabled you to create history & inspire millions. Your podium finish has filled Indians with pride. Wishing you more such moments of glory," tweeted Murmu.
Also Read: 19 Year Old Naib Subedar Jeremy Lalrinnunga Wins India's Second Gold At Commonwealth Games
Indian Army has also congratulated Naib Subedar Jeremy Lalrinnunga on winning Gold Medal in Weightlifting by lifting a total of 300kg (GR) in Men's 67kg Finals at Commonwealth Games 2022.
Here are the 10 Inspiring Facts About Naib Subedar Jeremy Lalrinnunga:
1. Earlier he used to play boxing but started weightlifting in 2012. He always used to say to us that weightlifting is his goal and that he will achieve it big. He is undergoing training in Patiala.," said a proud father.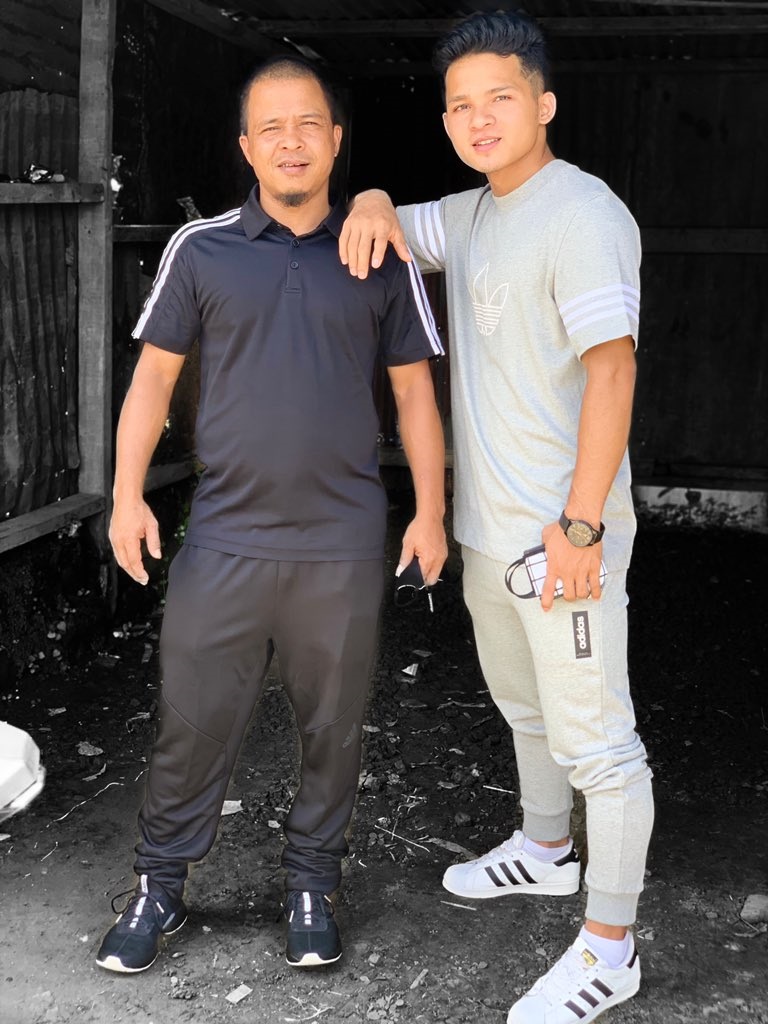 2. Jeremy Lalrinnunga, who won gold in the 67kg category at the ongoing Commonwealth Games 2022 is an Indian weightlifter from Aizawl, Mizoram. Lalrinnuga created a game record with a lift of 140kg in snatch and 160kg in clean and jerk.
3. Indian weightlifter Jeremy Lalrinnunga created history by capturing a gold medal with a record-breaking combined lift of 300 kg in the men's 67 kg final at the ongoing Commonwealth Games 2022 in Birmingham on Sunday. With this, he won the country its fifth medal at CWG 2022 and its second gold medal at the event. He had achieved a record-breaking 140 kg lift in the snatch category and 160 kg in the Clean and Jerk category, which combined to give him a lift of 300 kg, a record at the Commonwealth Games.
4. Lalrinnuga comes from a sporting family as his father was a boxer at the national level and was a junior national champion. "My father was a boxer. He used to take us to his training sometimes and I picked up boxing slowly. It's was great until I saw weightlifting," he recalls. "There is this SYS academy in my village where a coach trains for weightlifting. I saw my friends doing it and I thought this is a game of strength and I need to do it."
5. And that was the beginning of Jeremy's weightlifting journey. In 2011, his coach Malsawma Khiangte told them about Army Sports Institute trials and the most disciplined boy will be selected. "Our coach told Army Sports Institute trials will be conducted. We were told boys with strength and discipline would be selected. I was not disciplined but they selected me and gave me 50 rupees as the most disciplined player which I still laugh about. Main to masti karta hu bas," he laughs.
5. On his left arm features a tattoo depicting a person lifting weights, with the date 11 November 2011 written above it in Roman numerals. This tattoo signifies him and the day he started lifting weights. Just below this, features a depiction of a man standing straight, wearing boxing gloves. This signifies his father Lalneihtluanga, who used to be a boxer. "This story behind this tattoo is that my father used to be a boxer and I am a weightlifter. This tattoo shows just that," said Jeremy after his match.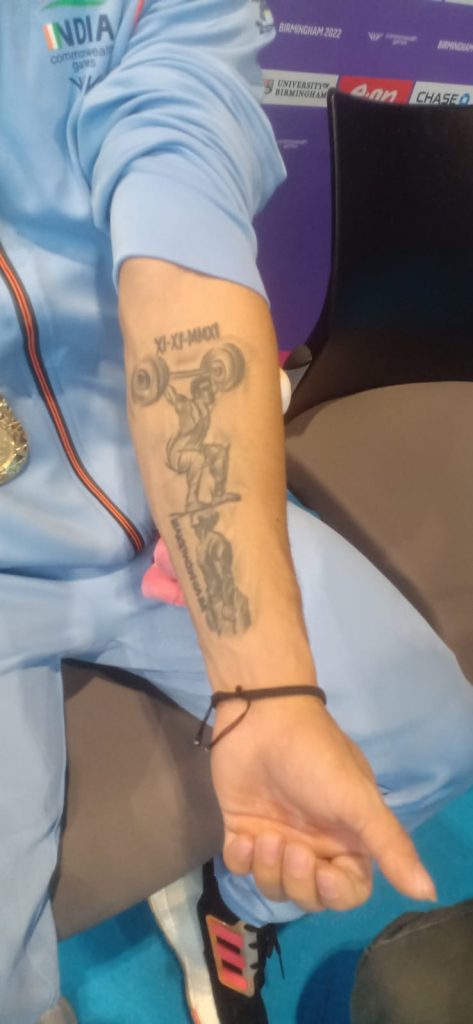 6. He won the gold medal in the men's 67kg category at the Commonwealth Weightlifting Championships 2021 in Tashkent and also won the gold in 2018 Youth Olympics by lifting an impressive total of 305kg (141kg and 164kg) to win top honours at the Commonwealth meet. Lalrinnunga was just 1kg shy to improve his personal best which stands at 306kg (140kg+166kg).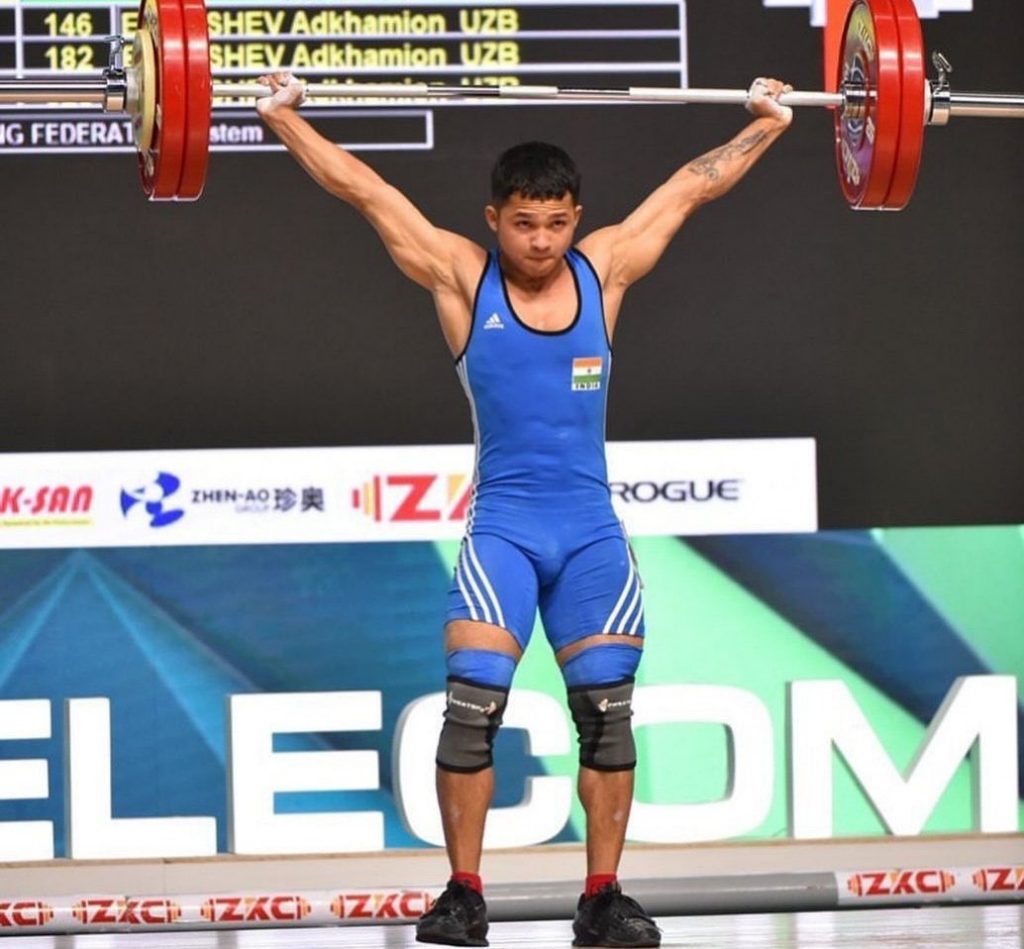 7. Missed Tokyo Olympics, "There was a problem in my tendon in my knee. Water filled up behind my knee. I had to undergo surgery for that," Jeremy said. "There was a problem near my spine, upper back but then also I competed at the world championships," he said. To make matters worse, the teenager contracted COVID-19 at the fag end of last year. "I got COVID-19 on December 31. I had throat pain and fever. After that my body weight came down to 63-62kg, it was a difficult time. I struggled to recover. I was in quarantine alone for 15 days, said the jovial lifter. The time away from training helped him reset, reflect on his training and assess his goals. " Jeremy said.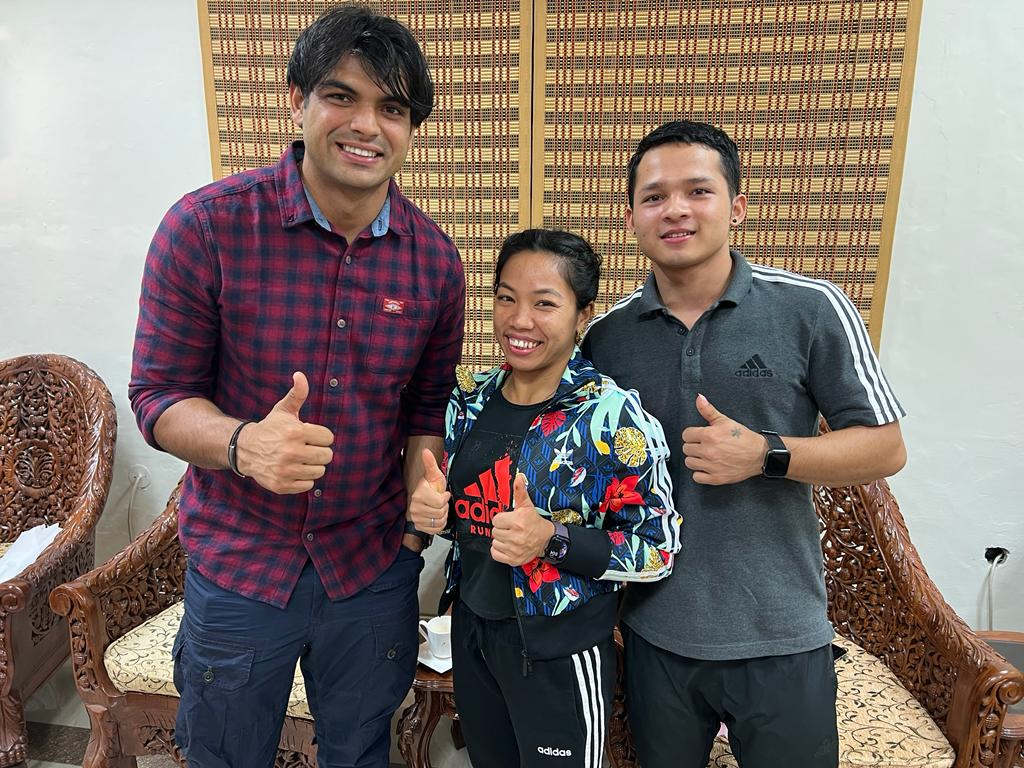 8. He won gold in the first and second edition of the Khelo India Games and the athlete competed in the 62kg and 67kg categories in both the editions respectively in the year 2020.
9. Father of Jeremy, Lalneihtlunga, who himself is a sportsperson, is extremely supportive and is indeed a proud father as the son is bringing fame and is fulfilling his dreams by representing the country in various weightlifting championships.
10. Jeremy won the gold medal making him India's first gold medallist in Youth Olympics history. Moreover, the young sportsman represented India in 2018 at the Summer Youth Olympics in Buenos Aires. As the list goes, he also went on to win a gold and a silver in Asian Youth Championship and Asian Junior Championship, respectively. In 2016, he played at the national level. After that, went to NIS, Patiala, for training and still continuing in the Indian camp and currently undergoing rigorous training at Subhas National Institute of Sports, Patiala, and Army Sports Institute and have won many medals for the nation.
Jeremy Lalrinnunga Career Achievements: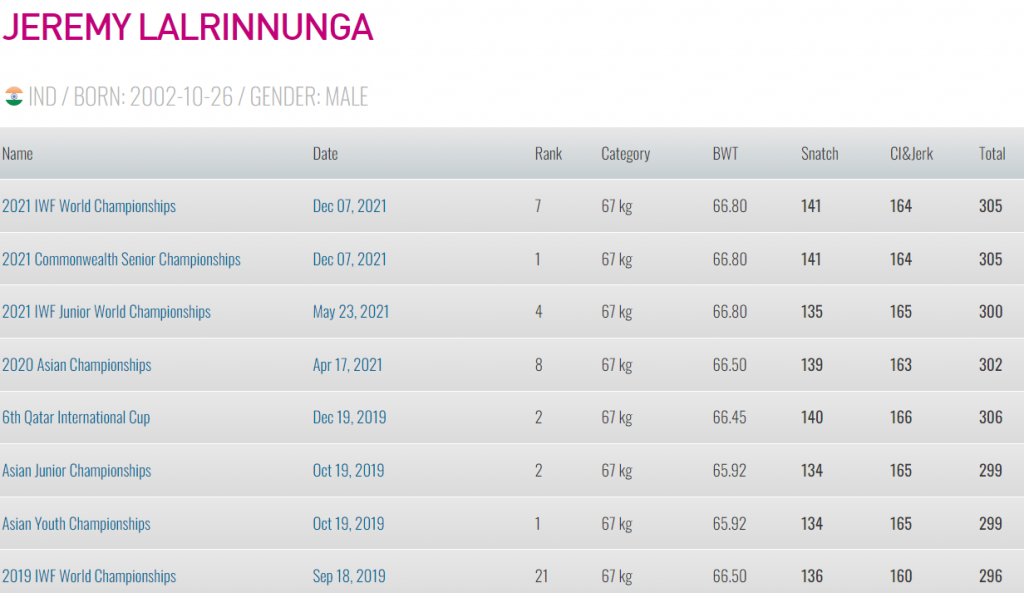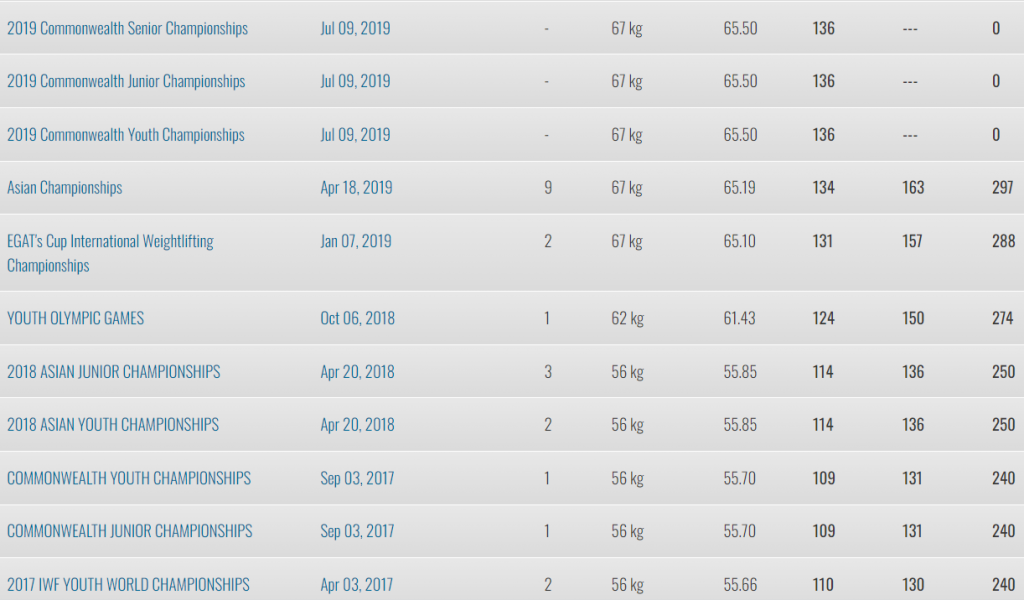 We hope Naib Subedar Jeremy Lalrinnunga's lifetime story will motivate you all to join the Indian army and be an inspiration for the generations to come. Jai Hind.
Want To Join the Indian Armed Forces and Prepare For The NDA CDS AFCAT Exam?