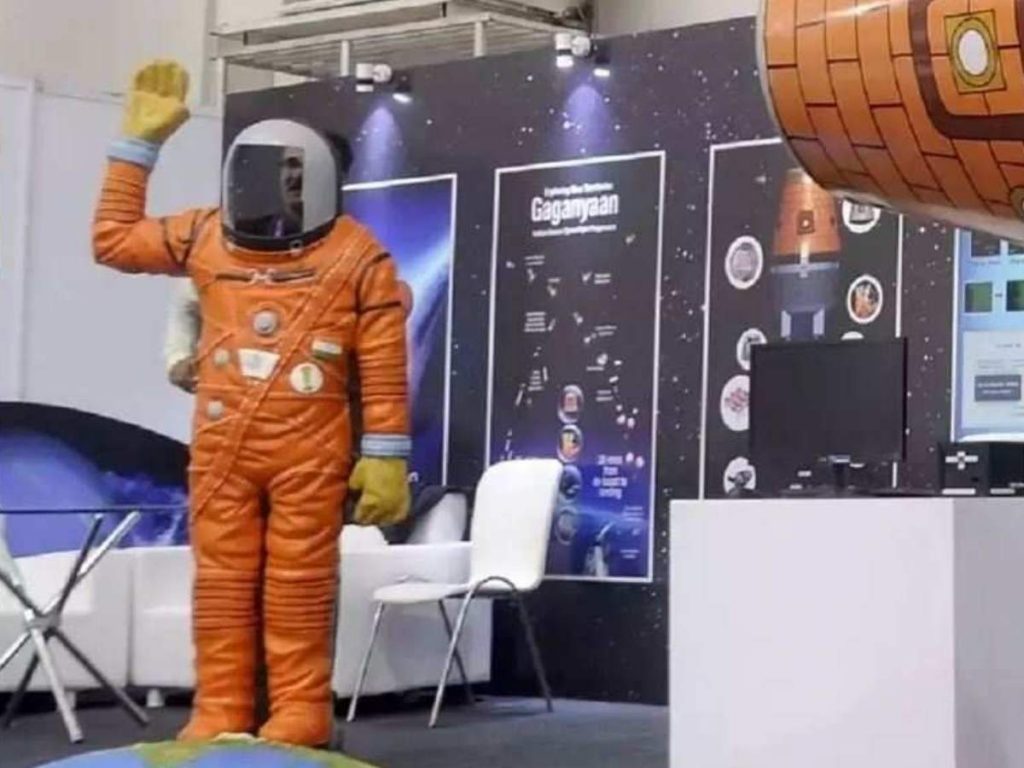 The Indian Space Research Organisation (ISRO) on Wednesday successfully conducted the third long-duration hot test of the liquid propellant Vikas Engine as part of the engine qualification requirements for its Gaganyaan Programme.
Time Line Of ISRO's Gaganyaan Programme
On July 14, 2021: ISRO has successfully conducted the third long duration hot test of the liquid propellant Vikas Engine for the core L110 liquid stage of the human rated GSLV MkIII vehicle, as part of the engine qualification requirements for the Gaganyaan Programme.
The engine was fired for a duration of 240 seconds at the engine test facility of ISRO Propulsion Complex (IPRC), Mahendragiri in Tamil Nadu. The performance of the engine met the test objectives and the engine parameters were closely matching with the predictions during the entire duration of the test.
Nov 16, 2020: S200 Motor case for Gaganyaan first Unmanned Mission Flagged Off
ISRO's heavy lift launcher, GSLV MkIII is identified for the Gaganyaan Mission and the process for human rating of GSLV MkIII is in progress. The high thrust solid propellant strap-on boosters S200 play an important role in the Human Rated GSLV MkIII. In order to human rate the booster, many new design features have been introduced in the hardware.
In yet another successful industry collaboration, the first critical booster segment of the motor case with a diameter of 3.2 meter, 8.5 meter in length and weighing 5.5 tons has been indigenously developed and delivered by L&T to ISRO. This is the first step towards the Unmanned Space Mission and was flagged off on November 13, 2020 by Dr. K. Sivan, Secretary, Department of Space and Chairman ISRO, and Shri. Jayant Damodar Patil, Director & Senior EVP Defence & Smart Technologies, L&T.
Jun 08, 2019: ISRO successfully tested CE-20 engine, meant for the upper stage of GSLV MK-III. The engine is planned to be used in human rated GSLV MK-III launch vehicle (Gaganyaan Mission)
The upper stage of GSLV MK-III vehicle is powered by Cryogenic Engine (CE)-20 which develops a nominal thrust of 186.36 kN with a specific impulse of 442 seconds in vacuum. The engine operates on gas generator cycle using LOX / LH2 propellants combination. The major subsystems of the engine are thrust chamber, gas generator, LOX and LH2 turbo pumps, igniters, thrust & mixture ratio control systems, Start-up system, control components and pyro valves. The hardware of CE-20 integrated engine designated as E6 is earmarked for GSLV Mk-III Gaganyaan mission.
May 29, 2019: MoU signed between ISRO and IAF for cooperation in crew selection and training for Gaganyaan Project.
As per the sources 4 IAF pilots have already undergone generic space flight training in Russia as part of the Gaganyaan programme.
The Indian Space Research Organisation's (ISRO) Gaganyaan programme envisages sending humans in space, said Union Minister of Atomic Energy and Space Jitendra Singh.
A human-rated GSLV Mk-lll will be used to carry the orbital module which will have necessary provisions for sustaining a three-member crew for the duration of the mission.
The necessary infrastructure for crew training, realisation of flight systems and ground infrastructure will be established to support the programme. Indian Space Research Organisation (ISRO) will collaborate extensively with national agencies, laboratories, academia and industry to accomplish the objectives of Gaganyaan.
National agencies, laboratories and academia will participate in crew training, human life science technology development initiatives as well as design reviews. First human space flight demonstration is targeted to be completed within 40 months from the date of sanction. Prior to this, two unmanned flights in full complement will be carried out to gain confidence on the technology and mission management aspects.
Human spaceflight programme will provide a unique micro-gravity platform in space for conducting experiments and test bed for future technologies. It is expected to give impetus to economic activities within the country in terms of employment generation, human resource development and enhanced industrial capabilities. Human spaceflight capability will enable India to participate as a collaborating partner in future global space exploration initiatives with long-term national benefits.
ISRO has completed the development of launch vehicle GSLV Mk-lll which has the necessary payload capability to launch a three-member crew module in low earth orbit. ISRO has also tested the crew escape system which is an essential technology for human space flight. The aerodynamic characterisation of crew module has been completed as part of GSLV Mk-lll X mission flight.
Elements of life support system and spacesuit have been tested, in addition, the orbital and re-entry mission and recovery operations have been flight demonstrated in Space Capsule Re-entry Experiment (SRE) mission. ISRO has developed and demonstrated most of the baseline technologies essential for undertaking human spaceflight mission.
ALSO READ
The Indian Space Research Organisation (ISRO) on Wednesday successfully conducted the third long-duration hot test of the liquid propellant Vikas Engine as part of the engine qualification requirements for its Gaganyaan Programme. pic.twitter.com/nzCgpE54XQ

— SSBCrackExams (@SSBCrackExams) July 15, 2021