Personal Interview (PI) is a time tested method which surely judges the person in terms of knowledge, communication, confidence and many other qualities that are very specific to organisational roles for which the interviews are organised.
Key to Success in Personal Interview at SSB
SSB process has many interviews in different forms but one big interview would be with the officer who would be either the President or deputy President of the board. Such people are really senior and have a vast knowledge to judge people at different levels. Many OLQ's are being judges but apart from that there are several other things that have impact in PI and if such things are taken care of, it could lead to wonders.
Intelligence, power of expression
Body language, gestures and eye moments
Planning and delegating
Social adjustment,
Dynamic workout
Courage, stamina, hard work and determination
Appropriate assessment of others
True behavior to the image portrayed on papers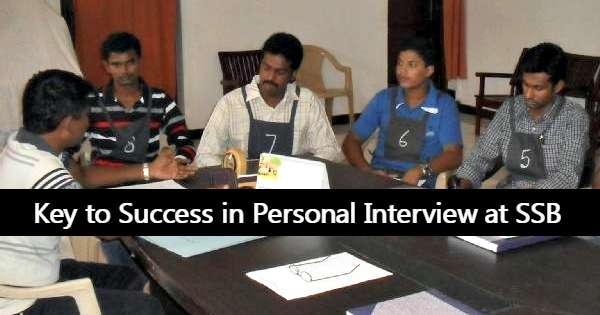 Please remember that the officer is trying to revisit your full life with the intention of just to analyse what's your background and what impact all your surroundings had on your personality. So be true to whatever you fill in PIQ and don't take it lightly. Also ensure you do not miss on something important including your extracurricular, achievements (however small or big it might be) Position of responsibilities etc.
Interviewer will welcome you with a smile don't just get afraid of it and he might offer a handshake which should be immediately and warmly accepted by the candidate.
Don't sit without permission of officer. He might delay the orders in order to test something but don't worry he might not make you stand for long. Just don't hide the chair and stand in front of it. Ideal way is to stand at side.
Be confident and get along with the officer when he tries to build a comfortable environment by asking about you. There are specific things that should be told in such questions and this also decides your fate for future questions so design it in your comfortable way beforehand by practicing it well.