Jai Hind future warriors today we are going to discuss the transport aircraft carriers used by the Indian Air Force (currently out of Army, Navy, and Airforce, only Airforce uses Transport Aircraft).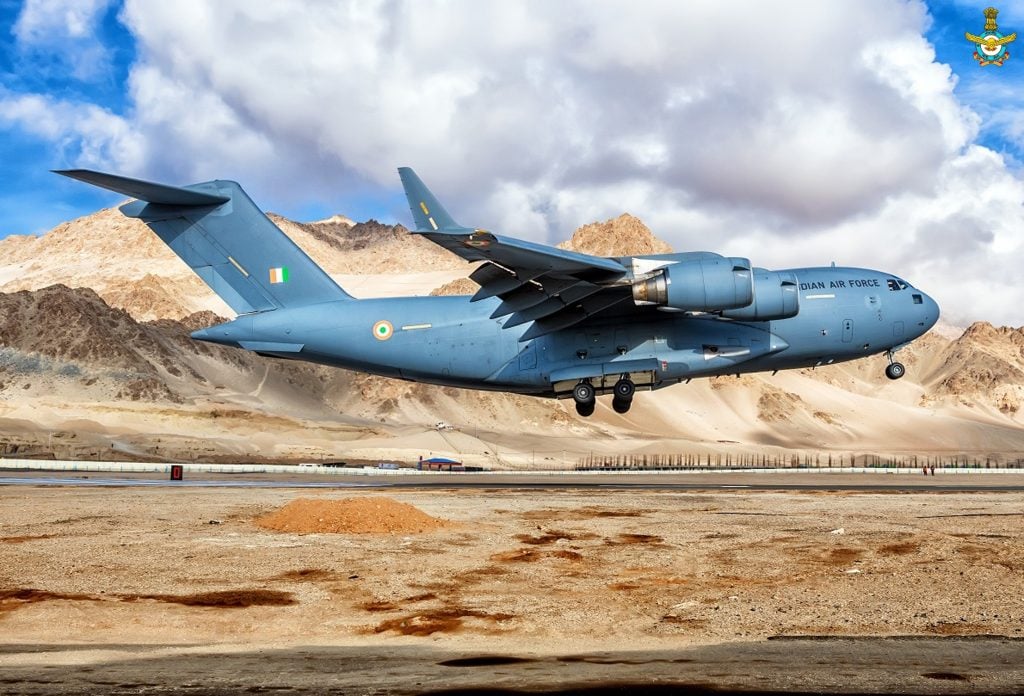 What is a Transport Aircraft?
A military transport aircraft, military cargo aircraft, or airlifter is a military-owned transport aircraft used to support military operations by airlifting troops and military equipment. Transport aircraft are crucial to maintaining supply lines to forward bases that are difficult to reach by ground or waterborne access, and can be used for both strategic and tactical missions. They are also often used for civilian emergency relief missions by transporting humanitarian aid.
Transport Aircraft of IAF
Ilyushin II-76
Origin in Soviet Union
Role: Strategic Airlifter
Variant in use by IAF: II-76MD
In-Service: 17
Boeing C-17
Origin: United States of America
Role: Strategic Airlifter
In-Service: 11
C-130J Super Hercules
Origin: United States
Role: Tactical Airlifter
Variant in use by IAF: C-130J-30
In-Service:12
Antonov An-32
Origin: Ukraine
Role: Transport
Variant in use by IAF: An-32/32RE
In-Service: 103 (50 are An-32 Variant, rest are An-32RE)
Hawker Siddeley HS 748
Origin: United Kingdom
Role: Transport
In-Service: 57
EADS CASA C-295
Origin: Spain (modified version in use by India)
Role: Transport
Variant in use by IAF: C-295MW
In-Service: 56 on order – license built by Tata Advanced Systems as a replacement for HS 748.
Dornier 228
Origin: Germany
Role: Utility
Variant in use by IAF: 228-201
In-Service: 53 (Built by HAL on license)
Boeing 777
Origin: United States of America
Role: VIP Transport
Variant in use by IAF: 777-300ER
In-Service: 2
Used as Air India One for presidential flight
Boeing 737
Origin: United States of America
Role: VIP Transport
Variant in use by IAF: 737-700
In-Service: 3
Embraer Legacy 600
Origin: Brazil
Role: VIP Transport
In-Service: 4
Transport Helicopters
Origin: United States of America
Role: Heavy Transport
Variant in use by IAF: Ch-47F
In-Service: 15
Mil Mi-17
Origin: Russia
Role: Utility Transport
Variant in use by IAF: Mi-17V-5
In-Service: 223
Modified version of this helicopter was the unfateful one in which we lost CDS Bipin Rawat.
Glossary of Terms
Strategic Airlift
Strategic airlift is the use of military transport aircraft to transport materiel, weaponry, or personnel over long distances. Typically, this involves airlifting the required items between two airbases that are not in the same vicinity. This allows commanders to bring items into a combat theater from a point on the other side of the planet, if necessary. Aircraft which perform this role are considered strategic airlifters. This contrasts with tactical airlifters, such as the C-130 Hercules and Transall C-160, which can normally only move supplies within a given theatre of operations
Tactical Airlifter
Tactical airlift is a military term for the airborne transportation of supplies and equipment within a theatre of operations (in contrast to strategic airlift). Aircraft that perform this role are referred to as tactical airlifters. These are typically turboprop aircraft and feature short landing and take-off distances and low-pressure tires allowing operations from small or poorly prepared airstrips. While they lack the speed and range of strategic airlifters (which are typically jet-powered), these capabilities are invaluable within war zones. Larger helicopters such as the CH-47 Chinook and Mil Mi-26 can also be used to airlift men and equipment. Helicopters have the advantage that they do not require a landing strip and that equipment can often be suspended below the aircraft allowing it to be delivered without landing but are fuel inefficient and thus typically have limited range. Tactical airlift aircraft are designed to be manoeuvrable, allowing the low-altitude flight to avoid detection by radar and for the airdropping of supplies. Most are fitted with defensive aids systems to protect them from attack by surface-to-air missiles.
VIP Transport
Air transports for heads of state and government are, in many countries, provided by the air force in specially equipped airliners or business jets.
Utility Helicopter
A utility helicopter is a multi-purpose helicopter capable of fulfilling many different roles, which may include both civil (like rescue) and military (ground/air/sea attack troop, troop movement) objectives
Conclusion
Hope this post was informative for you!
For more such posts related to defence exams and SSB Interview stay tuned
To crack the SSB interview, You can join our SSB interview live classes batch and we recommend you to Enroll SSB INTERVIEW ONLINE COURSE. Trusted by thousands of defence aspirants.
Also Read: All You Need To Know About Indian Air Force Fighter Aircraft