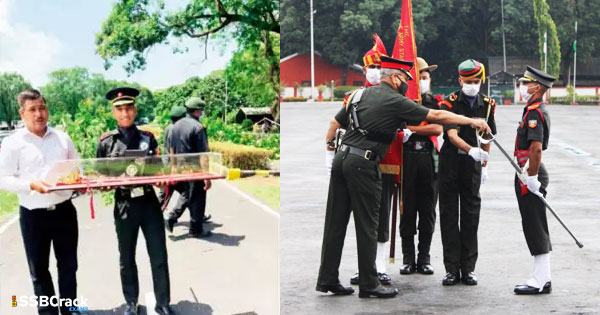 On the occasion of the 148th passing out parade of the Indian Military Academy (IMA), Dehradun, student of Rashtriya Military School, Ajmer, Mukesh Kumar won the Sword of Honour. Seven students from RMS Ajmer got commission in the passing out parade of the academy.
The coveted award of the Sword of Honour was won by Battalion Under Officer Mukesh Kumar at the POP on Saturday. Kumar hails from Sikar district of Rajasthan and is joining the Rajputana Rifles, the oldest rifle regiment in the Indian Army.Kumar, who also received the silver medal for the Gentleman Cadet (GC) standing second in the Order of Merit in the IMA, is the son of a retired Naik of the Army. His elder brother is in the Air Force while the younger one is in the Army.
"No one from my family was in the defence forces before my father and I am happy that my brothers and I are taking the tradition forward," Kumar told TOI. The gold medal for the GC standing first in the Order of Merit was presented to Deepak Singh from Uttarakhand's Almora whose father is a retired Havildar. Singh passed out from Rashtriya Military School in Bengaluru and got commissioned in the Kumaon Regiment.
Principal of RMS Ajmer Lt Colonel Anant Thapan said Manjeet Singh, Vinod Saini, Sujeet Saxena, Mukesh Kumar, Mohit Tanwar and Yogesh Kumar completed the IMA course on Saturday and have now become commissioned officers in the Indian Army.
These students also performed best in different academic and cadet appointments during their training. "This is one more feather in the cap of the history of this school. The school is run by the ministry of defence," said Lt Col Thapan.
Lt. Mukesh Kumar was the captain of Subhash House of the school and getting the Sword of Honour will certainly encourage other students of the Military School in Ajmer. Recently, 14 students of this school passed out from the National Defence Academy.