Hello everyone, my name is Ayush Sharma and I got recommended for Indian Navy (SSC GS/X) in my 1st attempt from 33 SSB Bhopal. Before telling my experience, I would like to talk about me. I am currently in my final year of engineering at the National Institute of Technology Karnataka, Surathkal. I come from a civil background; my father is an officer in the Indian Railways whereas my mother is a homemaker. I got the inspiration for joining the armed forces from a web series named 'The Last Ship' and thereafter I researched the various ways to join the armed forces after graduation.
Now coming to my experience at 33 SSB Bhopal. Being a fresher, this was my first interaction with the military world and I was really excited about it and nervous also. The reporting date was 6th March 2021 and 79 candidates had reported. The OIR test was easy, there were two sets, each having 50 questions which were to be done in 30 minutes each. The PPDT picture was clear and was based on an accident scene. I made a normal story of people helping the injured person. For the discussion part, we were a group of 11 candidates. I gave a short and crisp narration and during the GD also gave points as and when required and always tried to avoid the fish market type of situation. Around 2 PM the results were announced and 26 of us had made it to the next stage. I was happy after getting screened in. We were told to fill the PIQ forms and were told to report in the evening for document verification.
On the 2nd day, we had psychological tests in the morning. I did all the TAT stories and tried to keep them as realistic as possible. I attempted 57 WATs and 60 SRTs. Here the aim that should be made is to try to go for quality (but quantity with quality is like icing on the cake). I had prepared my SD beforehand. The main point that should be kept in mind for the psych tests are that be logical in your answers for both TAT and SRT and this approach will surely help you. I prepared from books available on SSBCrack websites and these books really helped me with the psych tests. I had my interview on Day 2 itself. There were 2 officers in my interview. The officer who took my interview was the Deputy President of the board. Most of the questions were from my PIQ form and almost all of them were asked as rapid-fire questions in 3 different sets. The other officer asked me 3-4 technical questions.
On Day 3, we had GTO tests, starting with two GDs and GPE. Try to have active participation in these. Make a logical story in the GPE and try to use the resources efficiently. In PGT, I couldn't give many ideas but always helped my group mates in implementing those ideas. Then we had GOR, our war cry was 'Har Har Mahadev'. Then we had HGT and having understood that how should we proceed to see the PGT, I gave proper ideas in HGT. We also had lecturette as the last task of the day, my topic was 'Ballot papers v/s EVMs'.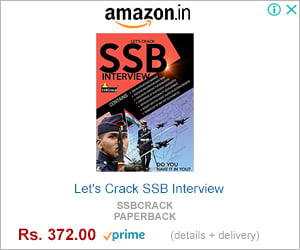 On Day 4, we had Individual Obstacles in the starting, I could do only 3 before injuring myself and then couldn't do anymore, so the key here is to try to do the tasks carefully without getting yourself injured. I had my leg sprained badly so the GTO asked me before the next task that whether I will be able to continue, I said yes. So next was the command task and I was called first. I would say that just don't tell your subordinates to do the work instead help them in making the structures. The GTO was creating pressure on me by deleting the obstacles and even changing the colours but in the end, I completed the task. Last was FGT and we completed it in less than 2 minutes.
Now comes the conference day. Everyone was nervous but we tried to limit the nervousness by making some jokes. My conference went about for 2-3 minutes. The President asked me how was my experience as a fresher, whether I got intimidated by the presence of repeaters who have appeared 10-12 times. Since I was chest number 13, I was asked that many people think this is an unlucky number, what do you think about it. And then my conference got over.
Around 2 PM, after giving the closing address, the results were announced. 2 of us got recommended and I was one of them. I was really happy about getting recommended on my 1st attempt.