As per the Territorial Army 1 2016 Notification only gainfully employed Ex Service Officers can apply Territorial Army Officers recruitment. The selected candidates through this exam will be screened by the Army HQ Selection Board (ASB) held at Addl Dte Gen TA, GS Branch, 'L' Block, Church Road, New Delhi. Once recommended candidates will undergo Medical Examination at Armed Forces Clinic, New Delhi. They will also submit Police Verification Form. In this article we will share the links to Download Territorial Army Previous Year Question Papers
Territorial Army India Eligibility Conditions
Only Ex-service officers who are medically fit.
Age- 18 to 42 years on the date of application.
Qualification -Graduate from any recognized university.
Employment – Gainfully Employed in Central/State Govt/ Semi Govt/Pvt Sector/Self Employed.
Date of Interview : April 2016. Firm dates will be communicated later by post.
*(Note: Serving Employees of Police/Paramilitary Forces are not eligible.)
** (Gainfully employed means currently working in a good position and earning well enough)
Written Exam Date for Territorial Army Recruitment 2016 – 02 August 2015.
Syllabus for Territorial Army Written Exam:
Part-I  : Essay writing & comprehension (In English).
Part-II : Objective type question on General Awareness, issues related to political/Economic, Current Affairs (both national & International), Mental Aptitude, English Grammar & Reasoning.
Territorial Army Exam Pattern:
The written exam duration is of two hours.
Maximum mark is 100.
The question paper has two sections that are I & II.
First section comprise in two parts that is part A & B.
Section I: Its entire details are given below:
Part A: In part one has to write an essay out of three essays within three hundred words. For this the allocated marks is twenty.
Part B: This part is English comprehension and language for 20 marks. English paper will be sentence sequence in PQRS form for 04 marks). Question and Answer will be based on a small passage for 06 marks. Fill in the blanks (appropriate word among given) having 10 marks.
Section II: Second part consists of General Knowledge. Total number of questions in this section is sixty (60). One marks for each question is decided. In this section the question related to below topics:
Current Affairs (National and International)
Major Financial/Economic News
Budget and Five Year Plans
Who is who?
Sports
Books and Authors
Awards and Honors
Science – Inventions and Discoveries
Abbreviations
Important Days
International and National Organizations
Territorial Army Previous Year Question Papers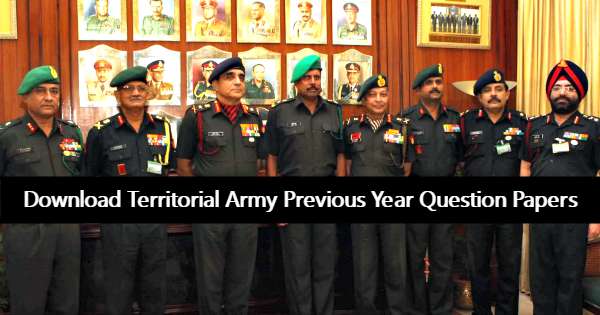 Candidates who are applying for territorial army can Download Territorial Army previous year question papers from the link given below. All these territorial army question papers are original question papers which came in territorial army previous exams. Territorial army question paper can be helpful when you are preparing for the written exam as it helps you to know what will come in the exam.
Territorial-Army-Question-Paper-Written-Aug-2012
Territorial-Army-Question-Paper-Feb-2013
Territorial-Army-Question-Paper-Feb-2014