What is (TAT) Thematic Apperception Test in SSB
Thematic Apperception Test in SSB consists of set of ambiguous pictures that will be shown to the candidate, while looking on these pictures candidates must create a theme like a story which requires a hero and a challenge, how the hero will overcome the crisis and succeed.
In TAT a candidate will be asked to write a story from his own based on the images shown. A candidate shouldn't just use his memory blocks and start preparing a story, he/she needs to see that every third or fourth line there is different meanings are coming, try interpretation and analyze those meaning as third person because that meaning shows candidate's state of mind.
Evaluation system of Thematic Apperception Test (TAT):
The TAT was developed during the 1930s by the American psychologist Henry A. Murray and lay psychoanalyst Christiana D. Morgan at the Harvard Clinic at Harvard University.
Murray developed a scoring system for Thematic Apperception Test (TAT), his scoring were based on intensity, frequency, duration, and importance to the plot/story. A story teller has to understand the need and presses of the story.
Defense Mechanisms Manual DMM method is also used as a scoring system for Thematic Apperception Test (TAT), it assesses three defense mechanisms: denial (least mature), projection (intermediate), and identification (most mature). A person's thoughts/feelings are projected in stories involved.
Social Cognition and Object Relations SCOR scale is also one of the methods that's been used as a scoring system for Thematic Apperception Test (TAT), it assesses four different dimensions of object relations: Complexity of Representations of People, Affect-Tone of Relationship Paradigms, Capacity for Emotional Investment in Relationships and Moral Standards, and Understanding of Social Causality.
Note: Generally assessors rely on their clinical intuition to come to conclusions about storytellers in Thematic Apperception Test in SSB.
Tips to Excel in Thematic Apperception Test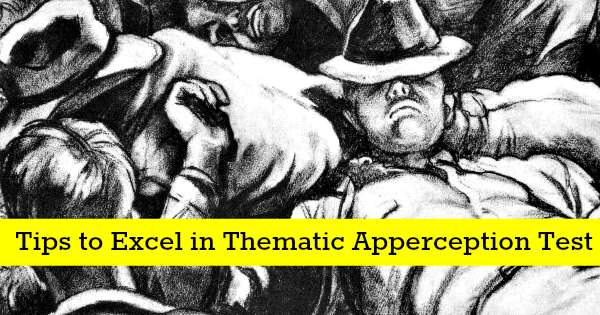 Never try to copy a story from some other source. Always try to reflect your personality rather than life events.
It's a well-known myth where people try to link it to their life by copying events and they are rejected.
Always give the age of characters, and write what led to the story, what happened in the action part and a proper ending to the story.
A psychologist is interested in extracting out the qualities rather than anything else, so don't think it to be an English exam as the use of flashy words can't save you if the story is psychologically wrong.
Sample Stories Thematic Apperception Test
Sample 1: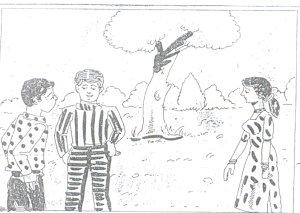 Ankur was 24 years old and worked in an MNC; he used to live in a flat with his friends Abhi and Shardul. The three were college mates and had got the job in this company through college placement. Abhi had a girlfriend Neha who was also part of the boys group. They all hung out and had fun. One day when Ankur came back from work early he gets a call from Abhi saying that he needed him as it was serious. Ankur rushes to him and sees that Abhi and Neha were having a huge fight. Ankur immediately jumps in and stops them. He calms them down and hears each side's opinion. He tells them not to fight as fights only weaken the relations, he reminds them of the good times they all have spent together, the jokes and the laughter, his talk makes them realize their mistake and they patch up. They both later thank Ankur for his help.
Sample 2: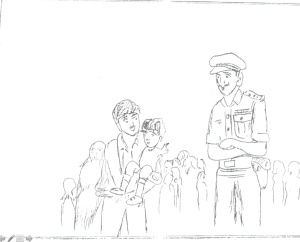 Rakesh was 31 years old and was a police constable. He lived in the city along with his parents and wife and was a father of a 3-year-old. As the city was having a fair he used to be present in the fair at evening. One day when he was doing his duty he saw a man was running around here and there and was looking for something. Seeing him worried Rakesh goes to him and asks him the matter and learns that the person came with his boy who he had lost in the fair and was not able to find him. Rakesh calmed him down, gave him water and helped him. He through the police loudspeaker made an announcement to the people to help the boy meet his father, within minutes a person came forward with the boy, the boy on seeing his father ran to him, his father hugged him tightly, he thanked Rakesh, and Rakesh was pleased to help but told him to be careful.
Sample 3: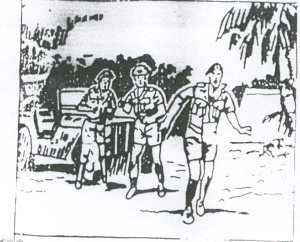 Shashank was 19 years old and was in his second year of  BTech, He was a hosteller and was in the college NCC Camp. He had volunteered to captain the first-year students. The camp was far from the college location and students were carried out there through the college buses. It was an open site where tents were made so as to keep the students there, the kitchen was a stove and a gas cylinder. Shashank was given the responsibility to monitor the students perform the morning drill exercise. On the next day they arrived, the students were doing their exercise while Shashank monitored them, as the water camper went out, he came with his friends to fill it from the camp site, when he arrived there he smelt gas leaking from the cylinder, as the tents were nearby and could catch fire, he immediately took the cylinder at a distance from the tent, and asked his other friend to inform the authorities, he and the one friend who remained find out the gas tube hole which caused the leak, he told the authorities about it and got it replaced.