Personal Interview is a very crucial part of the whole SSB interview procedure. It is the only time when you will be assessed individually by someone for a long time of 35-45 min(usually). The personal Interview does not have any proper schedule, but it can be held either on days 2, 3, or 4 in the SSB. Usually, interviews are conducted in the period between 11 AM to 6 PM in the SSB. Candidates are informed well in advance about the Interview timings and the place where it will be held.
The primary objective of the Interview is to get an insight into the candidate personality by friendly conversation and to assess the degree to which he opposes the officer-like qualities. More or less, this test is an effective evaluation and in-depth study of a candidate, which is not possible in the examination system. Personal Interview is a conversation with a purpose of inquiry that enables the interviewer to assess the candidate's personality by doing some general, personal, and technical questions.
The Candidates qualities that can be accessed through this are planning, organizing, power of expression, practical intelligence, reasoning ability, social adjustment, adaptability, corporation, positivity, social initiatives, the power to influence, cheerful nature, courage, and determination. Below are the 10 useful tips we can have in our mind before appearing in a personal interview:
1. First impression
It is always said the first impression is the last, and the same case applies for Personal Interview. The Interviewing Officer starts assessing you from the time you enter the room. So you must keep certain things in mind when your turn comes up. Gently open the door and ask for permission to enter the room. Do not speak very loud but in a gentle voice. You should be confident while walking in the room. Do not sit without permission unless told, if somehow the officer does not tell you to sit, try to stand behind the chair. Sometimes you may also be greeted with a handshake, so give him a good response.
2. Face Gestures and Eye Contact
When you are with the Interviewing Officers, he will undoubtedly try to put you in the nervous condition to test you. So it would be best if you tried to be normal and confident from your face. It would be best if you had a little smile on your face too. Apart from this it is also advised to maintain proper eye contact while answering the question, but this does not mean that you have to stare. An eye contact shows you are confident about what you are saying.
3.Body language
Someone said that your actions speak louder than words. As the non-verbal communication is also critical from the interview point. You should have a proper sitting posture during the interview. Do not adjust yourself again and again while sitting on the chair; instead, you can set yourself comfortable once. Try to do fewer hand moments while sitting as it shows that you are unsure of yourself. While answering, do not shake your legs as it sometimes shows the candidate's nervousness and leaves a wrong impression.
4. Follow proper dress code
While going for the interview, you should be in a proper formal dress, as mentioned in the instructions. The looks, appearance, and dress of the candidate indicate his personality and gives him confidence. Your dress should be neat, clean, and adequately ironed. Comb your hair correctly and choose the right color combination for the dress.
5. Follow up Correctly with your PIQ form
Most of the students fill their PIQ form carelessly. Still, I want to tell you that the Interviewing Officer initially makes your initial image in mind only after reading yourPIQ. Not only this, but the sets of questions initially being asked to you will also depend upon the answers you wrote in PIQ. It is advisable to remember the dates, events, and activities you have mentioned there so that you could answer them accurately if asked. Also, try to put the right information in the PIQ so that you could answer all cross-questions.
6. Honesty is the best policy
Generally, the main mistake that the candidate makes is that they try to fool the interviewing officer. Still, the fact that they do not remember is that the person sitting in front of him is not taking his first Interview, and it is hard to make him bluff easily. We should be honest while talking about ourselves in the Interview. Like, for example, do not hide your weaknesses from the officer as everyone in this world has some weaknesses, but you can tell them by adding how you are trying to cope up with it.
7.Think before you speak
When the Interviewer sir asks you any question, try not to say anything that comes to your mind, but thinking 5 seconds before answering could be the best possible way so that you can think, form and answer it accurately.
8. Try to be Brief and Clear with your answers
While answering any question of the personal Interview, you should be precise with your words. Ensure that everything is going right to the interviewing officer. In addition, you should be brief with your answers and only try to answer things point-to-point, which are asked instead of adding so many things for a simple answer. While not being brief with your answers, you dig a hole for yourself as you might be stuck in the cross-questions being asked after that.
9.Good concentration throughout Interview
Before going into the interview room, you should have a clear cut mindset to be entirely concentrated throughout the Interview and prepare yourself for it. If you are entirely concentrated during the Interview, then you could listen properly to the questions asked and later will be able to answer appropriately. You will be able to remember the questions which are asked in a rapid-fire if you will listen to them with concentration. This could be achieved by taking good sleep at night to avoid feeling dizzy or lazy during the interview.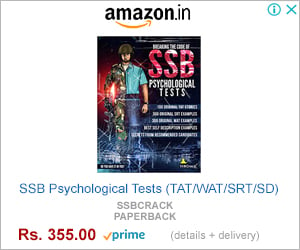 10.Self-evaluation
There might come many tips for the Personal Interview, but the main always remains self-evaluation. I think the personal Interview is a friendly discussion about the candidate's life, and if the candidate himself is not aware of it, how can he become a proper officer. First, you have to know about yourself, your goals, weaknesses, strengths. You must know about your relationship with your parents, friends, and teachers. If you are self-aware about yourself, then you will be able to express yourself more clearly and effectively in the Interview, and surely you will make it.