The first thing that I would like to mention here is that whenever we talk about term indigenous, it means that something is manufactured in one's country or belongs to someplace. So, today as it is more clear from the heading we will be talking about some of the weapons manufactured by India and will look into their features.
We can never deny the fact that India is among one of the worlds fastest-growing economics of the world. With this growing economy, it also becomes essential for India to maintain its military standards. Seeing our past, India initially had to export weapons from other countries, but now we have evolved so much, and India is now self capable of designing and making one for themselves. If we will talk about the current situation, then India has produced a wide variety of weapons for itself which can give others a tough fight too. Not only this India is now also capable of exporting its weapons to other countries, which is very important for our country and shows our military power too. So, below are the ten indigenous weapons produced in India with their features.
LIST OF WEAPONS
1.Arjun Tank
As it is more clear from the name of the tank that its name is derived from the famous character of "ARJUNA" from Mahabharata. It is the third-generation main battle tank used by our Indian Army. It made its first entry in 2004 after getting inducting in the 43rd Armoured Regiment. Since then, it has gone under subsequent changes with time, and the modern version Mk2 of it is currently in use with us.
It is a tank with superior firepower, high mobility, and excellent protection. Its armour defeating capability of the indigenously developed Fin Stabilized Armour Piercing Discarding Sabot (FSAPDS) ammunition with 120 mm calibre rifled gun gives it an edge over new world tanks. It has capabilities of providing the shortest possible reaction time during combat engagements with the ability to accurately engage targets on the move, which makes it different from others.
2.Pinaka MBRL
Pinaka is a multibarrel rocket launch system used by the Indian Army. It was developed by the Defence Research and Development Organisation (DRDO) and is produced since 1986. Till now it has been made under two variants with the highest maximum range of 75 km. The Pinaka launcher system is mounted on the indigenously built TATRA/BEML 8×8 vehicle. Generally, it is deployed with a battery that has a total of 72 rockets. All of the 72 rockets can be fired in 44 seconds, taking out an area of 1 km square. Each launcher can fire in a different direction too. DRDO is also looking for further improvements in it after collaborating with foreign agencies, and soon it will be more powerful tha before.
3.NAG ATGM
This NAG ATGM is a derived version of the Nag missile. Here the ATGM stands for the anti-tank guided missile. It works to destroy the enemy tanks from the miles away in advance. It has a maximum range of 20 km with a tremendous speed of 230 meters/second. It works on the principle of firing and forgets. In this firstly the target is set by the defence personnel and then it is fired. The main properties that make it unique are its image seeking and high-tech guiding system, which makes its full jam-proof.
4.HAL Tejas
It is a fourth-generation, single-engine, lightweight and high-agility supersonic fighter aircraft inducted into services with the Indian Air Force (IAF) in July 2016. As it might be clear from the name, it is commonly manufactured by the Aeronautical Development Agency (ADA), with Hindustan Aeronautics Limited (HAL) as the prime industrial contractor. Being a fighter aircraft, it has eight external hardpoints to carry stores, with three under each wing. The aircraft can also be armed with air-to-air, air-to-ground and anti-ship missiles, precision-guided munitions, rockets and bombs. Till now it has done a valuable job for the country and might be continuing it for some more years.
5.AKASH Missile
It is a medium-range surface-to-air-missile that can engage multiple targets from multiple directions at the same time. The Akash missile system has been designed and developed as part of the integrated guided-missile development programme (IGMDP) which also includes other successful missiles. It has a massive launch weight of 720 kg, a wingspan of 1,105 mm, length of 5.8 m and a diameter of 350 mm. It can carry a warhead of 50-60kg. Moreover, it has capabilities to maintain a speed of up to Mach 2.5 at a maximum height of 18 km. It can quickly strike enemy aerial targets like fighter jets, drones, cruise missiles, air-to-surface missiles as well as ballistic missiles from a distance of 30 km. Moreover, it's 90% of destroying capabilities make it even more dangerous.
6.HAL Dhruv
As in this also it is clear from the name that it is designed and developed by Hindustan Aeronautics Limited (HAL). It is a double engine, multi-role, new generation advanced lightweight helicopter which came into services during the year 2002. This helicopter used by Indian Army and airforce have places to carry up to 8 anti-armour missiles, four air-to-air missiles. It could also be used for various other roles like transportation, logistic support, training and many more. It uses a 900 kW Shakti engine which makes it even more powerful. Apart from its power to fight during combat, it is also used by Indian Air Force Display Team, Sarang for displaying purposes also.
7.INS Kalvari
INS Kalvari is a made in India Submarine that was commissioned into the Indian Navy on Dec 2017. Though the Mazagon Dock Limited took extra four years to complete their first delivery, but it was indeed a significant achievement. This submarine is non-nuclear, which reflects its high agility, strength and predatory prowess. Though it could not be used in nuclear warfares, it fires torpedoes and Exocet anti-ship missiles. Talking about its dimensions, its length is 67.5 metres and a height of 12.3 metres and displaces 1,600 tonnes. Though it has not got any significant chance to prove itself but will be doing it very soon.
8.Dhanush Howitzer
This beast was designed while taking the model of Bofors in mind. It is a 155 mm towed howitzer used by the Indian Army which was approved for the previous year only. Its range is 38 km which is more than the Bofors one and is fitted with a 45 calibre gun. It has the intense capability of firing three rounds in 15 seconds with having an onboard ballistic computer. It is well equipped with direct day and night firing system, a modern target acquisition system and a communication system which adds more value in itself.
9.Agni V
Agni-V is an intercontinental ballistic missile developed by the Defence Research and Development Organisation under the Integrated Guided Missile Development Program. It is an advance part of the Agni missile series with a range of approximately 5,500 to 5,800 km. It is a three-stage solid-fuelled missile with composite motor casing in the second and third stage. Talking about its powers, it is a nuclear-capable missile, with a payload capacity of 1,500 kg of the high-explosive warhead. Induction of this missile has made our country proud and helped us to be a part of the super-exclusive club of countries with ICBMs alongside the US, Russia, China, France and the UK.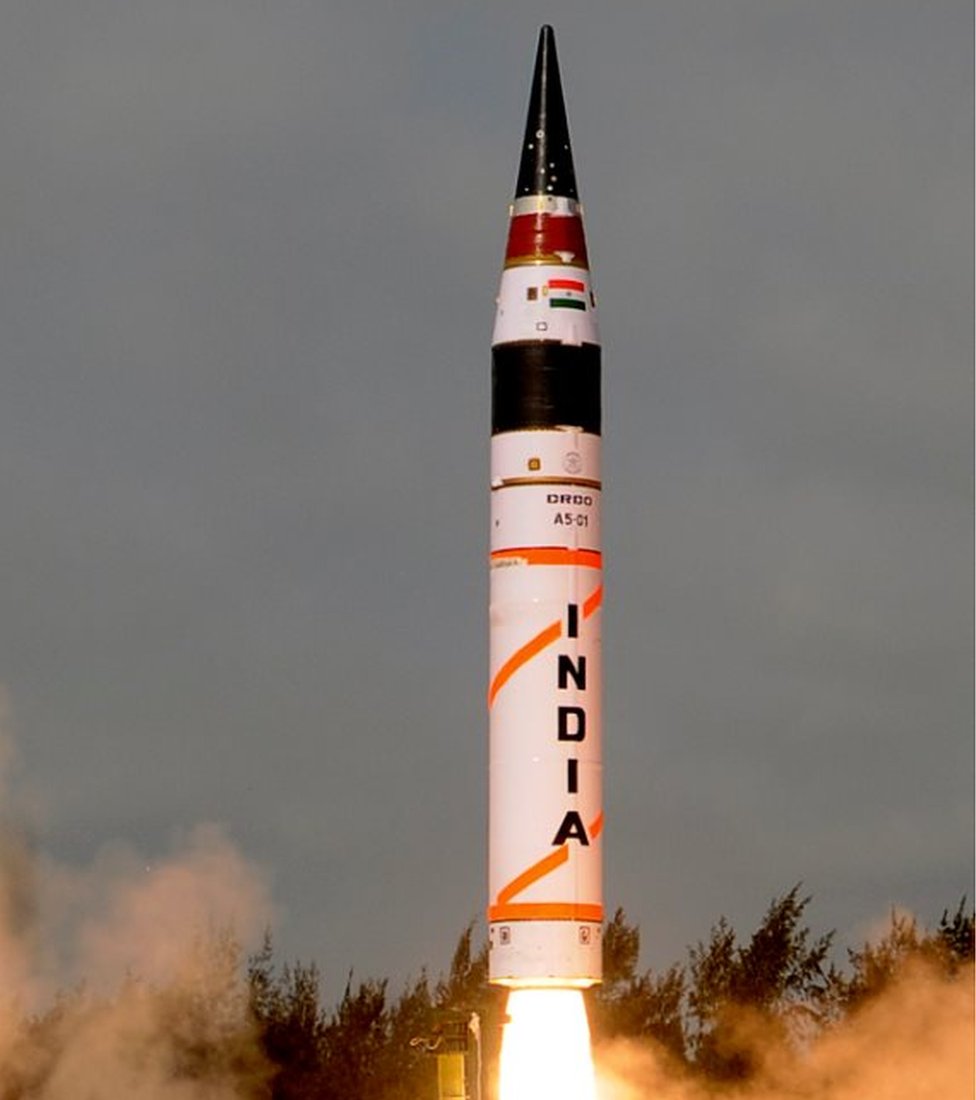 10.Astra Missile
Astra name is originated from a Sanskrit word whose meaning is a weapon. It is an Indigenously developed Beyond Visual Range (BVR) air-to-air missile manufactured under the Defence Research and Development Organisation. It is first air-to-air missile developed in India for our Navy and Air force. It is basically designed to be mounted on a fighter aircraft and destroy highly manoeuvring supersonic aircraft in the air itself. It uses an inertial guidance system with electronic counter-countermeasures to allow operation without jamming themselves. It has a 15-kilogram high-explosive pre-fragmented warhead with a range of over 70 km and can fly towards its target at a speed of over 5,555 km per hour. The missile has all-weather day and night capability.