Dear Warriors, Service Selection Board (SSB) conducts interviews for the selection of candidates suitable for training to the post of commissioned officers across all three forces. It is a comprehensive 5-day process divided into two stages after which recommended candidates undergo medical examinations. We are going to discuss the best ways to master PPDT and TAT story writing.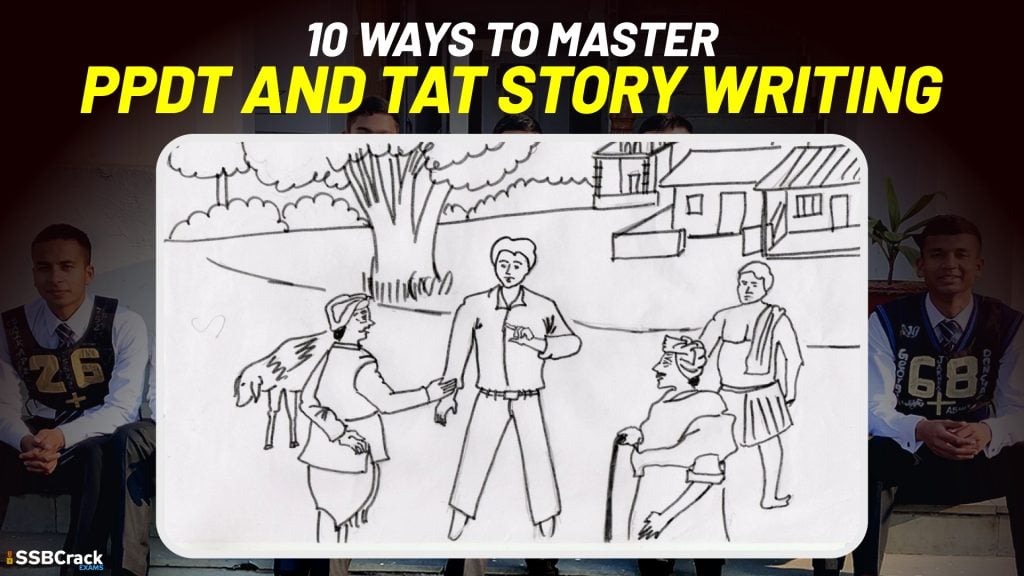 What is PP&DT?
PPDT is a simple yet a powerful test to eliminate undesirable/below par candidates. It is a broad filter to screen in who have some chance of making it in the stage 2 testing process.
After the completion of the intelligence test, candidates are shown a hazy/blurred picture and are asked to write a short story based on their perception of the picture. The picture will be shown for 30 seconds and 4 minutes are given to write the story. Thereafter candidates are made to sit in a semicircle and are asked to narrate their individual story followed by a group discussion and common conclusion of the story.
What is TAT?
TAT that is Thematic Apperception Test comes under the test of Psychology test series in which a series of 11 images are shown to the candidates and one blank picture is shown. Candidates have to write a story around the picture. A picture is shown for 30 seconds and thereafter 4 minutes are given to write the story. This continues for 11 pictures and in the last picture, candidates can write any story.
TAT is geared to know the intellectual, cognitive, emotional and behavioral functioning of the candidates and identify their intelligence, personality style and adaptive skills.
Difference between TAT and PPDT?
As such there is no major difference between PPDT and TAT. PPDT is conducted to eliminate the major chunk of the candidates and TAT plays an important role in defining the personality.
10 ways to master PPDT and TAT story writing.
When the picture is shown, assume the character which defines and resembles your personality the most. The hero of your story should be empowered, that is he should be able to overcome some problematic situation or improve the standards.
When a picture is shown, first analyse the picture. If it is a normal picture then do not create any unnecessary problem in your story. For example if some people are gathered and discussing something, Don't show it as a quarrel or chaos. It may be a scene of a quite marketplace.
As soon as the picture appears, mentally prepare yourself for it and observe the picture very carefully and note in mind, every detail of the picture. Observe the background very carefully.
Prepare the outline of the stroy. Think what led to situation, what is the present situation and how to solve the problem. Write your story sequentially and logically. Keep your story compact. Write your story in an optimistic, encouraging and reasonable approach.
Don't write a story which you have read in a book or don't write made-up stories. Write the actual thoughts which are coming in your mind in the actual test. Practice your writing everyday. Think of any picture or observe any situation in your real life and frame a story around it. This will boost your psychology around observing things.
You cannot justify the actions of the main character of your story whose work is not understood by you. Imagine yourself in the picture and think if you were in the situation, what would you do.
Always remember to have a positive outcome in your story. An incomplete story shows an incompetent psychology. A simple sense of of satisfaction or acknowledgement by others would do enough to end the story.
You should prepare a story for the last picture beforehand because it will be easier for you in the SSB which will save time and restrict any new thoughts for the story.
Practice writing your stories in advance that will open the knots of creativity and imagination of your mind. This will also increase the speed of your writing. Observe any story from a newspaper, movie, magazine
Keep working on improving your writing. Good writing shows how well organized a person is. Writing 12 stories for a long duration is a tedious work and there will be a definite change in the composition of your writing. Work on improving that. Writing stories with a neat and clean handwriting will give an upper edge.
If you are preparing for SSB and other defence exams, SSBCrackExams is providing a number of courses and study materials. Enroll today and boost up your preparation.
To crack the SSB interview, You can join our SSB interview live classes batch and we recommend you to Enroll SSB INTERVIEW ONLINE COURSE. Trusted by thousands of defence aspirants.
Also Read: