In today's 23 June 2022 Defence Current affairs and updates, we are going to see the latest defense-related updates national and international current affairs topics. These current affairs questions and major events will be really helpful for your upcoming NDA, CDS, AFCAT, TA, INET, MNS, ACC exams, and other SSB interviews and AFCAT interviews like SSC Tech, TGC, TES, NDA, CDS, AFCAT, and more. Download the current affairs PDF file at the end of this article.
Daily Defence Current Affairs 23 June 2022
38th India – Indonesia Coordinated Patrol (Ind-Indo Corpat)
IND-INDO CORPAT exercise is being conducted from 13-24 Jun 22. Indian Naval Ship INS Karmuk Missile Corvette based at the A&Nc, along with a Dornier Maritime Patrol Aircraft, is participating in the CORPAT whilst the Indonesian Navy is being represented by KRI Cut Nyak Dien, a Kapitan Pattimura class Corvette.
The CORPAT has helped both navies to better understand each other's operating procedures and enhance interoperability whilst facilitating institutional measures for preventing/ suppressing Illegal Unreported Unregulated fishing, drug trafficking, maritime terrorism, armed robbery and piracy in the region.
The current edition of IND-INDO CORPAT commenced on 13 Jun 22 with the arrival of KRI Cut Nyak Dien at Port Blair, Andaman and Nicobar Islands. The opening ceremony was conducted on 14 Jun 22 under the aegis of Andaman and Nicobar Command. The Indonesian warship during its three-day port call at Port Blair, participated in multiple activities including professional discussions, pre-sail conference and various sports fixtures.
The sea phase for the 38th edition of CORPAT was undertaken from 20 – 21 Jun 22 along the IMBL in Andaman Sea, whilst the closing ceremony is scheduled at Sabang, Indonesia on 23 June 22.
Mou Signed B/W Indian Navy And The Directorate General
A landmark MoU has been signed between the Indian Navy (IN) and the Directorate General of Shipping on 20 Jun 22 to facilitthe ate transition of Indian Navy personnel, both serving and retired, into the Merchant Navy.
The MoU is also in line with the GoI's focus on the maritime domain including the Blue economy as also the optimal utilisation of skilled and trained human resources.
IN personnel after having adequate experience in the Navy would now be able to join directly as Masters on Foreign Going ships of unlimited tonnage in the Nautical side and up to the rank of Chief Engineers in the Engineering domain.
The transition schemes, which have been formulated after due diligence and taking into consideration a host of factors including international regulations, have introduced various provisions which offer a direct transition to IN personnel even up to the apex ranks in the Merchant Navy. IN personnel after having adequate experience in the Navy would now be able to join directly as Masters on Foreign Going ships of unlimited tonnage in the Nautical side and up to the rank of Chief Engineers in the Engineering domain.
RE-OPENING OF WEB PORTAL FOR 2nd ROUND OF SAINIK SCHOOLS
After successful completion of Round-I of admissions to New Sainik Schools, Sainik Schools Society (SSS) has re-opened the 2nd round of e-counselling on June 22, 2022, to fill up 534 vacancies in the 10 newly approved Sainik Schools.

The counselling process on Sainik School admission portal https://sainikschool.ncog.gov.in/ecounselling may be accessed till June 26, 2022. All qualified candidates from the All-India Sainik School Entrance Exam (AISSEE-2022) conducted by NTA who had registered for Round-1 of e- counselling are eligible to take part in the 2nd round of e- counselling, except the following:

Candidates who have been already admitted in any of Sainik school (existing or newly approved).

Candidates who were allotted a school out of their choice in Round-I but have not responded at all.

Candidates who despite allotment of seats to them in first round, have given unwillingness for the same.

Candidates who confirmed their willingness for the school allotted in the first round out of their choices but did not pay the requisite fees towards admission to the school in the 1st round of e-counselling.

In 2nd round of e-counselling, each qualified and willing candidate can give choice for maximum of 3 schools.

A school wise consolidated merit list will be prepared in the 2nd Round of counselling. Further, in view of approaching timelines for start of academic session after summer vacations, a reserved list of candidates will be prepared for three times the available seats for each of the 10 New Approved Sainik Schools to have enough willing candidates for the schools during second round of e- counseling.

Seven days' time will be given to the candidates figuring in the consolidated list for completion of admission formalities after which remaining vacant seats, if any, will be offered to reserved list candidates as per their ranking in the merit list for a particular new school.

Dates for physical verification and paying of requisite fee at the respective School will be uploaded on the portal in due course of time. For further updates, eligible and willing candidates are advised to visit the admission portal.
MOD Approves Establishment of Wayside Amenities 'BRO Cafes'
MoD has approved setting up of wayside amenities at 75 locations in 12 States/Union Territories on different sections of roads with BRO.
These are intended to provide basic amenities & comfort to the tourists and lead to boosting of economic activities in border areas, besides generating employment for the local people. These wayside amenities will be branded as 'BRO Cafes'.
The scheme provides for development and operation of wayside amenities in public private partnership mode with agencies, on license basis, which will design, build & operate the facility as per guidelines of BRO.
Amenities like parking for two and four wheelers, food plaza/ restaurant, separate rest rooms for men, women and differently abled, first aid facilities/MI Rooms etc. are proposed to be provided. Selection of licencees will be done through a competitive process.
The terms of the agreement will be for 15 years which may be further extended for a period up to five years. The location of 75 BRO Cafes is as under: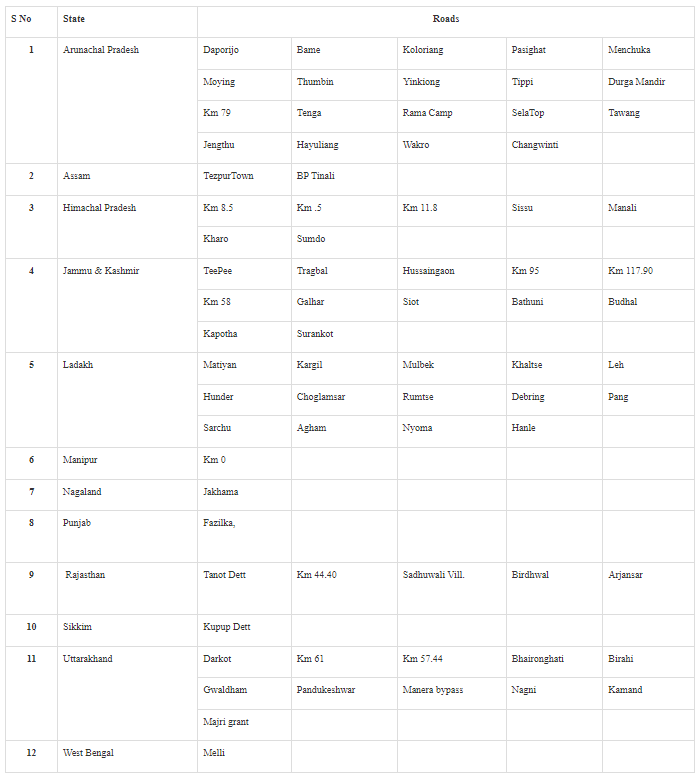 US Values Bilateral Ties With India; It Is 'Key Strategic' Partner In Indo-pacific: White House
India is a "very key" strategic partner of the US in the strategically important Indo-Pacific region and Washington values its bilateral relationship with New Delhi, the White House has said, noting that in the context of Russia every country has to make its decision.
According to industry data, Russia has overtaken Saudi Arabia to become India's second-biggest supplier of oil behind Iraq as refiners snap up Russian crude available at a deep discount following the war in Ukraine.
India, the world's third-biggest oil-importing and consuming nation, has long defended purchases of crude oil from Russia.
Indo-Pacific Maritime Cooperation
The major focus of the Indo-Pacific is based on oceans, which is the common thread that connects all. Countries including India, Indonesia, Singapore, and Sri Lanka, primarily maritime nations occupy the most important strategic positions in the Indian Ocean.
The government has introduced the concept of SAGAR (Security And Growth for All in the Region) and believes in an Indo-Pacific that is free, open and inclusive, and one that is founded upon a cooperative and collaborative rules-based order.
Philippines Sends 1st Batch of Soldiers To India To Receive Training On BrahMos Missiles
The Philippines on Wednesday held the send-off ceremony for its first batch of military personnel who would get training on the BrahMos supersonic cruise missile systems in India.
Just earlier this year, the Philippines had accepted BrahMos Aerospace's export-order proposal to provide supersonic cruise missiles for its navy.
The major deal worth $374.9 million was communicated to India through a Notice of Award by the Philippines Department of National Defence, signed by Secretary Delfinn Lorenzana. The order directed BrahMos Aerospace to provide the supply of the Shore-based Anti-ship Missile System within ten calendar days of receiving the order.
The deal is said to be PM Modi government's major step forward to push defence exports. As per ANI, for the past few months, DRDO and BrahMos Aerospace have been jointly pushing hard for the export deal to friendly foreign nations. It is to mention that the BrahMos supersonic missile is produced by an Indo-Russian joint venture and can be launched from submarines, ships, aircraft or land.
REVIEW QUESTIONS
Which Indian Ship Participated In 38th Indo-Indonesian CORPAT Ex?
INS Kirpan
INS Shivalik
INS Delhi
INS Karmuk
ANSWER: D
INS Karmuk Is A
Destroyer
Missile Corvette
Submarine
Tank
ANSWER: B
__Sends 1st Batch Of Soldiers To India To Receive Training On BrahMos Missiles.
Philippines
USA
Angola
Maldives
ANSWER: A
__is the official residence and workplace of the president of the United States.
President House
White House
Sansad
7 RCR
ANSWER: B
Sea Phase Of 38th IND-INDO CORPAT Conducted At
A&NC
Bay of Bengal
Arabian Sea
IOR
ANSWER: A
R&AW Stands For
Research and Analytical Wing
Raw and Analysis Wing
Research and Analysis Wing
Research and Analysis Wet
ANSWER: C
IRST Stands For
Infra-Red Search and Terrorist System
Infra-Red Search and Tokyo System
Infra-Red Search and Track System
None
ANSWER: C
India Sold Brahmos Missile To
Philippines
Vietnam
Thailand
Japan
ANSWER: A
Agni-V Is A
Destroyer
OPV
IRBM
ICBM
ANSWER: D
Which is Not Correctly Matched:  
IAF Day: 8 Oct
Indian Navy Day: 4 Dec
Indian Army Day: 26 Jan
BSF Day: 1 Dec
ANSWER: C
 "Sarvatra" (Everywhere) Is The Motto Of    
JKRIF
RR
CORPS OF ENGINEERS
Madras Regiment
ANSWER: C
IAF Was Formed On
8 October 1932
8 October 1922
8 October 1942
8 October 1952
ANSWER: A
SLBM Stands For
Submarine-launched Ballistic Misery
Submarine-launched Ballistic Missile
Submarine-launched Ballet Missile
Solar-launched Ballistic Missile
ANSWER: B
Lima Is The Capital Of
Poland
Qatar
UAE
Peru
ANSWER: D
"The Epic Battle of Longewala" Book Is Written By           
Arun Kumar
Ashish Ghatak
Ramesh Kandula
Air Marshal Retd Bharat Kumar
ANSWER: D
Joint Exercises B/w The India And UK Is Called:      
Yama
SLINEX
Indra
Konkan Shakti
ANSWER: D
Where Is The Hq Of The South Western Command of The Indian Army?
Jaipur
Vishakhapatnam
Pune
Mumbai
ANSWER: A
Merkava Mk.4 Is The Tank Of
Germany
Israel
USA
India
ANSWER: B
Exercises B/w The India And Egypt Is Called:
SLINEX
Indra
Yudha Abhyas
Ex CYCLONE
ANSWER: D
Where Is The Hq Of The Training Command of The IAF?
Bengaluru
Vishakhapatnam
Shillong
Mumbai
ANSWER: A
ALSO READ: