AFCAT (Air Force Common Admission Test) which is conducted by Indian Air Force twice every year. IAF takes care of AFCAT from preparing a question paper to publishing the result.
Exam Pattern for AFCAT
There will be 100 questions for the test, carrying 3 marks each. Total time allotted for the completion of the test is three hours. Questions will be asked from the following subject areas:
General Awareness
Military Aptitude Test
Numerical Ability
Reasoning
Verbal and Nonverbal Ability in English
Verbal ability and general awareness are much easy sections to score. Reading news dailies, noticing important pieces of information, searching informative websites are some of the methods to improve the general awareness of the candidate.
Reasoning and numerical ability sections can be cleared by constant practice of sample questions. Mental calculations are enough to clear the section of numerical ability.
5 Killer Tips to clear AFCAT Exam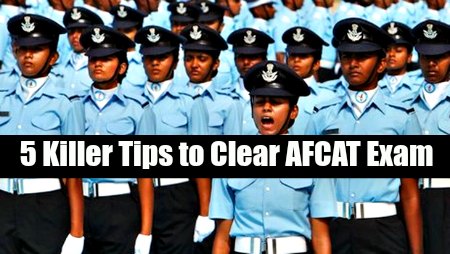 In this article we are mentioning 5 Killer Tips to clear AFCAT Exam that you can follow to make sure your AFCAT exam preparation is rock solid.
Prepare with AFCAT previous question papers: This is considered as one of the best methods to prepare for any exam. AFCAT previous question papers would help you to understand the syllabus, pattern and types of questions you might face during AFCAT exam.
AFCAT 2015 Question Paper sample:
 Q20-25 Select the most appropriate word from the options against each number:-
Watermelons ..(20).. to India by the 4th century A.D. Sushruta, the great Indian physician, …(21)… wrote Sushruta Samhit, mentions that watermelons were grown ..(22).. the banks of the river Indus. ….(23)….are also mentioned in ancient books. Sushruta calls it as Kalinda or Kalinga (hence Kalingad in Marathi). It was… (24)..to China in the 10th or 11th century and …(25)… it is grown throughout the tropics.
Q20. (a) came (b) go (c) arrived (d) started
Q21. (a) did (b) when (c) certainly (d) who
Q22. (a) above (b) outside (c) from (d) along
Q23. (a) it (b) they (c) some (d) that
Q24. (a) took (b) gave (c) taken (d) take
Q25. (a) also (b) though (c) now (d) tomorrow
Q26-29. Which word or words explains the meaning of the following idioms:-
 Q26. Lay bare
(a) Expose
(b) Take off all clothes
(c) Destroy
(d) Exploit
Q27. A wolf in sheep's clothing
(a) A hypocrite
(b) A wolf in woolen clothes
(c) A coward
(d) A proud man
Q28. A blue stocking
(a) Stocking which is blue in colour
(b) A clean cheat
(c) An unreliable person
(d) a woman having literary tastes and learning
 Q29. Yeoman's service
 (a) lip-service
(b) to serve like a slave
(c) to play god father
(d) efficient or useful help
Q30-65. Choose the most appropriate answer:-
Q30. Which country will host the XXXI Olympic Games in 2016?
(a) Rio de Janeiro, Brazil
(b) Chicago, USA
(c) Tokyo, Japan
(d) Doha, Qatar
 Q31. The book, "A China Passage' was written by
(a) MJ Akbar
(b) Jagmohan
(c) Anees Jung
(d) John Kenneth Galbraith
 Q32. Who was the founder of Nanda dynasty?
(a) Bimbisara
(b) Mahapadma Nanda
(c) Ajatasatru
(d) Dhana Nanda
 Q33. Which of the following books is written by Arnold Toynbee?
(a) Mankind and Mother Earth
(b) Tom Sawyer
(c) The Future of Freedom
(d) The Moon's Last Sigh
Q34. The national emblem, viz four lions standing back to back is an adaptation from which of the following:
 (a) Sarnath lions
(b) Gir lions
(c) Khajurao
(d) Ajanta caves
Q35. Who was the person behind conversion of East India Company from a trading company into a regional power?
(a) Lord Warren Hastings
(b) Lord Clive
(c) Lord Dalhousie
(d) Lord Wellesley
 Q36. Who inscribed the name of Khalifa of Baghdad on his coins?
(a) Ala-ud-din Khilji
(b) Iltutmish
(c) Qutub-ud-in Aibak
(d) Balban
 Q37. Who among the following is not a recipient of the 'Bharatiya Jnanpith' Award?
(a) Ashapurna Devi
(b) MF Hussain
(c) Raghupati Sahay
(d) VK Gokak
Q38. Global 500 awards are given for outstanding achievement in which of the following fields?
(a) Population Control
(b) Elimination of illiteracy
(c) Campaigning against AIDS
(d) Protection of environment
 Q39. Who among the following Sultans of Delhi assumed the title, 'Sikandar-i-Sani?
(a) Balban
(b) Ala-ud-din Khilji
(c) Muhammad-bin-Tughlaq
(d) Sikander Lodhi
To download the complete question paper. Click Here
Prepare with good AFCAT exam books: To be straight forward, most of the AFCAT exam preparation books which are available in the market are just like any other question bank, these is not dedicated for AFCAT exam preparation, but on the other hand, there are few good books as well which you might consider while preparing for AFCAT exam. Do check the reviews online before buying any AFCAT exam books from flipkart or amazon.
Prepare with SSBCrackExams: AFCAT Exam + EKT preparation courses such as:
These are customized to fulfil the needs of today's AFCAT exam aspirants, AFCAT online coaching would help you to understand the concepts of AFCAT exam paper and the high end reporting tool helps you analyse your current standards by comparing with other defense aspirants who are writing AFCAT exam along with you. So, before facing the actual AFCAT exam you could look at your preparations and act accordingly. Having said that, this course will focus more on the questions which likely to come so there is no or less scope of failure. A daily practice of 1 hour on this course can do wonders for you and will surely help you to put extra marks in your bag. To know more about this course you could visit AFCAT exam coaching online.
Self preparation is the key: Considering all the above methods of preparation, few candidates believe in self preparation approach to clear AFCAT exam. But, if you are going with self-preparation mode, either you are really brilliant and confident or you do not know what you are doing. Self-preparation is for candidates who doesn't need help because they are so good at clearing AFCAT exam with the basic knowledge and practice they a have earned throughout their education. So if you are someone who doesn't require an extra push from someone else and believe in your capabilities, you can prepare for AFCAT exam in self preparation mode. But remember, self-preparation might hamper your chances to clear the AFCAT exam if you are not sure what you are doing or you have never done this before. It is always better to ask for help when you are not sure because your ultimate aim is to clear the AFCAT exam by hook or by crook.
Take AFCAT coaching classes: There are ample number of AFCAT coaching classes going on across the length and breadth of the country. Do remember, all coaching classes are not good, but there are few good AFCAT coaching academies with proven results time and again. We suggest you to read the reviews before joining any classroom coaching as it involves huge money and lots of time.