In this article we will mention the kind of clothes an SSB appearing candidates must wear during their interview process.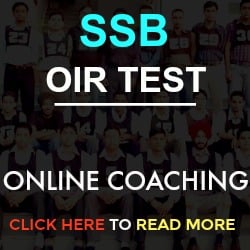 AFCAT CDS NDA TGC UES 2017 Entry SSB Interview Dress Code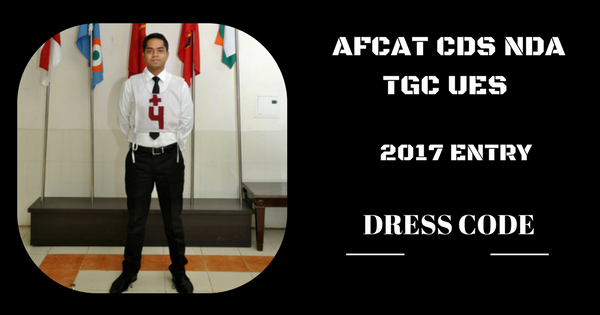 Screening Day: Men need to wear a formal attire. Of course there is no compulsion but still it'll make you look more sincere as this is the first instance you'll appear in front of the board. Similarly for the lady candidates also, you are also advised to wear either western formals or simple salwar kurta. Men can wear dark trousers with light shirt and formal shoes.
Psychology Test: for this test you can wear anything decent enough.
Interview: For interview you need a formal pair of clothes. Both for the ladies and the men. Though sometimes you might be called for the interview immediately after your GTO but make sure to change your clothes if you even have a few minutes time. Here also men can wear formal trouser and shirt and ladies can wear either shirt-trouser or salwar kurta.
GTO: For your GT series you need to have a white t shirt. Apart from it ladies can wear either shorts or track pants which should again be in white color. Men can wear white track pants. A white track suit will also be suitable. If you have a problem finding pure white clothes get the ones with around 90% white content. Ladies are allowed to wear white colored salwar kurta as well.
Conference: For conference you have wear formal clothes just like interview. You have to appear in front of the whole board so you need to look presentable and formal.
General purpose: Carry a night clothing or a suitable night dress for room. For mess premises also you have to go in decent preferably formal clothes.
Shoes: Wear formal clothes with formal dress. Wear white sports shoes (if not then shoes with maximum white content) for GTO. You can't roam in slippers so carry appropriate shoes to roam around in the premises.
List of Items to carry for the SSB Interview
THE CALL LETTER: You must keep at least three copies of the call-up letter with you. One should bein your hand at the time of reporting at the railway station and the rest safe with you in your bag.
COPY OF FORM FILLED: In some cases like TES, TGC the Selection Boards require a copy or two of the online form filled with your attested photograph. You must be really careful in reading the instructions when filling the online application form.
ORIGINAL IDENTITY PROOF: School/college ID cards, Government issued ID cards like PAN, AADHAR, VOTERS ID, UPSC admit card, Driving license are all acceptable. You ID card must have your photo in it.
EDUCATIONAL CERTIFICATES: You must have at least 4 attested copies and originals of Class 10thmark sheet + certificate (matriculation certificate), Class 12th mark sheet + certificate, your mark sheets of semesters you have passed during graduation and graduation/ Post graduation degree certificate (if applicable).
YOUR EXTRA ACHIEVEMENTS: You must also carry all the original certificates along with their authenticated copies of NCC, sports and co-curricular activities in which you have participated/won.
YOUR PHOTOGRAPH: It is advised that you carry at least 25 passport and 10 stamp sized RECENT photographs with you. People having spectacles must be wearing spectacles in their photograph. The photographs must be in either blue/white background.