AFCAT syllabus is not very tuff to take long time to study and also it isn't very easy that we take syllabus for granted. It is crucial that candidates must understand that most of these are the topics that are related to the Static General Knowledge and must be taken care of.
Remember if you are taking this plan, then we assume that you already have some basic knowledge and information, thus making this one month to be a strategic revision session. However, if it is not a revision and a first time for you, then I prefer you focus mostly on the Static GK related topics rather than Geography, History & Polity.
You only get 25 questions that are related to General Knowledge in AFCAT. This clearly and very importantly mentions that you do not get more questions from Physics, Chemistry and Biology.
Most number of questions are related to Static General Knowledge, Awards, Sports, Current Affairs, etc. Questions related to Physics might be asked in the Engineering Knowledge Test (EKT) for the Engineering candidates, while rest are fine. 
You can follow this plan and always get back to us at support@ssbcrackexams.com if you are facing any problems or are having ambiguity.
Each day in these 30 days is marked with their own respective numbers and are assigned to their respective topics in the table below.
You can even check the Study Flow Scheme that I gave in the end to have an idea about how we are covering the portion.
Do not forget that this time table includes Mock Tests and Revision too. Allot time for proper study in all means possible.
Do not try to solve any problems. There will be no problem solving in this section. All is purely theoretical.
Your performance will not solely depend on this section. Make sure that you do give ample amount of time for Mathematics, Reasoning, and English too. Only then we can get the target score of what we are dreaming of.
Note: The Plan is made taking in view that you get 5 hours minimum each day to study. Focus on Mock Tests last 5 days.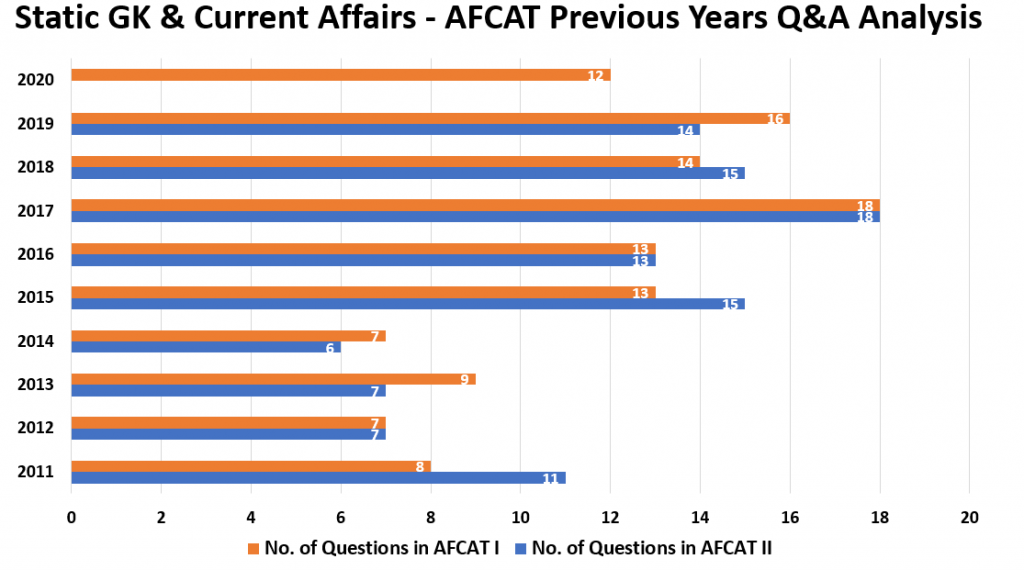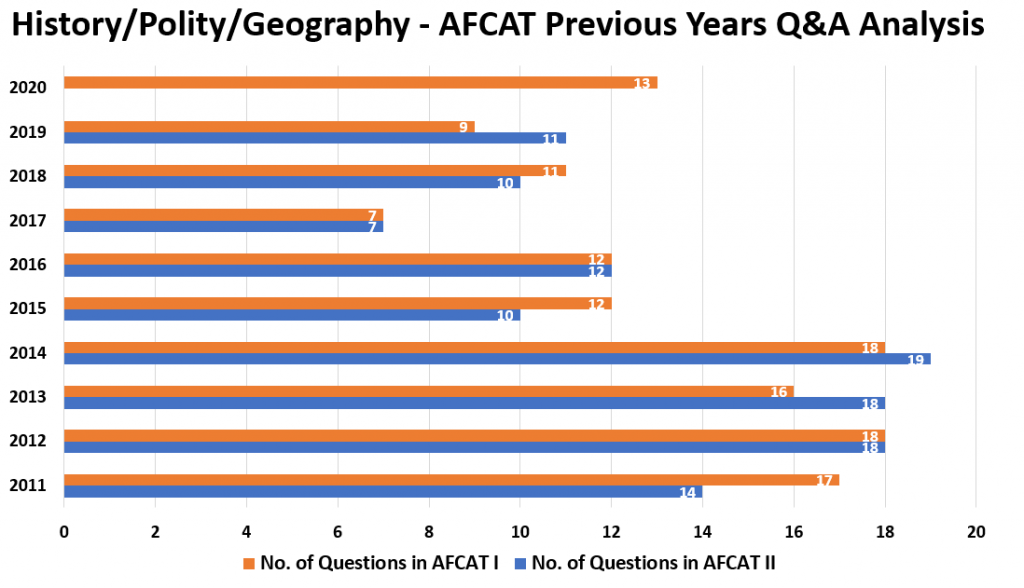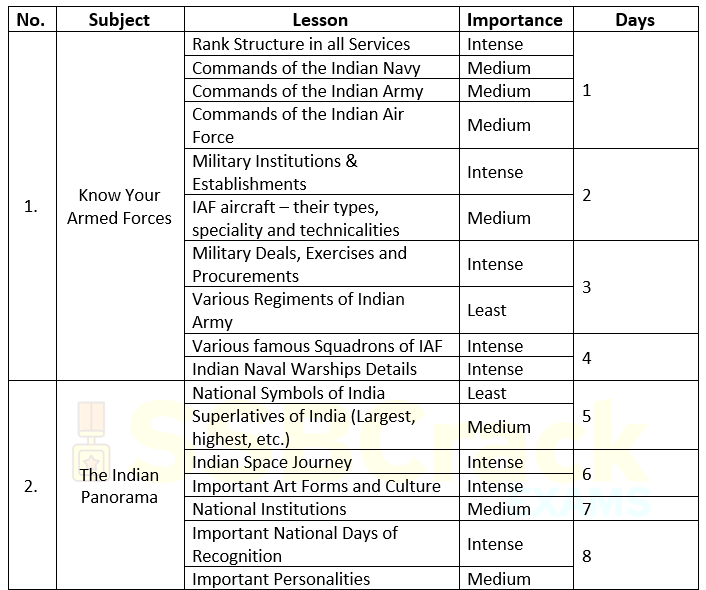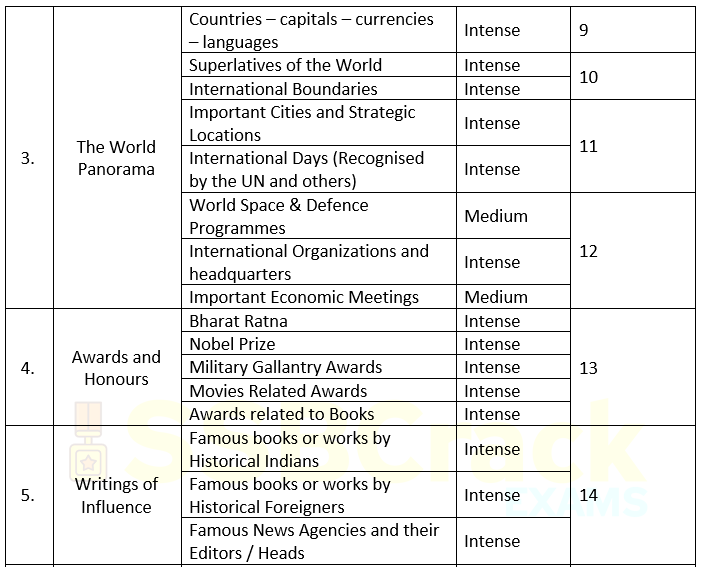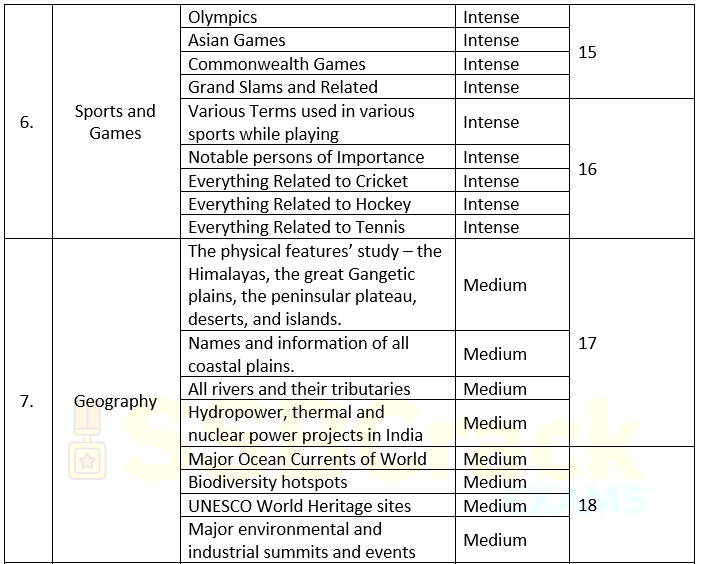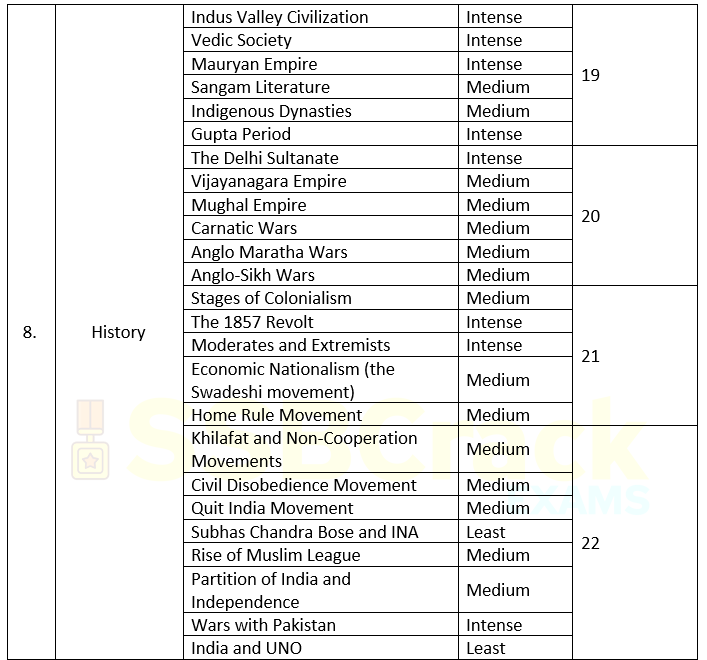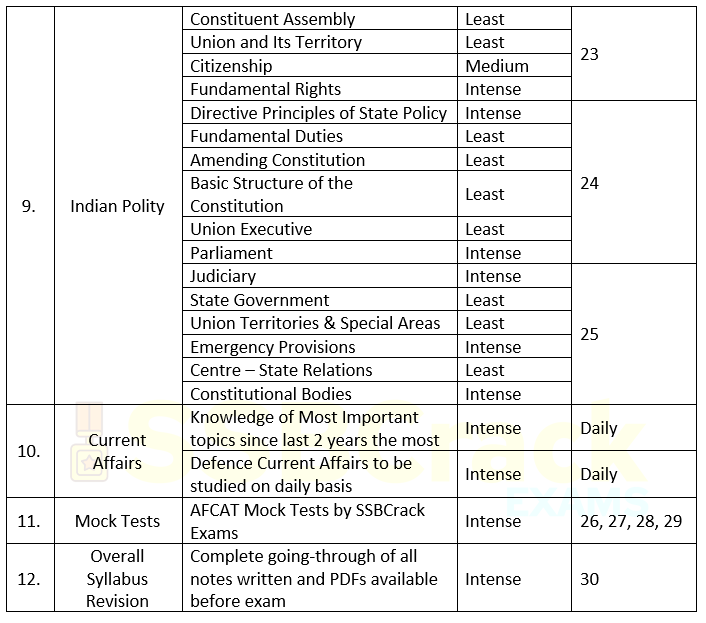 STUDY FLOW SCHEME
| | |
| --- | --- |
| Days | Subject Considered |
| Daily Check | Current Affairs |
| 01 – 04 | Armed Forces Related |
| 05 – 08 | The Indian Panorama |
| 09 – 12 | The World Panorama |
| 13 | Awards and Honours |
| 14 | Writings of Influence |
| 15 – 16 | Sports and Games |
| 17 – 18 | Geography |
| 19 – 22 | History |
| 23 – 25 | Indian Polity |
| 26 – 29 | Mock Tests |
| 30 | Overall Syllabus Revision |