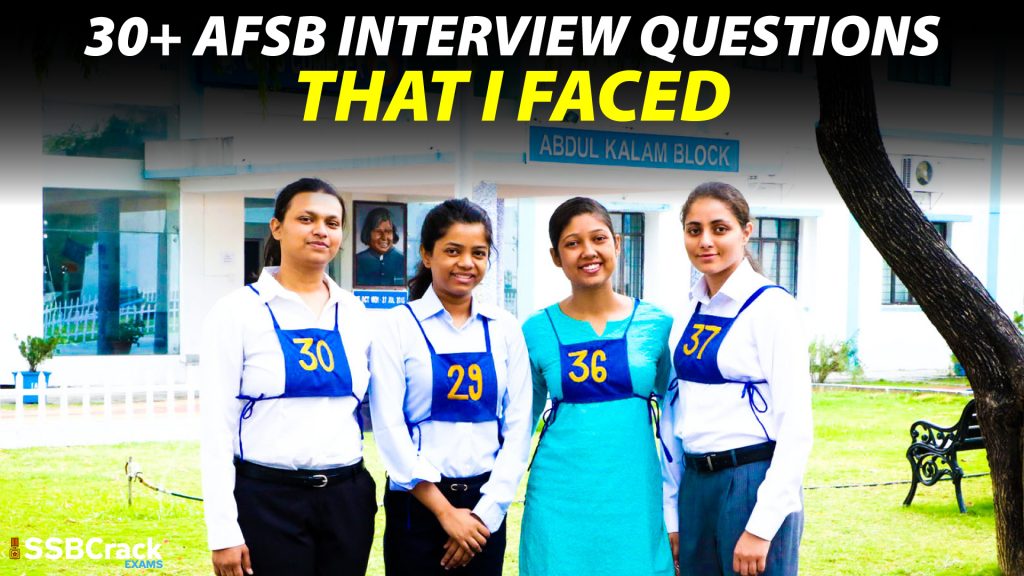 Air Force selection board is the board that selects candidates for the technical and non – technical services into the Indian Air Force. It is almost similar to the Service Section board and Naval Selection Board except for some minor tasks during the 5 days testing. In this article, we will be looking at the 30+ interview questions that many candidates have faced.
Tell me about yourself, what is the meaning of you name?
Why do you want to join the Indian Air Force and why not other services?
Tell me about the organisational structure of the IAF and which technology / aircraft / helicopters we have inducted recently?
Tell me about the subjects you have studied during your schooltime, your favourite subjects and teachers, which all co-curricular activities have you done , which all competitive exams you gave and their results?
Who are your best friends, what do you like about them and what do you dislike about them?
Did you join any coaching institute? What changes you can see in yourself after that?
Tell me about your family, who is better among you and your siblings?
What is your career plan if you will not be selected in the AFSB?
What motivates you ? How do you overcome failures?
Tell me about 5 national issues and your opinion about them?
What do you think about India's international relations?
What is Omicron virus, how is it different from other viruses? Which special precautions should we follow to save ourselves from this particular virus?
Tell me about this selection centre and this city along with all the stations you remember and route you followed during the journey if you have came by bus or train , what have you observed here?
Tell me about things you like to do during your free time?
What is your daily routine, how do you manage your daily tasks?
What are your strengths and weaknesses , how do you improve them?
Tell me about your one weakness and what have you done recently to improve it?
Tell me about your biggest fear in life?
Tell me about any incident of your life and what have you learn out of that?
Are you in a relationship, if yes tell me about your partner if no then tell me about the qualities you want in your future partner?
What do think about your relatives and society, what kind of bond do have with them?
Suppose you are in the jungle alone and a snake is coming towards you , what will you do?
What do you think about live in relationships In India?
Which all social activities you have done, tell me in detail?
How do you prevent yourself from falling into an argument and sustain healthy relations with people around you?
What is your biggest strength, tell me about a situation in which it has played a big role?
Have you ever been a part of event organising team or group in your college?
Which is you dream place where you want to visit in your life and why?
Who is your role model and what efforts are you making to be like that?
How do you convince your parents for various things, giving me examples of the past events.
Which is your favourite game? Tell me about its history and rules you know?
What is the definition of success according to you?
What are you proud of in your life?
Suppose you have RS 400000 In your hand right now, how would you like to spend them?
Suppose god has granted you 5 wishes , what that wishes would be?
These were some of the questions that generally candidates face during their AFSB interviews, there are no right or wrong answers to these questions because everyone has their own reasons to do something in life. So do not read someone's answers rather introspect and find your own original answers. Situation-based questions (discussed above) are generally asked a candidate to access his sharpness of mind to think under pressure and the quality of decisions they made. Questions based on journey, place, and SSB center are asked to check the observational skills of a candidate, how active and alert he is at the place he is residing in or even traveling through. So it is advised to introspect and find your own answers, be confident and equanimous during your interview. Do not panic and be under pressure otherwise, it will be resulted in giving confused and less articulated answers. Think about your life, what have you done, why have you done that and what are your plans, what is the justification of that decision you made in your life because the interviewer generally asks questions from the candidate's answers only. Be confident, candid, bold, and ace the interview.
To crack the SSB Interview, NSB interview and AFSB interview, You can join our SSB interview live classes batch and we recommend you to Enroll SSB INTERVIEW ONLINE COURSE. Trusted by thousands of defence aspirants.
Book Your SSB Interview Class Now – Click Here
Enroll In Our SSB Interview Course
Also Read: