IAF has published the notification of AFCAT 2 2022 and the exam will be conducted on 26 Aug 22, 27 Aug 22, and 28 Aug 22. Many candidates are easily able to clear the paper while few miss the chance with a very low margin. I have seen my friends who had scored 156 where the cutoff was 157 this time. Very silly mistakes and an Inch change in your preparations lead to such a score.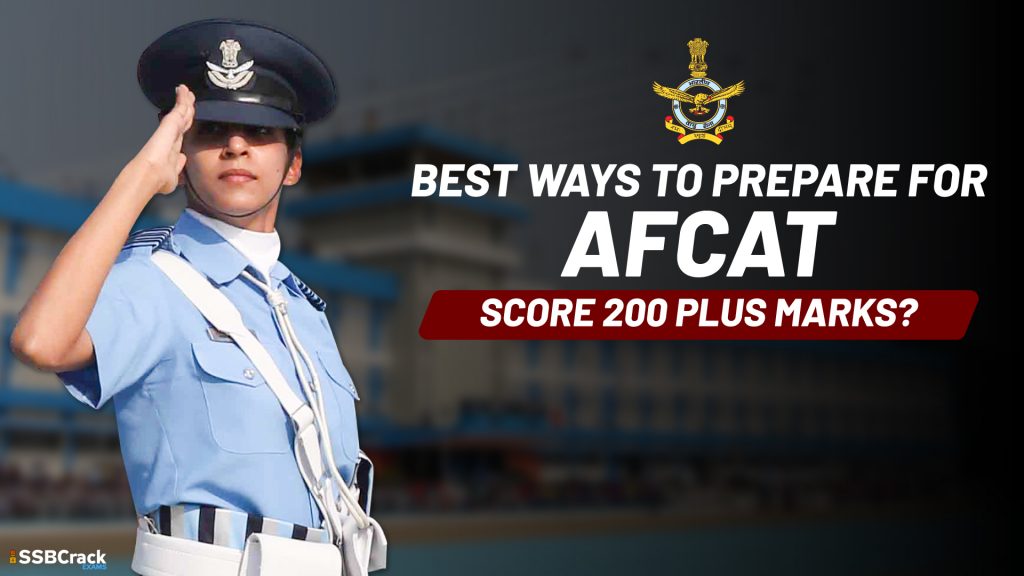 Here are some tips, by which you will not only pass the exam but also will able to score above 200 easily.
Let us first know the pattern of the paper.
AFCAT Paper comprises 100 questions and each question of 3 marks, so the total marks are equal to 300.
Also Watch: How To Crack AFCAT 2 2022 Topic Wise Analysis, Study Plan And Best Strategy
The paper is divided into 4 sections
Numerical Ability
English
Reasoning Ability
General Knowledge and Awareness
Also Read: AFCAT 2 2022 Notification Out Now – Exam Date, Application Form, Age Limits, Cut Off
This time we saw a change in the pattern of the paper. Earlier 25 questions were asked from the English section, and now it was 30. From maths questions were increased from 18 to 20 and 25 questions were asked from the reasoning section instead of 32 while 25 questions were asked from the GK section.
| | | |
| --- | --- | --- |
| Subject | Number of Questions Earlier | Number of Questions Now |
| English | 25 | 30 |
| Numerical Ability | 18 | 20 |
| Reasoning Ability | 32 | 25 |
| GK | 25 | 25 |
Now if we see the holistic approach to achieving 200+ we have to make our basics and foundation strong for every section of the paper.
The reasoning is a very good section to score where a candidate if practiced enough can easily do 20-22 questions out of 25 which mainly are from Analogy, Classification, Venn Diagram, Statement, and Conclusion in verbal and non-verbal series, Figure completion, and Dot Situation.
For preparing the reasoning section, SSBCrackExams is providing a course on AFCAT 2 2022 where conceptual and consolidated materials are provided. This course also includes Previous Year Questions with complete solutions, and Live Q&A classes, with 50+ questions in time-bound Quizzes.
Now we come to the Maths section.
20 questions will be asked in this section which will be from only a few topics
Percentage
Simple and Compound Interest
Profit and Loss
Speed and Distance
Time and Work
Average
Ratio and Proportion
Number System
If you look into these sections, you may notice that once you are cleared with the basics of each chapter, AFCAT will become very easy for you.
Try to analyse the previous year's questions and solve them.
While analysing you will notice out of 20 questions (previously 18) only 3-4 questions are difficult while the rest of them are doable if concepts are cleared.
Some tips –
Since Percentage and Profit and loss are very much alike, try to complete these chapters together. There is a High probability of questions coming from mixture and allegations, so never skip that portion.
Similarly, do the Average Ratio and proportion chapters together. You can see the questions from the previous year's paper in these chapters, they are almost the same.
Questions from Simple and Compound interests are of the same concept every year. Even the chapter is not that much longer, so I would suggest you have a good grip on it.
Learn shortcut tricks for every question in the chapter on time and distance, and time and work. This will save time in the exam.
Now coming to the English part, there will be 30 questions according to the new question pattern.
So, after revising Antonyms and Synonyms, Idioms and Phrases, Basic English Grammar rules, Comprehension passage related, and practicing a good number of questions or attempting quizzes you can easily attempt 18-22 questions correctly.
Now comes the GK portion. A candidate who is well aware of GK will take very less time to solve this section. Now the main topics come from static and current GK.
So, focus on your Static part and cover the topics like Country Capitals, Sports, Awards, Books and Authors, Important Days, National and International Institutions and Organisations, Indian Armed Forces, and keep self-updated with Daily Current Affairs and Daily Defence Current Affairs. These topics will cover around 14-16 questions in GK. Now since Polity is a static subject, you may find 3-4 questions in the paper from the polity, so brusque up this subject. Similarly, 2-3 questions from Modern History and Ancient History are also seen in the paper.
Cover these topics especially.
Congress Sessions – Date and President and place of the session.
Important Constitution Articles.
Constituent Assembly and its features.
Revolutionaries
Pacts like the Poona pact, Lucknow pact, and their dates.
Important Events and their dates like Jallianwala Massacre, Chauri Chaura, Dandi March, etc.
Buddhism and Jainism.
Empires and dynasties – Cholas, Gupta, etc.
The nickname of the kings.
First and the last ruler of the dynasties.
From geography questions based on rivers, waterfalls, national parks, tiger reserves and some static portion related to it like Project Tiger also comes.
If you want to prepare for AFCAT 2022, SSBCrackExams is providing a course that covers everything from previous year's questions to real-time mocks and live Q&As. Enroll now and assure yourself the mark of 200+ in AFCAT.
Keep Smiling keep learning.
If you are preparing for the AFCAT 2 2022 written exam and SSB interview, you can check SSBCrackExams online courses and mock tests.