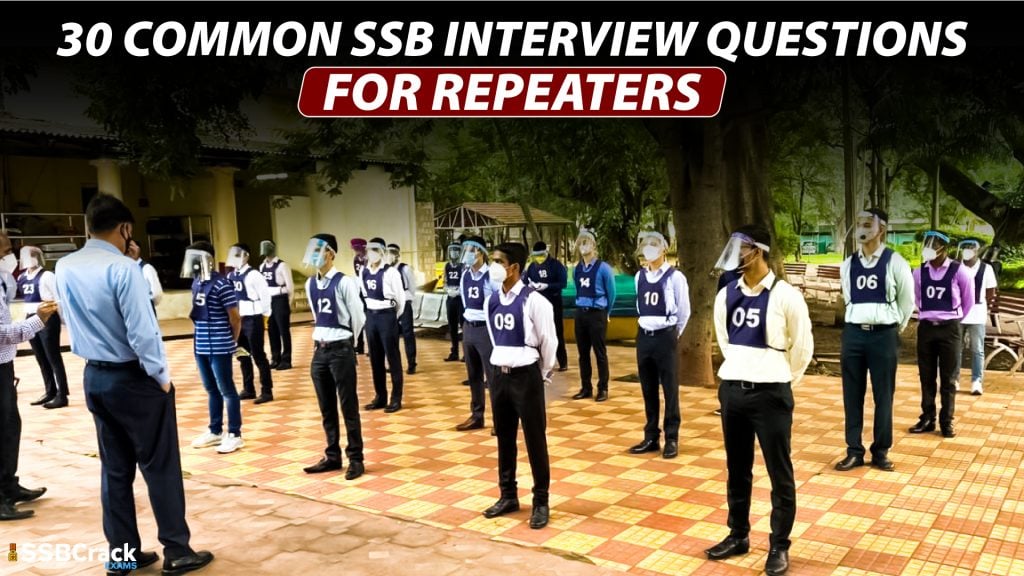 In SSB candidates who were disqualified in their previous SSB are called repeaters. Candidates who were disqualified during their first stage of SSB (screening) are called screened out and candidates who were disqualified during stage -2 of their previous SSB are called conference out. In both cases, candidates are considered repeaters. 
During the SSB screen out candidates are grouped with the screen out candidates only, not with conference out and vice versa. There is no fixed pattern of questions asked for repeaters but there are some questions that are generally asked for repeaters that you can go prepare before appearing in SSB.
Book Your SSB Interview Class Now – Click Here
Enroll In Our SSB Interview Course
Why you were not selected in you previous SSB ?
What special preparation you have done this time to clear SSB ?
What are your weaknesses and what have you done in the previous months to overcome that ?
What have you performed best during your previous SSB ?
You are left with how many SSB attempts ?
What is your career plan if you get rejected this time too ?
Tell me something about this selection centre and city ?
What are your strengths, tell me about a situation where you used have used your biggest strength ?
Who is your role model and why ?
Which arm are you aspiring for or which regiment will you join if you get selected ?
How do you face rejections and start preparing again ?
Why do you want to join Army / Navy / Air Force?
Tell me the organisational structure, new weapons inducted , and Battles Army / Navy / Air Force have fought ?
Did you join any coaching institute ? Tell me about the experience and learnings ?
What is your daily routine ? What do you like to do during your during your free time ?
What motivates and demotivates you, how do you overcome demotivation ?
What is your biggest fear in life
When did you decide to join defence forces and what have you done to prepare yourself for the forces ?
How are you different , give me some reasons to select you ?
Whom do you like the most , your mother or father ? Tell me about the qualities you like and dislike in both of them .
Situational based questions can be asked based upon candidate's fears to check his mental stability and ability to overcome fear ? Example – What will you do if a lion is coming Towards you in the jungle.
Did you make friends during previous SSB, tell me about them?
General rapid fire questions can be asked. Rapid fire questions
Are 7-9 questions asked together in a series together. These Questions follows a pattern that makes them easy to remember. Example ; Tell me about your schooling, subjects you liked and disliked, which stream you chose in 11 and why, which all competitive exams you gave and cleared etc.
Do you have any girlfriend / boyfriend ? If yes tell me about her/him. If no. then what all qualities you will look for into your future partner ?
If I give you 50,000 or so, how will you spend that ?
What is the meaning of your name, who gave you this and why?
Tell me about the social services you have done in your life so far?
Tell me about all the extra – curricular activities you participated in, did you join NCC or NSS tell me about that briefly ?
Tell me about the biggest thing on your life that you are proud of ?
Also Read: 30 Common SSB Interview Questions For Fresher
All these questions were sample questions that may vary from person to person and it depends upon the assessor too. As they say there are no right or wrong answers to these questions, everyone has their own reasons and interest to do something in his life. So do not read or copy someone's answer rather retrospect and find your own original answers.
To crack the SSB and AFSB interview, You can join our SSB interview live classes batch and we recommend you to Enroll SSB INTERVIEW ONLINE COURSE. Trusted by thousands of defence aspirants.
Book Your SSB Interview Class Now – Click Here
Enroll In Our SSB Interview Course
Also Read: