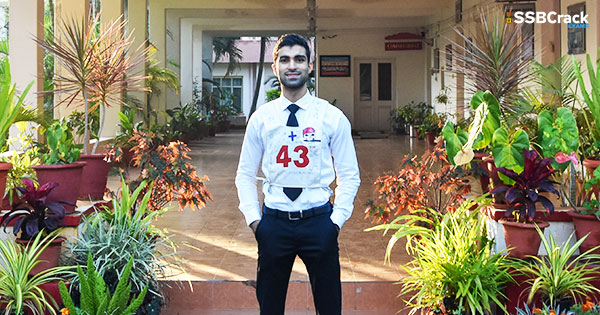 Hello aspirants, I am Tushar Malik from Chandigarh. I am a Civil Engineering graduate from CCET, Panjab University, Chandigarh. I was recommended for Pilot (MR) in the Indian Navy in my first attempt through INET entry, and I also got merit in for the same. I will be joining the academy soon for my training. Here is a short recap of my journey of clearing the written exams and the SSB Interview. I developed a love for the forces at an early age getting inspired by my father, who is an officer in the CRPF. Just looking at his uniform as a child made me passionate about the forces and gave me clarity about what I wanted to do in life. I knew my goal was to join the forces but I was not working enough towards it.
I have always actively participated in sports and extra-curricular activities. I have boxed and played shot put during my school time. Then I played badminton in college and also was the head of my college's fashion show team. Sports are and will always be an important part of my life. These things not only give you confidence but also provide you with the required exposure to approach different situations in life. You get to learn a lot. So always participate actively in whatever you like, keep following your hobbies.
I once used to doubt myself that whether I'll clear the SSB Interview or not, partly because of some misconceptions and also because of not devoting the required time towards my actual goal in life. But I had a strong belief in myself and started working on it seriously after my graduation at 23 years old. I gave AFCAT 2 2019 just after my graduation but wasn't prepared and did not clear it. I knew where I had to work and started doing the same. After about 3.5 months I was pretty much confident that I can clear all these exams pretty comfortably. I gave and cleared the INET, AFCAT and the CGL exam(which was one of my backups) in 2020. I cleared all of them.
I got the SSB call for Indian Navy for Pilot (MR) at 12 SSB Bangalore. I started my preparations, and when I did, there was no other thought. I was 23 and it was my 1st SSB attempt but last attempt to become a pilot in the Navy as you can't apply for pilot after you turn 24. I was deprived of my library's atmosphere because of the freshly imposed lockdown but I made the guest room of my home as my study space where I would spend my whole day without any disturbance. I still remember one of my father's colleagues told me 'Beta ab life mein jo bhi karoge yehi sochke karna ki you are an officer'. Because we don't just prepare to clear the SSB, we do it to become a better person in life and render our services to the nation. I literally forgot the cycle of day and night and gave my best in my preparations. And when you have a vision, even sacrificing some sleep becomes sweet as it all adds up to your success. When you put in that kind of work, you will see yourself evolve and become a better version of yourself. After the preparations, it's just performing the best to your abilities.
Prepare for SSB Interview: Join India's Best SSB Interview Online Course [Must Enroll]
I went for the SSB in August 2020, it was my first attempt and I realized how beautiful the experience can be. The discipline, the people you meet, the friends you make, calling your family from the only coin pay phone in the corridor, the experience of the whole process, everything was perfect. The screening on Day 1 was smooth and went as planned. I got screened in and for a fresher, getting screened in is a confidence booster in itself. The psych test on Day 2 went really well as I came with ample amount of practice. On Day 3, we went for our GTO tasks. The GTO sir was one of the best officer's that I have met. We were free on Day 4 and we made full use of it sitting and enjoying in our room. Out of all the things we did, we played a game in which each guy has to sing a song in their native language, from Marathi to Malayalam to me singing in Punjabi, that is one of the most memorable moments for me. On the 5th day after the conference which was short and went smooth, we were eagerly waiting for the results. When the officer announced the results, getting to hear 'Chest No 28' was the best feeling of my life. It was unexplainable. All those dreams came true. I got recommended in my very first attempt. Four of us got recommended. We were sent to AFSB Mysore for our CPSS and 3 of us cleared it. Then we went for our medicals which lasted 3 days and I was declared fit to join the Indian Navy as a Pilot. It was like all the work and effort was paying off and everything was falling into place. Those 16 days that I spent there was a life changing experience that I will always remember.
After a long wait of 10 months I finally got the Joining Letter and the feeling was indescribable. My family's and friends' reactions were priceless. So finally my decade long dream of joining the forces and becoming a pilot has come true. I will be joining the academy at June end for training
I'm sure a lot of you have the same dream about getting into the forces and donning that uniform. But some are struggling to clear the written exams and many find written exams to be easy but can't get through the complex selection process of SSB. But is it that complex or is it just the creation of your mind? Well you'll be happy to know that it's the latter. SSB is such a thorough yet a simple process. It is less of a general knowledge test and more of a PERSONALITY TEST. Always remember that it is a test of your personality and you just have to stay your natural self and showcase your true personality and not some coaching centre's or a recommended candidate's personality. Everyone has a different personality and by staying natural you increase your chances of making it. So it is not a difficult or a complex process but we make it difficult by thinking too much, showing someone's else's personality, trying to forcefully
showcase the OLQ's and many other things. If you stay natural, your qualities will emerge on their own.
HOW TO EARN THAT + CHEST NUMBER

1. Just clear up your mind before your next SSB, know the process well, if you are a fresher you can get to know the process online or from your experienced friends. Knowing the process is very important, prepare well, keep it simple and give it your all.
2. Preparing is important but preparing with respect to your own personality is a must. Do not make it difficult for yourself by thinking too much about the things that you don't have to do anything with, ex. the marking scheme of SSB etc. You are given a set of tasks and tests, you have to approach them and do them the same way as you would approach them in your life, be it SRT in the Psych test or group tasks in the GTO. 'Being natural' is such a simple thing to say yet most of you are not able to make it because you don't showcase your true personality. Just enjoy the process and keep flowing.
3. A lot of candidates struggle with story writing and WAT and have this needless fear and nervousness when it comes to PPDT, TAT or WAT. Do these 3 things for it – PRACTICE PRACTICE PRACTICE. Do lots and lots of practice, it will make you widen up your imagination and then there would never be a picture that you can't think a theme of and no word that you can't make a meaningful sentence on. Brainstorming on all your experiences in life and practice is the way to go.
4. Always have a vision and always believe in yourself. If you have a vision, if you want it bad enough, if you are envisioning yourself in that uniform everyday as an officer, you will make it for sure. And when you envision yourself, make sure you also become a better person in the process and act like an officer you aspire to become. This will develop your personality and will make you a good human being.
5. Stay physically active. If you play any sport or like to workout, always make sure that you are in a good shape physically. But if you are not very active physically, start going for small runs, do some pushups afterwards, challenge your body everyday, take it out of your comfort zone and that will improve your endurance and strength.
6. Last but the most important point is ALWAYS BELIEVE IN YOURSELF. None of the above points would matter if you don't have the motivation and belief that 'Yes, I can and I will make it'. Never doubt yourself and if you think you lack a particular quality or skill, work on it and make it your strength. That's how you will become confident on your abilities.
Keep these things in mind. And I'm repeating this for the nth time, stay your natural self everyone, I'm sure that you will make it. Wish you all the best.
Remember – 'Determination takes you places'
I wrote this quote at the back of my + chest number that I got after recommendation. Work hard, always stay determined and never give up.
Jai Hind!
Prepare for SSB Interview: