PM reviews situation of Oil Well Blow Out and fire in Assam
PM reviewed the situation arising out of Oil India Limited, Oil Well Blow Out and fire in the oil well No. Baghjan-5 in Tinsukia District, Assam.
Uncontrolled gas started leaking from this well on 27th May 2020.
Thereafter while preparation was going on to control the leak, the well caught fire on 9th June 2020.
The families living in the surrounding areas have been shifted & relief camps set up by the State Govt. in collaboration with OIL India Ltd.
Approx., 9,000 persons are living in these relief camps.
As an immediate relief measure, Rs. 30,000 each has been sanctioned for 1610 families identified by District Administration.
During the Review Meeting it was informed that the Detailed Plan has been drawn with the help of Indian and foreign experts to control the flow of gas from the well and to cap it.
The Plan is being executed as per the prepared schedule and it is proposed to cap the well on 7th July 2020 after taking all necessary safety precautions.
Indian Railways Successfully Concludes ALPs & Technicians Recruitment
One of the largest exercises in the world.
47.45 Lakhs candidates registered for over 64,000 posts out of which panel approved for 56,378 Candidates (26,968 ALPs and 28,410 Technicians) out of 64,371 vacancies (27,795 ALPs and 64,371 Technicians).
Indian Railways to also speed up the process for conduct of examination for Non-Technical Popular Category (NTPC – Graduate & Undergraduate level) posts.
A total of 1,26,30,885 (i.e. more than 1.25 Crore) online applications were received for NTPC posts.
Nitin Gadkari Says, India will be a Manufacturing Hub for Electric Vehicles Within 5 Years
Government is trying to extend best possible concessions to this sector & has lowered the GST on electrical vehicles to 12 %.
Addressing a webinar on 'India's Electric Vehicle Roadmap post-COVID-19', the Minister said, he was aware of the issues facing the EV sector but was also sure of the things to change as the sales volumes increase.
Shri Gadkari said, with petroleum fuel being available in limited quantity, the world must look for alternate and cheap sources of power.
Electric and biofuels stand a good chance for adoption.
He also indicated towards the ensuing vehicle scrapping policy and commented that it will give a fillip to auto manufacturing sector.
Vehicle Scrapping Policy:

The vehicle scrappage policy lists that vehicles should not be re-registered after they have done their 15-year term.

These vehicles must be scrapped at authorised outlets, something that also involves incentives.
DBT – AMTZ Mobile Diagnostic Unit for Covid Testing- I-Lab
The Minister for Science & Technology, Earth Sciences and Health & Family Welfare Dr Harsh Vardhan inaugurated and flagged off India's first I-Lab (Infectious disease diagnostic lab) for Covid testing in rural and inaccessible areas of India, here today. Secretary, Department of Biotechnology Dr. Renu Swarup and other officials were present on the occasion. Dr. Jitendra Sharma, CEO, Andhra Med Tech Zone CEO, and senior officials from NITI Ayog, Ministry of Health & Family Welfare, MeiTY, other ministries, ICMR, DST, CSIR etc. joined the function through web online.
The country has achieved a capacity of producing nearly 5 lakh testing kits per day, exceeding the target of having one lakh test kits by May 31, 2020. She pointed out that this I-Lab has been created in a record time of 8 days by the Andhra Pradesh Med-tech Zone team with the support of DBT under the National Biopharma Mission being implemented by the Public Sector BIRAC. She highlighted that the unit has biosafety facility and can perform RT-PCR as well as ELISA tests.
DBT-AMTZ Command:

The Department of Biotechnology (DBT), Ministry of Science & Technology along with Andhra Pradesh Med-tech Zone (AMTZ) has initiated the DBT- AMTZ Command Consortia to address the shortage of critical healthcare technologies in India and move progressively towards a stage of self-sufficiency.

This is a mobile diagnostic unit with biosafety facility.

The I- lab is a BSL-2 facility with on-site ELISA, RT-PCR, Biochemistry analysers. It can run 50 RT-PCR reactions and about 200 ELISA in a day.

Double set of Machines can help increase the capacity to about 500 per day in 8 hours shift.

It can be deployed in remote areas and can be lifted from Automotive Chassis and can be put on goods train for sending to any location in the country.

The BSL -2 Lab is as per NABL specifications and is being attached to DBT's certified Testing centres.

DBT – AMTZ Mobile Diagnostic Unit for Covid Testing- I-Lab

To promote last mile access of testing to rural India.

The unique feature of these mobile testing labs is their utility in diagnosing other infectious diseases beyond the Covid period.

Automotive Chassis, Diagnostic Equipment, Clean Room, BSL-2 lab, bio-safety cabinets.

25 Tests (RT-PCR) per I-Lab per Day

Additional test for other diseases for TB, HIV etc. to be costed as per CGHS rates.
Current COVID19 Situation in India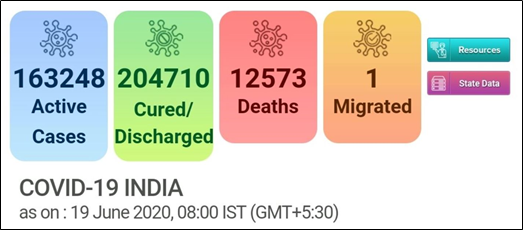 QUIZ TIME
The recent oil well fire took place in which of the following states of India?
Assam
Maharashtra
Gujarat
None
Answer: A
Mobile Diagnostic Unit for Covid Testing- I-Lab has been developed by Department of?
Science & Technology
Biotechnology
Health & Sciences
None
Answer: B
What are the daily test limits of Mobile Diagnostic Unit for Covid Testing- I-Lab?
5
10
15
25
Answer: D