What is Operation Green?
Ministry: Ministry of Food Processing Industries.
Finance Minister of India had announced Operation Greens in the Union Budget 2018-19, on the line of 'Operation Flood'.
It is a price fixation scheme.
It aims to ensure farmers are given the right price for their produce.
Operation Greens seeks to stabilize the supply of Tomato, Onion and Potato (TOP) crops and to ensure availability of TOP crops throughout the country round the year without price volatility.
NAFED is the Nodal Agency to implement price stabilisation measures.
Kala Sanskriti Vikas Yojana
Culture Ministry has issued guidelines for holding cultural events in Virtual mode under various scheme components of Central Sector Scheme 'Kala Sanskriti Vikas Yojana' (KSVY).
The guidelines will benefit artists and institutions by providing alternative services through digital platforms.
About Kala Sanskriti Vikas Yojana (KSVY)
Umbrella scheme under Ministry of Culture
Aim: Promotion of art and culture in the country.
KSVY has the following sub-schemes through which financial assistance is provided to cultural organizations:
Scheme of Financial Assistance for Promotion of Art and Culture.
Scheme of Financial Assistance for Creation of Cultural Infrastructure.
Scheme for Safeguarding the Intangible Cultural Heritage.
Govt to make India Trans Fat free by 2022
Union Health Minister said that the aim of the government is to make India Trans Fat free by 2022.
A year ahead of target set by World Health Organization.
Trans-fat:
Trans fats, or trans-fatty acids, are a form of unsaturated fat.
It is a food toxin present in Partially Hydrogenated Vegetable Oils, baked and fried foods.
It is a major contributor to the rise in non-communicable diseases in India.
Artificial trans fats may increase your risk of heart disease. In 2018 the World Health Organization launched a plan to eliminate trans-fat from the global food supply.
Global Hunger Index, 2020
The Global hunger index was launched recently.
It is an Annual Report.
Jointly published by Concern Worldwide and Welthungerhilfe
Findings:
With a score of 27.2, India has a level of hunger that is "serious".
It ranks 94 out of 107 countries in the Index.
lower than her neighbours such as Bangladesh (75) and Pakistan (88).
India has the highest prevalence of wasted children under five years in the world, which reflects acute undernutrition.
The child stunting rate in India was 37.4 %.
The child wasting was at 17.3 %.
The undernourishment rate of India was at 14% and child mortality at 3.7 %.
KAPILA Campaign
The Union Education Minister Ramesh pokhriyal nishank recently launched KAPILA campaign.
Kalam Program for Intellectual Property Literacy and Awareness.
Under this campaign, students pursuing education in higher educational institutions will get information about the correct system of application process for patenting their invention and they will be aware of their rights.
It will help in patent the inventions which will lead India towards Self-Reliance.
The Institution Innovation Council (IIC 2.0) annual report was also presented on the occasion
The launch of IIC 3.0 was announced.
It has also been decided to celebrate the week of October 15th to 23rd as 'Intellectual Property Literacy Week'.
The IIC 3.0 website was also launched.
The Institution Innovation Council was established by the Ministry of Education in 2018.
So far, IICs have been established in about 1700 higher educational institutions.
IIC will be established in 5000 higher educational institutions under IIC 3.0.
Mission Shakti
Uttar Pradesh government has launched 'Mission Shakti'
It is a 6-month long women empowerment campaign
Aim: To raise awareness and tackle crime against women in the state.
Under Mission Shakti, different awareness and training programs will be conducted regarding various schemes for the protection, respect and self-reliance of women and girls.
Women nodal officers have been appointed by government in all the districts for the execution and monitoring of the campaign.
Women help desk in every police station
Uttar Pradesh Chief Minister Yogi Adityanath has ordered to establish women help desks in each and every police station of state.
Generally women hesitate in registering their complaints with male cops in police station.
Keeping this in mind, Women police personnel will be given the charge of these women help desks so that every woman in state can register her complain freely and fearlessly.
The women police personnel deputed on helpdesk will not only listen to the complaints of women but will always be ready to help them anytime.
Women Cops are also deployed at major Crossings in various big cities including state capital Lucknow.
It has also made arrangements to drop working women to their homes at odd hours.
World's biggest Zinc smelter project
Gujarat government has signed a pact with Vedanta Group firm Hindustan Zinc Ltd (HZL) to set up a greenfield zinc smelter in the state.
The Hindustan Zinc Limited is to invest Rs 10,000 crores to set up the biggest zinc smelter in the world.
The proposed 300 KTPA production capacity project would provide big employment opportunities to the local youths in this tribal area.
The first phase of the proposed plant will be operational in 36 months.
Smelting is the process by which heat is applied to extract a metal from its ore.
The process is used to extract copper, iron, silver, zinc and other base metals.
Thalassemia Bal Sewa Yojna
Union Minister for Health and Family Welfare launched the second phase of "Thalassemia Bal Sewa Yojna"
It is for the underprivileged Thalassemic patients.
It will be extended for next two years from 2020.
It was Launched in 2017
This scheme is a Coal India CSR funded Hematopoietic Stem Cell Transplantation (HSCT) program.
It aims to provide a one-time cure opportunity for Haemoglobinopathies like Thalassaemia and Sickle Cell Disease for patients who have a matched family donor.
What is Thalassemia?
It is a chronic blood disorder.
It is a genetic disorder due to which a patient cannot make enough hemoglobin found in Red Blood Cells (RBC's).
17 October: International Poverty Eradication Day
It is celebrated across the globe every year on 17 October to raise awareness about the people who are struggling and living in poverty.
The International Day for the Eradication of Poverty (IDEP) was instituted by UNGA by adopting a resolution on 22 December 1992.
Current COVID19 Situation in India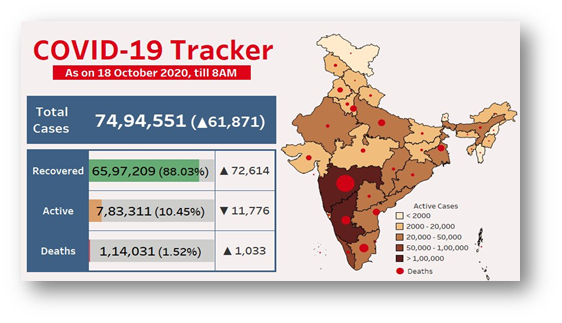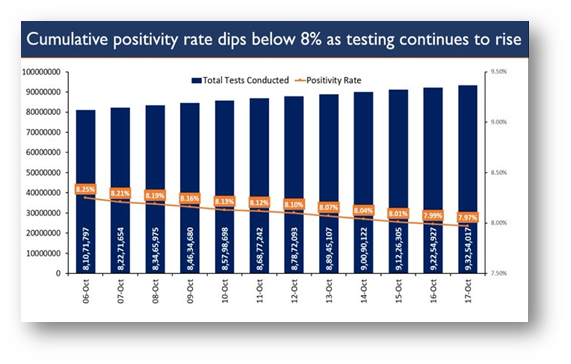 QUIZ TIME
What is India's rank in Global Hunger Index, 2020?
50
72
94
100
Answer – C
KAPILA Campaign is an initiative of:
Ministry of Education
Ministry of External affairs
Ministry of tribal affairs
Ministry of Home Affairs
Answer – A
World's biggest Zinc smelter project is to be set up in which state?
Gujarat
Rajasthan
Uttar Pradesh
Madhya Pradesh
Answer – A
International Poverty Eradication Day is observed on:
13 October
17 October
18 October
19 October
Answer – B
Question of the Day
What is Geneva Conventions?
Answer in next session…