What are the key features of Major Port Authorities Bill, 2020?
The Major Port Authorities Bill, 2020 was recently passed in Lok Sabha.
The bill aims to regulate, operate and plan major ports in India.
The bill will provide greater autonomy to these ports.
It will replace the Major Port Trusts Act, 1963.
The legislation provides for the creation of a Board of Major Port Authority for each major port.
These Boards will replace the existing Port Trusts.
The bill will help the ports develop world class infrastructure.
It will also enhance transparency in their functioning.
Jnanpith Award
Renowned Malayalam poet Akkitham Achuthan Namboothiri was conferred the Jnanpith award.
It is given to him for outstanding contribution to the enrichment of literature.
Jnanpith is the highest literary award of the country.
English along with other Indian languages is considered for the Award.
The Award is open for only Indian citizens and is given annually.
Instituted in 1961.
Eligibility: Any Indian citizen who writes in any of the official languages of India is eligible for the honour.
United Nations award for preventing, controlling non-communicable diseases
The award is conferred to Kerala.
The award recognises achievements during 2019 on the multisectoral action in the prevention and control of non-communicable diseases, mental health and the wider sustainable development goals related to it.
This is the first time Kerala has been recognised for the annual award.
The State has facilities at all levels to treat lifestyle diseases starting from public health centres to hospitals.
The State was able to control the death rate of COVID-19 as it focused in Non-Communicable Diseases
In June, UN honoured Kerala Health Minister KK Shailaja for her efforts to tackle pandemic
RAISE Summit 2020
The Ministry of Electronics and Information Technology and NITI Aayog will organize a Mega Virtual Summit on Artificial Intelligence, RAISE 2020- 'Responsible AI for Social Empowerment 2020,' from October 5-9, 2020.
It will be a global meeting of minds to exchange ideas and chart a course for using AI for social transformation, inclusion and empowerment in areas like healthcare, agriculture, education and smart mobility, among other sectors.
RAISE 2020 will be organized by the centre in partnership with the industry and academia.
It will begin with a startup challenge called 'Pitchfest', which will be followed by the two-day summit.
Centre for Disability Sports
The foundation stone of 'Centre for Disability Sports at Gwalior, Madhya Pradesh' was laid down.
Organized by DEPwD, Ministry of Social Justice and Empowerment.
At present no training facilities are available in the country for sports person with disabilities.
This centre will provide facilities of international standards to sportspersons with disabilities to compete at international level and bring laurels for the country.
Setting up of a Centre for Disability Sports was approved by the Cabinet on 2019.
The Centre will be registered under the Societies Registration Act, 1860.
Faceless Appeals launched by CBDT
Central Board of Direct Taxes launched Faceless Income Tax Appeals.
Under Faceless Appeals, all Income Tax appeals will be finalised in a faceless manner under the faceless ecosystem
Exception is given to the appeals relating to serious frauds, major tax evasion, sensitive & search matters, International tax and Black Money Act.
There will be no physical interface between the taxpayers or their counsel/s and the Income Tax Department.
The faceless appeal will provide not only great convenience to the taxpayers but also it will ensure that it will ensure just and fair appeal orders and minimise any further litigations.
Current COVID19 Situation in India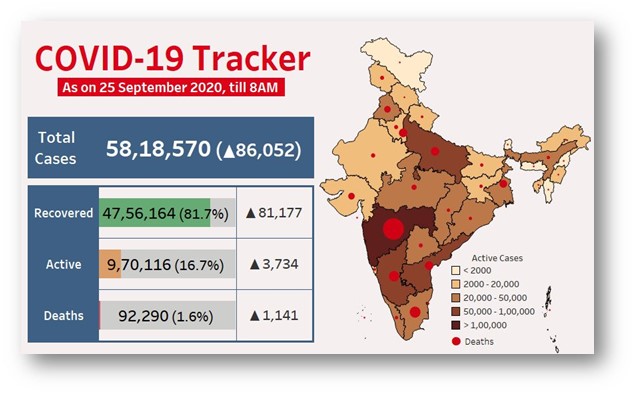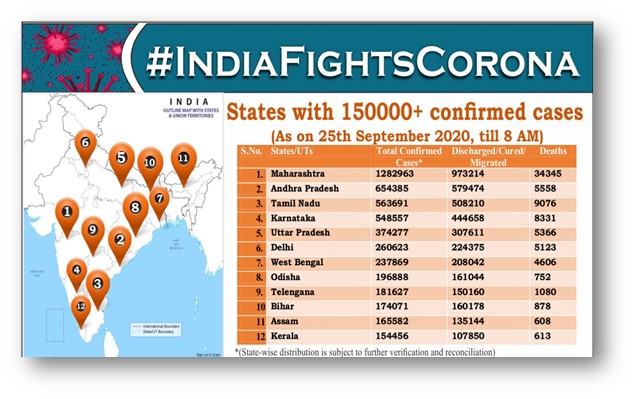 QUIZ TIME
Which state has won the United Nations award for preventing, controlling non-communicable diseases?
Madhya Pradesh
Kerala
Tamil Nadu
Karnataka
Answer – B
RAISE 2020 will be organised by:
Ministry of Electronics and Information Technology
Ministry of Home Affairs
Ministry of Environment
Ministry of MSME
Answer – A
Faceless Appeals is launched by:
Ministry of Law
Central Board of Direct Taxes
Both A and B
None
Answer – B
Question of the Day
What is the role of the Parliamentary Committee?
Answer in next session…