Which is the largest Tiger Reserve in India?
Nagarjunsagar-Srisailam Tiger Reserve is the Largest Tiger reserve in India.
Location: Andhra Pradesh and Telangana.
Spreads over five districts, Kurnool District, Prakasam District, Guntur District, Nalgonda District and Mahbubnagar district.
The Krishna river cuts the basin of this reserve.
The area consists mostly of the Nallamala Hills.
The multipurpose reservoirs- Srisailam and Nagarjunasagar are in the reserve.
Madhya Pradesh has highest number of Tigers (526).
Fauna: It is home to a vast variety of wild animals. In addition to the Bengal Tiger, which is the apex predator, many other species like leopard, rusty-spotted cat, pangolin, Mugger Crocodiles, Indian Rock Python, and innumerable varieties of birds are found here.
Flora: Variety of forests ranging from southern tropical dry mixed deciduous forest till southern thorn forest. A wide variety of shrubs and bamboo thickets also grow in this area.
Atal Innovation Mission launches 'AIM-iCREST'
NITI Aayog's Atal Innovation Mission (AIM), has launched AIM iCREST – an Incubator Capabilities enhancement program for a Robust Ecosystem focused on creating high performing Startups.
This is a first of its kind initiative for advancing innovation at scale in India.
It is in partnership with Bill & Melinda Gates Foundation and Wadhwani Foundation.
It has been designed to enable the incubation ecosystem and act as a growth hack for AIM's Atal and Established incubators across the country.
Under the initiative, the AIM's incubators are set to be upscaled and provided requisite support to foster the incubation enterprise economy, that will help them to significantly enhance their performance.
It will also provide training to entrepreneurs, through technology driven processes and platforms.
National Registry of Covid Patients
The Indian Council of Medical Research (ICMR), in collaboration with the Health Ministry and All India Institute of Medical Sciences, plans to roll out a project to create a rigorous database of Covid-19 patients admitted in hospitals across the country to understand how treatment can be improved.
Around 15 institutions are expected to help create this network and get hospitals and medical colleges on board as part of the exercise.
The main purpose of creating the registry is to understand the nature of the disease and to study how it is affecting different people in a different.
Misuse of Antibiotics in Dairy Sector
The Centre for Science and Environment (CSE) held an online meeting on antibiotic use in the dairy sector.
The meeting highlighted that the milk sold directly to consumers and the processed milk sold in packets are not tested and stay largely unchecked for antibiotic residues.
Concerns
Inadequate focus on testing for antibiotic residues in the milk collected by some State federations, which process it and sell packaged milk and dairy products under popular brands.
Farmers often sell milk while the animal is under treatment, which increases the chances of antibiotic residues.
Dairy farmers indiscriminately use antibiotics for diseases such as mastitis (infection/inflammation of the udder) which is a common ailment in dairy animals.
Important Points
India is the world's largest milk producer — it produced a massive 188 million tonnes in 2018-19.
Urban areas consume 52% of it, and the unorganized sector, comprising milkmen and contractors, caters to 60% of this consumer base
The remaining demand is met by dairy cooperatives and private dairies which represent the organized sector.
Quiz Competition on 'Atmanirbhar Bharat – Swatantra Bharat'
An online quiz competition on 'Atmanirbhar Bharat – Swatantra Bharat' is being conducted till 10th August to create patriotic feeling among youth and masses.
It is being conducted by Ministry of Defence in coordination with MyGov.
There will be 10 cash prizes. First, second, third and seven consolation ones.
The First prize will be a sum of 25 thousand rupees, the second prize winner will get 15 thousand rupees and third prize winner will get 10 thousand rupees.
Seven consolation prizes of 5 thousand rupees will be given.
Indian citizens aged 14 years and above can participate in the quiz and win the exciting prizes.
The quiz is available in MyGov portal.
AIIA has started providing free testing and treatment to COVID 19 Patients
As announced by the Union AYUSH Minister Shri Shripad Yesso Naik recently the All India Institute of Ayurveda (AIIA), New Delhi has started providing free testing and treatment to patients in its COVID 19 Health Centre (CHC).
AIIA has also been designated as COVID-19 testing centre (RT-PCR and Rapid antigen testing) by Government of Delhi.
The Institute has an important role in preventive and curative health care and research areas under the aegis of Ministry of AYUSH like Ashwagandha, Neem, Kalamegha, Giloy etc.
AYURAKSHA Program
'AYURAKSHA' is for 80,000 Delhi Police personnel which is going on under the directions of Ministry of AYUSH.
Delhi Police being the frontline warriors of COVID -19 are being given AYURAKSHA kit for boosting the immunity and increasing quality of life against COVID 19.
Current COVID19 Situation in India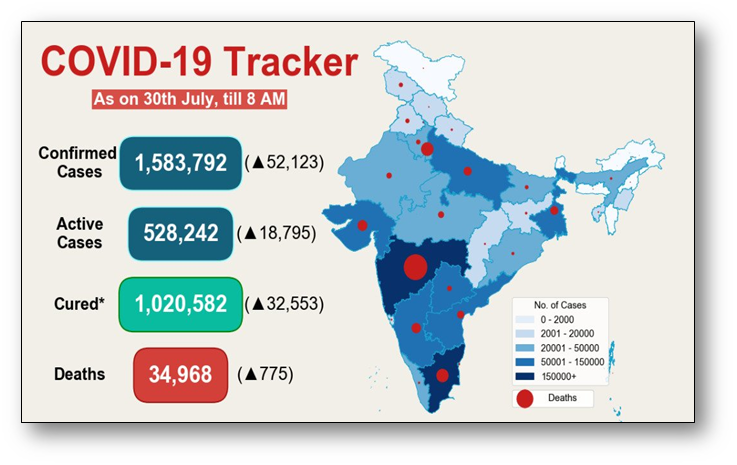 QUIZ TIME
Atal Innovation Mission (AIM), has launched AIM iCREST in Partnership with?
Bill & Melinda Gates Foundation
Wadhwani Foundation
Both A and B
None of the above
Answer – C
National Registry of Covid Patients will be done by:
ICMR
ICSR
Niti Ayog
None
Answer – A
Which of the following is the largest producer of Milk in the world?
India
US
China
Pakistan
Answer – A
What are the major concerns relating to the Misuse of Antibiotics in Dairy Sector?
Inadequate Focus on Testing
No Professional Help
Indiscriminate Usage
All of the above
Answer – D
Question of the Day
What are the advantages of Aerial Seeding?
Answer in next session…