What is Kaladan Multi-Modal Transit Transport Project?
The Kaladan project connects Sittwe Port in Myanmar to the India-Myanmar border.
Being administered by Ministry of External Affairs
Funded by GOI
It is a multi-modal transport project having three different stretches involving shipping, Inland Water and road transport stretches.
It will connect Mizoram to Bay of Bengal
It is expected to add value to the economic, commercial and strategic ties between India and Myanmar.
This project will reduce distance from Kolkata to Sittwe by approximately 1328 km and will reduce the need to transport good through the narrow Siliguri corridor, also known as Chicken's Neck.
Poverty and Shared Prosperity Report
Released by: World Bank
It is a biennial report
It provides the latest and most accurate estimates on trends in global poverty and shared prosperity.
'Poverty and Shared Prosperity 2020: Reversals of Fortune' presents new estimates of COVID-19's impacts on global poverty and inequality.
Key findings
The pandemic may push another 88 million to 115 million into extreme poverty or having to live on less than $1.50 per day, resulting in a total of 150 million such individuals.
Some 9.1% to 9.4% of the world will be affected by extreme poverty in 2020.
AMHUB: India's first advanced manufacturing hub
India's first advanced manufacturing hub to be set up in Tamil Nadu.
It is being jointly set up by World Economic Forum (WEF) and Guidance in Tamil Nadu.
AMHUB is one among the nineteen platforms that has been designed by the World Economic Forum (WEF).
AMHUB focuses on:
Addressing Regional Opportunities
Engaging regional production
Challenges brought by Fourth Industrial Revolution
AMHUB will help the state in the sectors of solar energy, electronics, electric mobility and textile
Nobel Prize in Literature, 2020
The Nobel Prize, 2020 was awarded to Louise Gluck
It has been awarded for her unmistakable poetic voice that with austere beauty makes individual existence universal.
She is the first female poet to win the prize since 1996.
Appointment: Deputy Governor of RBI
The Centre has appointed RBI's senior-most Executive Director M. Rajeshwar Rao as Deputy Governor.
Rao succeed NS Vishwanathan as the fourth deputy governor.
The Deputy Governor is recommended by the Financial Sector Regulatory Appointment Search Committee.
As per the RBI Act, the central bank should have four deputy governors — two from within the ranks, one commercial banker and another an economist to head the monetary policy department.
The deputy governor appointments are made for an initial period of three years and the person is eligible for reappointment.
9 October: World Postal Day
World Post Day is celebrated every year on 9 October to raise awareness about the role of Post's in everyday lives of people and businesses.
It is celebrated in remembrance of the establishment of Universal Postal Union (UPU) in 1874 in Bern, Switzerland.
Current COVID19 Situation in India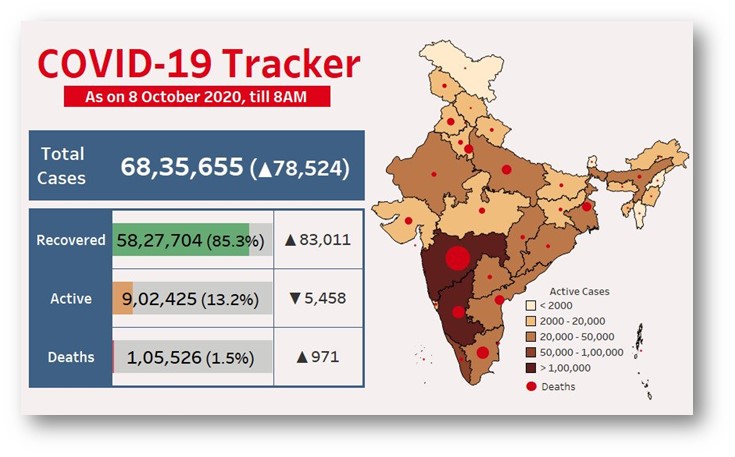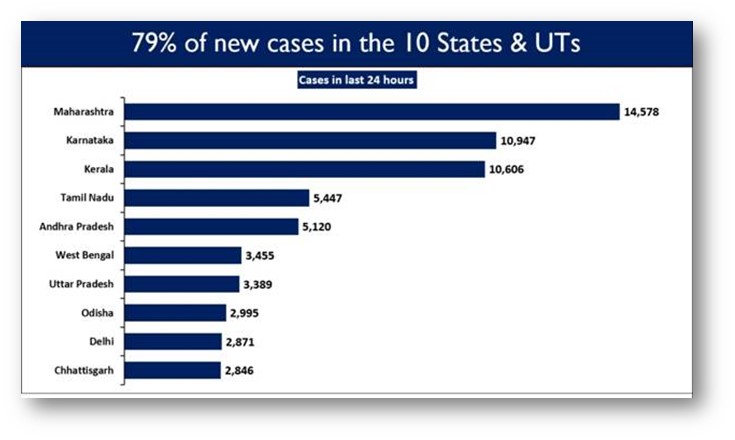 QUIZ TIME
Poverty and Shared Prosperity Report is released by:
World Bank
IMF
International Labour Organization
UNDP
Answer – A
Who has been appointed as the new deputy governor of RBI?
M. Rajeshwar Rao
Dinesh Kumar Khara
NS Vishwanathan
None of the above
Answer – A
World Postal Day is observed on:
8 October
9 October
10 October
11 October
Answer – B
Question of the Day
What is Digital Seva Setu' programme?
Answer in next session…