What is Kishore Vaigyanik Protsahan Yojana?
It is a scholarship program funded by the Department of Science and Technology of the GoI.
The program was started in 1999
The aim of the program is to identify and encourage talented students with aptitude for research.
Also, to encourage students of Basic Sciences, Engineering and Medicine to take up research careers in these areas.
Generous fellowship and contingency grant are provided to the selected KVPY Fellows up to the pre-Ph.D. level or 5 years whichever is earlier.
Summer Camps are organized in prestigious research and educational institutions in the country.
Fellowship is awarded based on an aptitude test and interview to final selected students.
Mental Health Rehabilitation Helpline: Kiran
A 24×7 toll-free mental health rehabilitation helpline "KIRAN" was launched by Social Justice and Empowerment Minister Thaawarchand Gehlot.
It is provided in 13 languages.
Aim: To provide relief and support to persons with Mental Illness and in view of the growing incidence of mental illness, particularly in the wake of Pandemic COVID-19.
It offers mental health rehabilitation services with early screening, first-aid, psychological support, distress management, etc.
Indira Gandhi Peace Prize 2019
Sir David Attenborough, awarded the Indira Gandhi Prize for Peace, Disarmament and Development for the year 2019.
Sir David is an English broadcaster and natural historian.
He is best known for writing and presenting, in conjunction with the BBC Natural History Unit
Indira Gandhi Peace Prize:
The Indira Gandhi Prize for Peace, Disarmament and Development is an annual prestigious award.
It is conferred every year by Indira Gandhi Memorial Trust since 1986.
It consists of a citation and a monetary award of Rs. 25 lakh.
It recognises excellent efforts by individuals or organisations which are working towards creating a new international economic order, towards promoting international peace
Report on Literacy Rate
A report on 'Household Social Consumption: Education' was published by the National Statistical Office (NSO).
It provides for state-wise detail of literacy rate among the persons aged seven years and above.
Key Findings:
The overall literacy rate in the country at about 77.7%.
Urban Areas: 87.7%.
Rural areas: 73.5%.
Male Literacy Rate: 84.7%.
Female Literacy Rate: 70.3%
Best Performing states are Kerala, Delhi, Uttarakhand, Himachal Pradesh, Assam.
Kerala scored 96.2% thus has the highest literacy rate among states.
Delhi stands at second position with 89% literacy rate.
Worst Performing states are Andhra Pradesh, Rajasthan, Bihar, Telangana, Uttar Pradesh.
Andhra Pradesh ranked the worst with 66.4% literacy rate.
Rajasthan is the 2nd worst performer with literacy rate at 69.7%.
The male literacy rate is higher than female literacy rate among all states.
Nearly 4% of rural households and 23% of urban household possessed computer.
Among persons of age 15-29 years, nearly 56% in urban areas and 24% in rural areas were able to operate a computer.
In the same age group, nearly 25% in rural areas and 58% in urban areas reported the use of the internet.
Hunar Haat
"Hunar Haat" will restart from today after a gap of nearly six months.
It is being organised by Union Minority Affairs Ministry at Prayagraj.
Theme: "Local to Global"
It will focus on indigenous exquisite Indian toys.
More than 30 per cent stalls will be for artisans who prepare indigenous toys.
It will be an enormous platform providing market and opportunities to master artisans who prepare these indigenous exquisite toys"
Hunar Haat has provided employment and employment opportunities to more than 5 lakh Indian artisans, craftsmen, culinary experts and other people associated with them in the last 5 years
Hunar Haat is an exhibition of handicrafts and traditional products made by artisans from the minority communities.
These are organised by the Ministry of Minority Affairs under USTTAD (Upgrading the Skills & Training in Traditional Arts/Crafts for Development) scheme.
Current COVID19 Situation in India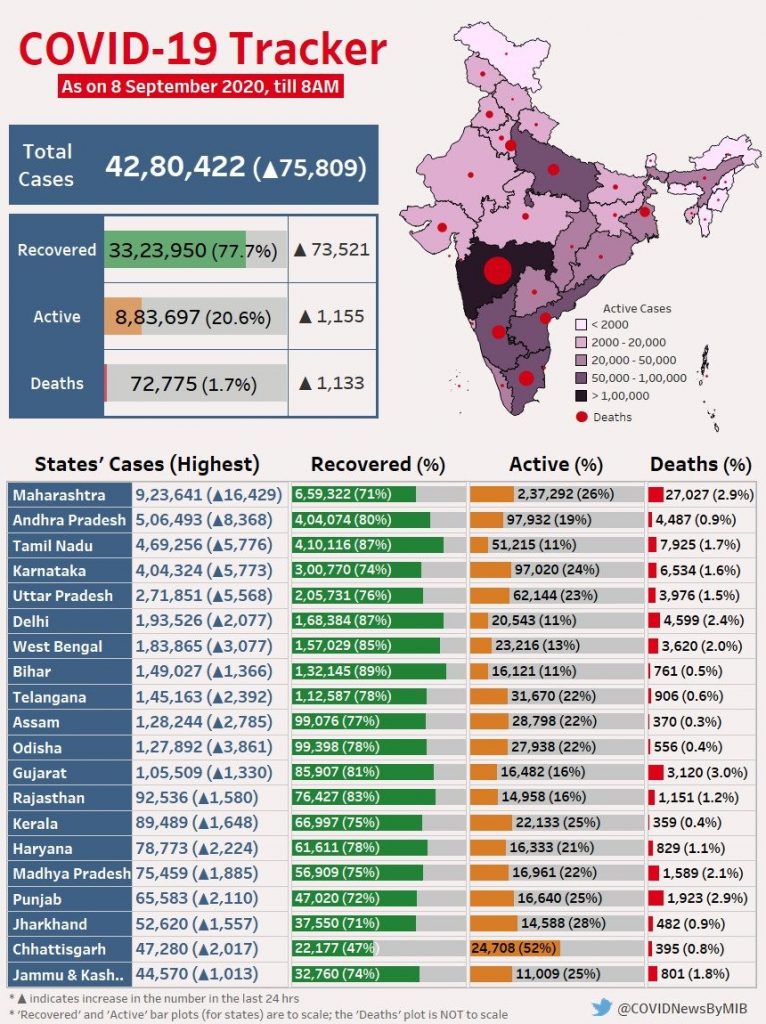 QUIZ TIME
Mental Health Rehabilitation Helpline – Kiran launched by
Ministry of Social Justice and Empowerment
Ministry of health
Ministry of Telecommunication
Ministry of Home Affairs
Answer – A
Which state has the highest literacy rate in India?
Andhra Pradesh
Kerala
Delhi
Uttarakhand
Answer – B
Which state performed worst in terms of literacy as per Data released by NSO?
Andhra Pradesh
Kerala
Delhi
Uttarakhand
Answer – A
Theme for this year's Hunar Haat is:
Vocal for Local
Local for Local
Local to Global
Global to Local
Answer – C
Question of the Day
What are the key features of National Mental Health Program?
Answer in next session…